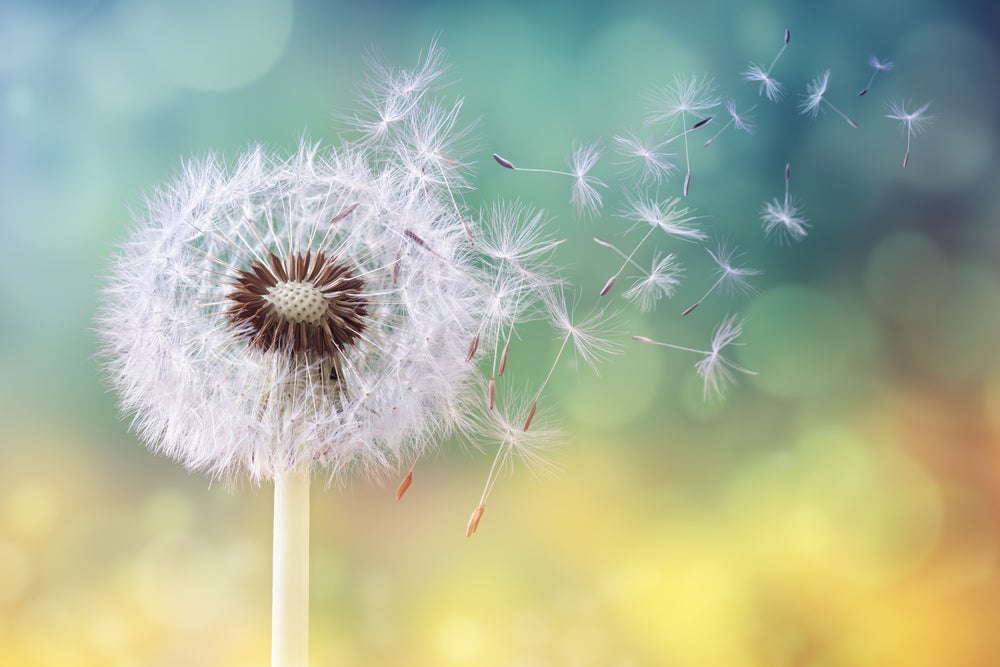 Nothing ruins the optimism of spring and summer quite like seasonal allergies. It is hard to stay positive when you can't stop sneezing. Hay fever (or seasonal allergic rhinitis) affects around 20% of people in the UK according to the NHS. And this figure is only set to rise.
Many people report that their condition seems to worsen every year, and that might just be the case. The carbon dioxide associated with climate change can also spell bad news for allergy sufferers, by increasing the quantity and potency of the pollen that triggers annoying symptoms such as itchy eyes and a scratchy throat.
For some, hay fever is just an inconvenience that can be tempered with a once-a-day antihistamine, but the condition can have a real impact on quality of life for others. For asthma sufferers, hay fever can be particularly dangerous – increasing the risk of a life-threatening asthma attack.
The pharmaceutical market for hay fever is packed with inexpensive products such as antihistamines, barrier agents and nasal sprays containing corticosteroids, but there is still an unmet need for better treatments. The hay fever drugs on the market are far from perfect. They do not work for everyone and are associated with a range of side effects from drowsiness to headaches.
According to GlobalData Healthcare analyst Tina Healy: "This abundance of effective, easily-accessible symptomatic therapies creates an inhospitable marketplace for novel pipeline agents to enter".
Nevertheless, there are some treatment approaches being explored by pharmaceutical companies. We take a look at some of the most promising examples.
Steroid injections
For about 10% of people, over-the-counter antihistamines just don't do the job, and consequently some people opt for an annual hay fever jab available at private clinics. This steroid injection of triamcinolone (marketed as Kenalog in the UK) works by suppressing the body's immune response to histamines, and preventing the watery, itchy eyes and sneezing associated with the hay fever for up to a couple of months.
Robust evidence is lacking to support the jab's efficacy though. And the treatment is also associated with a long list of side effects, such as high blood pressure, bloating and muscle weakness. Because it stays in the body for weeks, there is nothing you can do about the side effects if you experience them, other than wait it out.
Injected allergen-specific immunotherapy
The main growth in the allergic rhinitis market centres on drugs that attempt to cure the allergy altogether – rather than focus on relieving symptoms. This approach is known as allergen-specific immunotherapy (ASIT).
Here, small quantities of an allergen (such as pollen) are injected in an attempt to re-establish immune tolerance over time.
"This therapy is typically reserved for patients who have failed to respond well to symptomatic therapies," says Healy. "Although this technique has been used by physicians for over a century, typically by injecting patients with allergen mixtures formulated from bulk extracts, it is only in the last few decades that companies have begun developing ASIT agents as branded products."
Right now, only a small proportion of patients with seasonal allergic rhinitis who are eligible for ASIT will actually be treated. Many people find it an inconvenient solution as they have to receive several injections annually over many years.
"In response to this ongoing issue, companies have invested greatly in R&D efforts to improve upon the safety, efficacy, and convenience of traditional ASIT," says Healy.
Oral immunotherapy
One way of increasing the convenience of ASIT has been to change the route of drug delivery. Sublingual (oral) immunotherapy (SLIT) is being explored. This way, patients can easily self-administer the therapy at home, by taking a tablet, rather than having to visit an allergy specialist several times a year.
"While SLIT tablet products targeting a variety of allergens have been very successful in Japan and Europe, their uptake in the US continues to be less than expected," says Healy.
This is mainly due to poor insurance coverage for the products and a continued focus of US allergy specialists on the use of traditional, multi-allergen subcutaneous immunotherapy (SCIT), formulated from bulk allergen extracts.
The most recently approved SLIT product is ALK Abello's Italuzax for birch pollen allergy in Germany. A Japanese cedar pollen tablet from Shionogi and Stallergenes Greer is in late-stage development in Japan.
"Beyond these agents, the early-stage pipeline for new SLIT products is sparse," says Healy.
Short-course subcutaneous immunotherapy
Another development in the ASIT field has been to develop injected products that require fewer doses. For example, Allergy Therapeutics' Grass MATA MPL is a short course subcutaneous immunotherapy (SCIT) – six doses delivered before the grass pollen season – for treating grass pollen allergies. It is currently in phase iii development.
"The product utilises a bacterial adjuvant along with chemically-modified, hypoallergenic grass pollen allergens in order to promote a strong tolerogenic response to the allergen while minimising any potential hypersensitivity reactions," says Healy.
Healy believes Grass MATA MPL could be a game-changer for the US allergic rhinitis market but pointed out health professionals may be reluctant to adopt the product because each product will only target one allergen.
"While the majority of other short-course SCIT products in the late-stage pipeline are also targeting grass, the earlier clinical and preclinical pipeline includes products targeting ragweed pollen, house dust mite, birch pollen, and cat dander," she explains.
Biologics
In recent years, a few trials have looked at combining SCIT and a monoclonal antibody such as omalizumab. Omalizumab is a fully-humanised anti-IgE monoclonal antibody which prevents the immune system overreaction associated with seasonal allergies.
Last year, Novartis announced Xolair (omalizumab) had shown a statistically significant improvement compared to placebo in a phase iii study in Japan looking at patients with a severe cedar pollen allergy that couldn't be controlled with existing treatments. Ultimately, allergen-specific immunotherapy is a good option for seasonal allergic rhinitis that can't be adequately controlled with other treatments. But there are many challenges that limit the development of products with this mechanism of action, says Healy.
"These include inadequate access to ASIT, both the availability of allergy specialists as well as adequate coverage from health insurance providers, as well as low patient compliance and persistence in receiving the therapy, which can severely hamper efficacy."