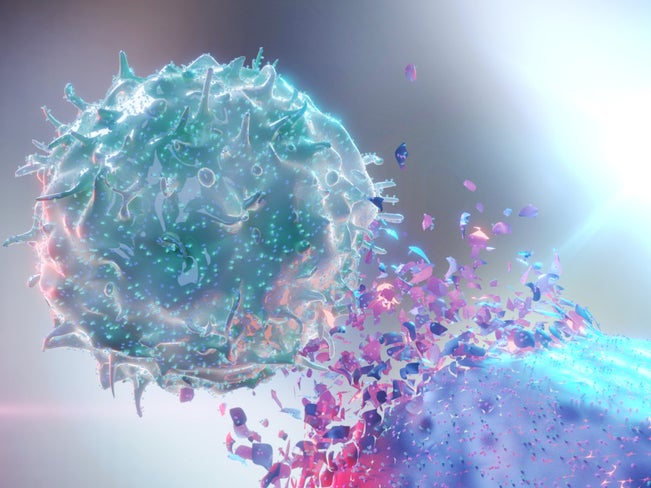 San Diego-based, oncology-focused Artiva Biotherapeutics has closed its Series A financing round with $78m raised.
The round was led by 5AM Ventures, venBio Partners and RA Capital Management. Other contributors to the round were Medivate Partners and Artiva's long-time partner GC LabCell and associated GC.
GC and GC LabCell initially invested in Artiva's seed round in February 2019 and now the latter supports the clinical manufacturing of Artiva's off-the-shelf natural killer (NK) cell therapies.
"The proceeds of the financing will be used to establish clinical proof of concept for Artiva's CAR-NK and universal NK cell therapies," says Artiva CEO and president Tom Farrell.
Farrell is hopeful this funding will allow Artiva to "move three product candidates into the clinic", starting with its universal NK cell lead candidate AB-101 for elapsed refractory B-cell lymphoma. This will be followed by two CAR-NK candidates; AB-201 and AB-202.
Promise of NK cell therapies in cancer
"NK cells are key members of the innate immune system and provide the body's first lines of defence against viral infection and tumour cells," explains Artiva chief operating officer Peter Flynn. "They are also the natural mediator of the anti-cancer activity of many monoclonal antibodies, which are already broadly approved for the treatment of cancer."
Artiva has developed allogeneic, or off-the-shelf, NK cell therapies from umbilical cord blood (UCB) that leverages these properties of NK cells.
Its primary candidate is AB-101, a universal NK cell therapy that works by "delivering a large and repeat dose of highly active allogeneic NK cells in combination with a therapeutic monoclonal antibody," such as those inhibiting CD20, like rituximab for instance, notes Flynn. "This approach could have a synergistic effect, especially in patients with dysfunctional or inadequate numbers of their own NK cells."
Flynn adds: "We are also developing CAR-NKs; NK cells engineered with chimeric antigen receptors (CARs) which target specific antigens on the tumour cells and activate the NK cells." Artiva's first two CAR-NK programs will target HER2+ solid tumours and CD19+ B-cell malignancies.
Improving upon CAR-T approaches
"Recent advances in engineered autologous T-cell therapy (CAR-T) have led to demonstrated, transformational anti-tumour activity," says Flynn. "However, the complexity, cost and significant safety challenges of CAR-T therapies could impede their broad adoption."
However, in line with Artiva's mission to "deliver highly effective cell therapies that are also safe and immediately available and accessible to any cancer patient who stands to benefit", the company looked towards NK cells as a solution, notes Farrell.
"Unlike approved CAR-T therapy, NK cells can be used in an allogeneic, mismatched setting without induction of graft versus host disease (GVHD)," Flynn says. "Further, NK cells may have a significantly safer therapeutic profile, compared to the cytokine release syndrome and neurotoxicity seen with CAR-T therapy."
Farrell adds: "Thanks to the off-the-shelf platform, unlike autologous CAR-T cells, we don't have to wrestle with the logistical challenges, nor do we have to spend $100k or more to make a product for each patient."
However, Artiva needed to overcome the challenges of working with NK cells. "They don't expand easily, which is vital for large-scale manufacturing, and they are very difficult to freeze while maintaining their activity, which is essential if they're to be stored for use on demand," says Flynn.
This is why Artiva teamed up with South Korea-based GC LabCell, which "has been working on NK cell therapies for more than a decade and developed a manufacturing platform that does exactly what we needed, with infrastructure to deliver it," explains Farrell.
Farrell adds that GC LabCell's process "enables the potential treatment of hundreds to thousands of patients with pure and highly active NK cells from each donor UCB; a scale that has not been previously seen to our knowledge. The NK cell product is also cryopreserved while retaining activity and viability for on-demand access."
"What we saw in the technology developed by GC LabCell was a major advance in both the scale of production of NK cells, the consistency and activity of the final product, and the all-important ability to cryopreserve the final product," concludes Flynn.
What attracted investors to Artiva?
Farrell explains that Artiva did not face a challenge in raising capital during the pandemic "perhaps because we were in a hot area with an experienced team, credible partner, compelling value proposition, and a large-scale solution to the challenges the NK cell field has faced".
Its partnership with GC allowed Artiva to overcome some logistical challenges, Farrell notes, and meant "we don't have to invest in infrastructure, early research or product discovery", therefore allowing the company to use "capital so much more efficiently".
Farrell says the company's strong position, combined with the "emerging validation for NK cells [that] has made for a compelling investment opportunity", made for an attractive proposition for investors. "We're thrilled to be working with such a high-quality syndicate," concludes Farrell.
5AM Ventures partner Brian Daniels agrees, writing in a statement: "The inherent biology of natural killer cells holds enormous therapeutic potential for cancer therapy, but until Artiva, technological barriers held back their advancement.
"Artiva is systematically resolving the barriers to safe and effective NK cell therapies at a scale that enables broader access to potentially life-saving cancer treatments."
Cell & Gene Therapy Coverage on Pharmaceutical Technology supported by Cytiva.
Editorial content is independently produced and follows the highest standards of journalistic integrity. Topic sponsors are not involved in the creation of editorial content.