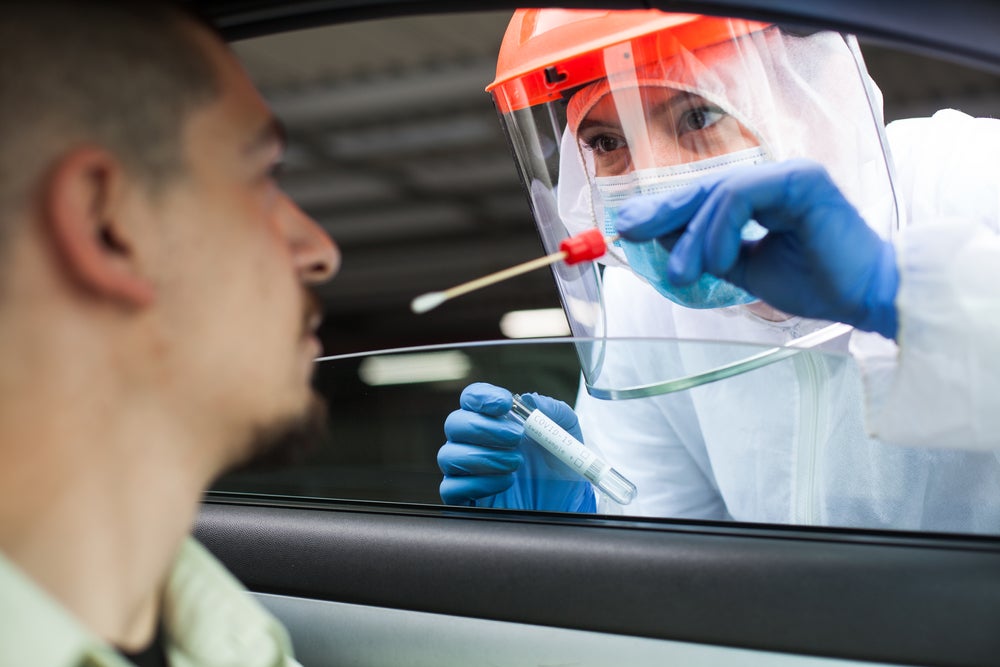 Since the start of the pandemic last year, a handful of highly transmissible Covid-19 mutations have become 'variants of concern' for health officials worldwide. The particularly contagious Delta variant, first identified in 2020, has become the dominant variant worldwide – and now, a subvariant of Delta has been detected in numerous countries.
The subvariant, known as AY.4.2, is particularly prevalent in the UK, and experts anticipate it will become dominant in the country within a matter of months.
Pharmaceutical Technology speaks to Coventry University virologist Dr Phillip Gould about the subvariant, Covid-19 vaccines, and whether the new antiviral molnupiravir will have the impact governments are hoping for.
Darcy Jimenez: What do we know about the Delta subvariant so far?
Phillip Gould: New variants will continue to appear and evolve, and their ability to transmit and cause high rates of infection will eventually lead to them becoming dominant within the population. Ultimately, all RNA viruses will mutate, because of the way they replicate; the majority of new variants will be ineffective at being able to transmit, but the one-in-a-billion version that it does produce, that can transmit better, will eventually take over in any population.
So that's what we're seeing with the different variants. Now we've got the new Delta subvariant that seems to be becoming more prevalent in regions in the UK, and eventually that will be replaced. The key question is, how long will it take for that variant to be replaced? And will the new variant cause a worse disease?
It's impossible to predict [a dominant variant], but you can try and mitigate it by preventing the spread. The more people that are infected, the more likely a new variant will appear, so that's why, for example, one of the key things is to get everyone across the globe vaccinated. It's all well and good the UK having a high vaccination rate, and limiting the number of people becoming infected here, but if Covid is still spreading rapidly around the world, the chances are a new variant will appear there.
DJ: How effective are the current vaccines against variants, including the new Delta subvariant? Will boosters be necessary to protect against them?
PG: You may have come across the term 'plug-in'; the idea is you can add any new sequence into [the vaccine]. The vaccines were first developed based on the circulating strains in late 2019, early 2020, identified in Wuhan – so immediately, the scientists at the vaccine companies started using the genetic sequence of the S-protein from strains then. Now, what we've seen is that sequence, that genetic code, has mutated through the different variants.
What would be ideal – and logistically it's very difficult – is, as soon as a new variant appears, to be able to change the plug-in bit to that new variant, or a combination of both. We're not at that stage yet. The vaccine companies are doing an amazing job, but that product needs to be adapted – and I'm sure it is being done – to these new variants.
People who are double-vaccinated are still getting infected, however the rates of hospitalisation in double-vaccinated people is much lower, so the vaccine does offer protection. What's brilliant is these vaccines originally had really high efficacy – 95%, for example, which is pretty much unheard of, and certainly well above what was predicted. It is brilliant, absolutely brilliant, that protection is there, but the technology does allow manufacturers to change their variant.
As for boosters, we don't know how long the effects of the vaccine last for, and I think boosters are a great idea, particularly for people whose immune system is more compromised. But we need to get vaccines out to the whole globe. The UK Government has promised X, Y and Z, but it's getting it out there. The percentage in certain countries is less than 1% of people vaccinated – the UK is hitting almost 90%, and that's a big difference.
DJ: What measures, in your view, should be in place to prevent Covid-19 cases from surging and overwhelming hospitals over winter?
PG: If we just look at the UK, hospitals get absolutely saturated historically in winter anyway, and that's only going to be impacted again this year. We will see a big stretch on the NHS that will inevitably lead to the Government having to reconsider what restrictions are going in; plan A and plan B are pretty loose in comparison to what we've been used to previously. I think it's really tricky now, because people are forgetting quite quickly what the impacts are.
There's a fine balance of understanding that this virus is going to be here for a long time, and we just have to accept it, over how we can mitigate the effects. I think our behaviours have changed dramatically; for me at work, people aren't coming to work with coughs and colds, even though their lateral flow tests and PCR tests are negative. If they have come back as positive, they're staying at home, and I think that infrastructure will really support and help stop that spread of infection.
If the new variants are more transmissible, which they seem to be, it only takes a few of these instances for areas to see a higher rate of infection. If you get that in a local hospital, already backlogged, then you'll get problems.
DJ: The new Covid-19 antiviral molnupiravir was recently approved in the UK. Do you think it'll be the game-changer it's been touted to be?
PG: I don't think it's a game-changer like the vaccines are. Antiviral drugs, historically, aren't massively effective on their own. Where they have been successful is against HIV, but that's only because they are used with other antiviral drugs. Because the mutation rate is high [in viruses], you add a selective pressure like a drug, and the virus will mutate and bypass that – so if you use an antiviral in isolation, what is likely to happen, and what we've seen, is the virus bypassing by mutation and becoming resistant.
[Molnupiravir] has been repurposed, hence the speed of it. It was previously designed for other respiratory viruses. If we use the drug – which is great – drug resistance will happen, so more drugs need to be developed. It's a constant evolutionary arms race between scientists and whatever's causing the disease.
So yes, let's use it. It's an extra way to prevent infection. If someone is vulnerable, and someone in their household becomes infected with Covid, this might be a good treatment to give to someone in those early stages, to prevent them becoming infected. There are a few other antivirals that are going to come on the market, Pfizer have got one as well. So yeah, brilliant, but I don't think it's a big game-changer like vaccines. It's much better to prevent than to cure.