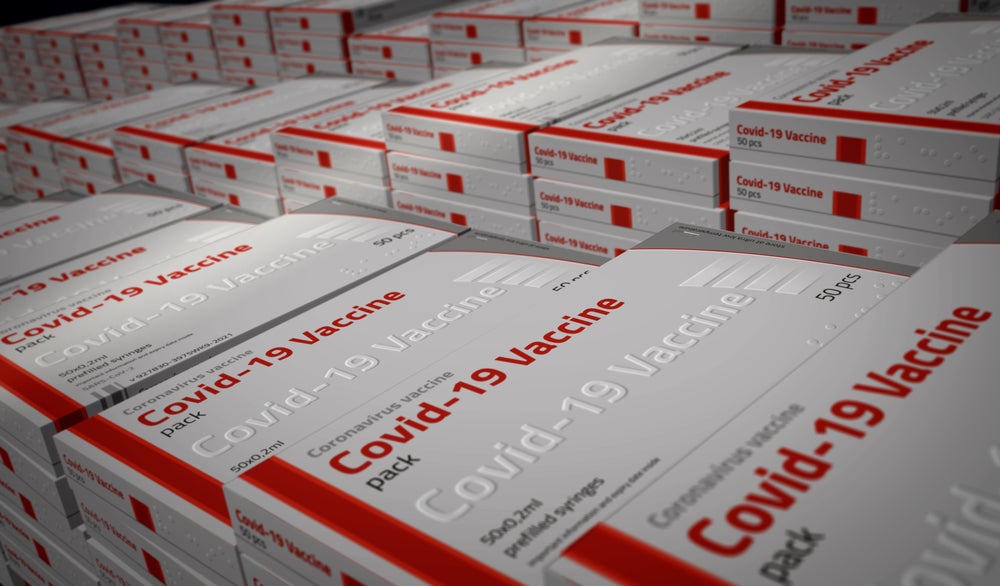 In the western world, Covid-19 vaccination programmes are well underway and life is inching towards normality – but for some countries, the pandemic is wreaking new levels of devastation. India is grappling with a catastrophic second wave, having reported over 20 million coronavirus cases and over 250,000 deaths amid widespread oxygen shortages in hospitals.
The disparity in access to Covid-19 vaccines between rich and low-income countries has become impossible to ignore; according to UNICEF data, 86% of all doses given worldwide up to 30 March were administered to those in high- and upper-middle-income countries, while just 1% of jabs have been given to those in the world's poorest. Low-risk groups in the UK, US and Israel are becoming eligible for jabs, while vulnerable populations elsewhere remain at risk of contracting the virus. The hoarding of vaccines by wealthy countries, as the pandemic ravages economically disadvantaged nations, has brought the issue of vaccine patents to the fore.
In October, India and South Africa submitted a proposal at the World Trade Organization (WTO) to waive drug companies' intellectual property (IP) rights for Covid-19 vaccines and treatments under the Trade-Related Aspects of Intellectual Property Rights treaty. The waiver would allow vaccine makers in poorer countries to produce jabs without facing legal action from the companies that hold patents on the products.
Big pharma resists the move
The pharma industry has fiercely opposed the petition since it was filed, insisting that suspending IP rights to vaccines will remove the incentive for drug companies to innovate. Biotechnology Innovation Organization president and CEO Michelle McMurry-Heath wrote in the Economist that the proposal "undermines the very system that produced the life-saving science in the first place", and "destroys the incentive for companies to take risks to find solutions for the next health emergency".
A report by the Intercept also found that over 100 pharma lobbyists have urged lawmakers and members of the Biden administration to squash the IP waiver request.
Proponents of the waiver have argued that pharma companies' monopoly over vaccine production is unjust given that a number of Covid-19 vaccines have been publicly funded. At least 97% of research into the AstraZeneca-Oxford jab has been funded with public money, while Moderna, Janssen and BioNTech – the German company Pfizer developed its vaccine with – all received hefty amounts of government funding.
It's worth noting that the major Covid-19 vaccine makers, as well as a number of countries with a surplus of jabs, have made deals to contribute doses to the global vaccine-sharing initiative Covax – but vaccine hoarding, export bans and insufficient production capacity remain obstacles in the scheme's ambitious goal to provide the world's poorest countries with over two billion doses by the end of the year.
The IP waiver scheme has US backing – what now?
Despite the efforts of influential pharma lobbyists to block a temporary patent waiver, the Biden administration last week backed the proposal. US trade representative Katherine Tai said in a statement: "The Administration believes strongly in intellectual property protections, but in service of ending this pandemic, supports the waiver of those protections for Covid-19 vaccines. We will actively participate in text-based negotiations at the World Trade Organization needed to make that happen."
The US government's support is an important step towards ensuring equitable vaccine access, but this is far from the final hurdle. The WTO has the final say on IP rights, and both the UK and European Union continue to reject the proposal.
People's Vaccine Alliance health policy expert Dr Mohga Kamal-Yanni says the patent waiver is a "critical step" in enabling the increased production of Covid-19 vaccines worldwide.
"There aren't enough vaccines to go around, and what is available, obviously, rich countries have taken the lion's share of," Kamal-Yanni explains. "What we need is to maximise global production. Every company that can produce should be able to produce, and in order to do that, you need access to technology, and you need to waive intellectual property; nobody will invest in a factory or in a plant or in enhancing production if they are under the threat of somebody else somewhere."
But it may not be that simple. Warren Kaplan, clinical assistant professor of global health at the Boston University School of Public Health, says that even if vaccine patents are waived, it remains unclear what this would mean for poorer countries in practical terms.
"It's a great step forward, but it's just the beginning," Kaplan says. "I mean, now they actually have to figure out, 'now that we did this thing, how are we going to pull this off?'
"Let's assume that all countries agree there's going to be a waiver," he adds. "I don't know what that's going to look like, but somebody should be able to say 'okay, once we hit this benchmark, then we know things are moving along'."
Other roadblocks to global vaccine supply
Access to vaccine recipes is not the only thing poor countries need to up their vaccine production. Moderna and Pfizer's vaccines, for example, are made using mRNA technology; even if the patents for these jabs were waived, vaccine makers would also need to know how to make mRNA, and neither company is under any obligation to share that knowledge. Moderna CEO Stéphane Bancel said in a conference call last week that the IP rights waiver had no bearing on access to the company's vaccine, as "people don't know how to make it".
"If someone wants to start from scratch, they will have to figure out how to make mRNA, which is not in our patents," Bancel said. "I really believe that the IP is not the issue. For mRNA, this is the wrong question."
Bancel isn't the only one who feels the focus on IP waivers is misguided. Mei Mei Hu is CEO of Vaxxinity, whose multitope peptide-based Covid-19 vaccine is currently in Phase II/III trials in Brazil and Phase I/II trials in the US. She says that while the company is "dedicated to serving the underserved", patents are not the bottleneck to global vaccine supply.
"Vaccines are complex biologics, they're not something that you can just genericise," Hu explains. "First of all, a lot of developing countries don't have facilities that are able to produce a lot of these vaccine technologies. Even if they did, tech transfer is very difficult; it's not just like you have a formula and you can reproduce it – these things take months, if not years.
"In this case of the pandemic, I don't think that waiving [IP] will alleviate what we're trying to solve."
Kamal-Yanni argues that pharma companies should be handing over not just the recipes for vaccines, but the technology needed to produce them.
"For some of the vaccines, it's possible to produce without a massive technology share, but many vaccines are not at that level," she explains. "You wouldn't get the many companies that you want producing unless you are sharing technology as well as waiving IP…You do need both.
"We need pharmaceutical companies and research institutions to put their technology in the [WHO Covid-19 Technology Access] Pool, so that the pool can licence and transfer technology to all other potential companies everywhere, including in developing countries."
Trade groups for the pharma and biotech sectors also insist that patent waivers are not the solution to vaccine scarcity in poorer nations. Pharmaceutical Research and Manufacturers of America president and CEO Stephen Ubl said: "This change in longstanding American policy will not save lives…This decision does nothing to address the real challenges to getting more shots in arms, including last-mile distribution and limited availability of raw materials. These are the real challenges we face that this empty promise ignores."
While the two sides of the debate disagree about the significance of patents for vaccine inequity, it's true that waiving IP rights alone won't eliminate supply issues.
In addition to vaccine know-how, poorer countries also need access to the materials required to make the jabs. While the US government has declared its support for a patent waiver, it continues to block the export of much-needed raw materials under the Defense Production Act, which grants American vaccine makers priority access to specialised materials and equipment.
The scale of the problem is illustrated by the fact that even the world's largest vaccine producer, the Serum Institute of India (SII), has found itself under pressure. Struggling to meet both India's needs and the targets it has set with AstraZeneca and Covax, CEO Adar Poonawalla has attributed the facility's supply issues, in part, to the US embargo on exporting raw materials to other countries.
While there are several roadblocks to equitable vaccine access at play, Kaplan says refusing to share vaccine recipes in the midst of a pandemic is difficult to justify.
"It's a moral issue," he says. "[The pandemic] is setting a precedent that saving lives, wherever you are, is really important … I think the US has an obligation to share their knowledge with countries to prevent any further loss of life.
"That's not even a legal issue; that, to me, is a moral imperative."