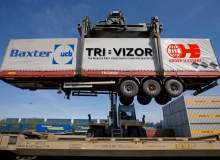 In 2009, the World Economic Forum's 'Supply Chain Decarbonization' report revealed that 24% of goods vehicle kilometres in the EU were running empty. Moreover, even when carrying a load, vehicles were typically only 57% full as a percentage of their maximum gross weight.
"It now holds comprehensive information on the flows of more than 100 blue chip companies and 55,000 freight lanes."
The increasing focus on costs and CO2 emissions across the pharmaceutical industry means manufacturers simply can't afford to ignore supply chain inefficiencies anymore; they need to be thinking about collaborative approaches to this increasingly pressing issue.
Enter TRI-VIZOR, a University of Antwerp spin-off company formed in 2008. Since its inception three years ago, the world's first impartial orchestrator for transport and logistics has been working on creating a database of the freight flows of organisations across Europe.
It now holds comprehensive information on the flows of more than 100 blue chip companies and more than 55,000 freight lanes, which it is continually analysing to identify overlaps and therefore potential for logistical collaboration between different organisations.
Two of the first companies TRI-VIZOR approached were pharmaceutical giants Baxter and UCB because they have several overlapping transport lanes in Eastern Europe.
For Marc Mostinckx, head of global logistics at UCB, there were a few reasons why the two companies were compatible for collaboration.
"We're both active in the life sciences industry and have expertise in the temperature control environment," he said. "We also have different profiles from a logistics point of view; Baxter uses full truckloads and UCB uses mainly less than full truckloads and this was a nice match."
Following a real-life pilot in March 2011, the 'Carpooling for Cargo' project was officially born. A collaboration between UCB, Baxter, TRI-VIZOR, Microsoft and logistics provider H. Essers, it's very different from simply working with a regular third-party logistics provider.
"Normally there is a one-to-one relationship between the provider and the supplier, but here there is a three or four part relationship with TRI-VIZOR as the independent orchestrator," said Mostinckx.
Alex Van Breedam, TRI-VIZOR's CEO, describes his company's role as 'orchestrator of the flows'. "Our technology is called the cross-supply chain cockpit and it's a collaborative transport management system (TMS) aimed at consolidating orders in space and time and calculating the exact gain sharing," he explained.
"It's the first collaborative TMS system ever developed."
Improving efficiency and reducing C02 emissions
By consolidating and synchronising the two company's orders, the 'Carpooling for Cargo' initiative has already resulted in substantial efficiency gains.
"The carbon footprint has dropped by more than 30% because by bundling the two flows, we have succeeded in moving from road to train for some destinations," Van Breedam said.
"It is more important for Mostinckx that pharmaceutical companies deliver a top-quality service."
"In the future, we envisage even more flows by train."
UCB also boasts double digit net savings in terms of transport costs in each of the eight individual regions the project currently serves. But for Mostinckx, the most important gain for UCB is the improvement in service levels. "What's important is that the patient is central," he said. "By putting this collaboration in place, we created better service levels in the remote areas in Eastern Europe where we started this project."
Indeed, while cost-savings are always high on the agenda, it is more important for Mostinckx that pharmaceutical companies deliver a top-quality service; then they can start thinking about where savings can be made.
"In the biotechnology industry, we are moving from an efficiency model (which is mainly used for primary care products and OTC products) to a value model (which is mainly used in the medical device, biotechnology and lifesaving drugs business)," he explained.
"The value model requires us to establish and manage complex customer flows, offer premium customer service, implement track and trace and be agile. So a company needs to go through this learning curve before it can start being cost-conscientious."
Opportunities for growth
Looking to the future, Van Breedam hopes to add more trade lanes to TRI-VIZOR's already extensive repertoire.
"For instance, Western European trade lanes, such as Spain's, are now coming into the picture because there is bundling potential there," he said.
The TRI-VIZOR CEO is also keen to expand the number of companies participating in the current 'Carpooling for Cargo' project. "We now only succeed in bundling one truck in five and we already have double digit gains. This means that if we could add two or three other candidates with the correct profile, we could create more gains through a kind of snowball effect. UCB and Baxter's gains will substantially increase by adding a third company."
The eligible candidates will not be confined to the pharmaceutical sector. "There are a lot of fruits coming from Spain to Belgium in reefer containers and it could be that we could fill up the containers one way with fruit and the other way with packaged pharmaceuticals," Van Breedam suggested. "Of course, we would have to be extremely mindful of quality requirements, but there are certainly possibilities to create cross-sector bundles."
Eventually, Van Breedam envisages creating a number of communities. "We could set up three, four or five different communities with different destinations and companies who want to share or bundle their flows. One company could be a member of a number of different communities depending on the shipment destinations."
"Moreover, even when carrying a load, vehicles were typically only 57% full as a percentage of their maximum gross weight."
Mostinckx is equally enthusiastic about getting other partners on board. "We know there are other companies interested within the life sciences industry, and now that we've proven that the concept works, I think it will start to be much more widely used; I think it will evolve into something substantial, as well as increasing multimodal transport," he said.
However, there are limitations in terms of the number of viable members within a community. "I don't see more than three or four partners collaborating on shipping lanes because it would become too complex to orchestrate," Mostinckx explained.
For Van Breedam, the end goal is to create a sort of 'bus schedule' for every country across the continent.
"We can then say to companies, 'We offer a full truck everyday to Bucharest, for example, and if you can't go on it today, you can go on tomorrow's'."
The efficiency gains that such a system would afford have already been clearly demonstrated through TRI-VIZOR's first 'Carpooling for Cargo' project, which was awarded the 2011 European Supply Chain Innovation Award. With industry giants UCB and Baxter already on board and extolling the virtues of the initiative, it's only a matter of time before this kind of horizontal collaboration becomes commonplace across the pharmaceutical industry.