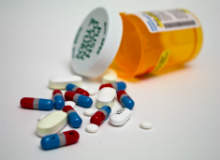 By next year, China's pharmaceutical market will overtake Japan's to become the second largest in the world. But while this presents huge opportunities for both local and global pharmaceutical companies, the challenges they will have to overcome to truly make the most of China's growing demand for quality healthcare are significant, ranging from regulatory hurdles to pricing pressure and increasing competition.
Although the next five years will see slower growth from China's pharmaceutical industry than the previous five, the market is still on the up and is expected to become the second largest pharmaceutical market globally in 2016.
From a value of RMB 1,256.7bn (£129.6bn) in 2014, the market is set to expand to RMB 2,362.7bn (£243.7bn) by 2019, a compound annual growth rate (CAGR) of 13.5%, according to consulting and market research firm Frost & Sullivan. From 2010 to 2014, the CAGR was 16.8%.
This growth has been, and will continue to be, driven by a combination of factors including a rapidly growing ageing population, increasing westernisation and urbanisation of lifestyles, rising average income and expanded supply of healthcare services in the form of primary care facilities, private healthcare and government mechanisms to increase the affordability of healthcare and pharmaceuticals.
"By 2014, 95% of the population was covered by basic insurance, and the focus is now on enhancing coverage quality."
By 2014, 95% of the population was covered by basic insurance, and the focus is now on enhancing coverage quality, including the development of a private medical insurance system.
New opportunities in chronic diseases and biologics
This leap in both supply of and demand for healthcare services clearly presents big opportunities for pharmaceutical companies, particularly when it comes to disease areas that affect an ageing, and increasingly affluent population – for example chronic diseases such as diabetes and hypertension. "Sub-sector markets, such as cardiovascular, cancer and central nervous systems, are forecast to grow rapidly," says Dr Neil Wang, global partner and president for greater China at Frost & Sullivan.
Several Big Pharma companies are already poised to take advantage of this development. Merck Serono, for example, expanded its partnership with BeiGene, a Chinese biopharmaceutical research firm focused on cancer drugs, in late 2013 and broke ground in mid-2014 on a new €80m plant in Nantong, which will produce and package drugs for the treatment of diabetes, cardiovascular diseases and thyroid disorders. Meanwhile, Bayer is expanding its Beijing plant to boost production of cardiovascular and anti-diabetes drugs, including adalat, aspirin and glucobay.
Other opportunities, according to Deloitte's latest life sciences outlook for China, include technology and business innovations such as mobile healthcare (mHealth), eHealthcare and new insurance models, while strong state support for biologics is providing impetus for large pharmaceutical companies to buy into this area as their R&D functions struggle to fill the product pipeline.
One of the six strategic, emerging industries targeted by the government's 12th five-year plan to support research and innovation, launched in 2011, is biologics.
"Emerging markets will drive the transformation of pharmaceutical industry and contribute more to the revenues and profitability of a company, in view of the overall intense industry environment," Wang explains.
Key challenges: regulation, competition, pricing
Yet alongside the opportunities presented by the rapid reform of China's healthcare system have come significant challenges for companies operating in the country, not least due to an increased focus on compliance and ever-evolving drug pricing mechanisms.
"For Wang, the most important area companies will need to keep an eye on is pricing."
Add to this a cumbersome regulatory process, which was further tightened up for international companies in early 2014, and companies must be prepared to adapt the way they do business in China if they want to succeed.
For Wang, the most important area companies will need to keep an eye on is pricing. Although China has backtracked on its policy of mandating maximum retail prices on certain drugs (from 1 June 2015, price caps were abolished on almost all categories of medicine), pricing pressures will continue to be a major challenge for pharmaceutical companies.
"As a result [of government price controls being lifted in June] prices of pharmaceutical products are currently mainly determined by market competition through the provincial statutory tender processes," Wang explains.
"The new pricing mechanism will not have obvious significance on the majority of drugs since the prices are co-restrained by bidding programs and medical insurance expenditure controlling mechanism. Nevertheless, some individual-pricing products manufactured by both domestic and multinational companies would possibly suffer more from pressure on price.
He adds that he expects the government to continue to cut prices of drugs, leaving less profit opportunities for manufacturers, to further alleviate burdens on the country's medical insurance system.
Other key challenges industry players will face in the months and years to come include difficulties getting new drugs approved (foreign drugs now require three applications and three approvals, up from two applications and two approvals) and the government's increased focus on corporate compliance.
Its anti-corruption campaign is targeting both domestic and foreign companies and according to Reuters, as of May 2014, more than half of all drug makers operating in China were being investigated in one or more areas.
Competition is also set to intensify between multinational companies and their local counterparts thanks to government efforts to strengthen the competitiveness of domestic manufacturers. For example, all companies will be required to meet new standards for good manufacturing practices by the end of 2015, narrowing the gap between the quality standards of local and global players, and the government is also encouraging industry consolidation in an effort to create larger domestic companies.
At present, however, fragmentation reigns supreme according to Wang. "The country's pharmaceutical landscape remains extremely fragmented with over 4,000 companies in the market, indicating a lack of economy of scale and low efficiency."
While there is no doubt that China's pharmaceutical market offers huge opportunities for both local and global manufacturers, the rapid speed at which the country's healthcare sector is evolving means that it won't be an easy task for either party to capitalise on these. Companies must be prepared to rethink the way they do business in China if they have a chance of keeping up with the pace of reform.