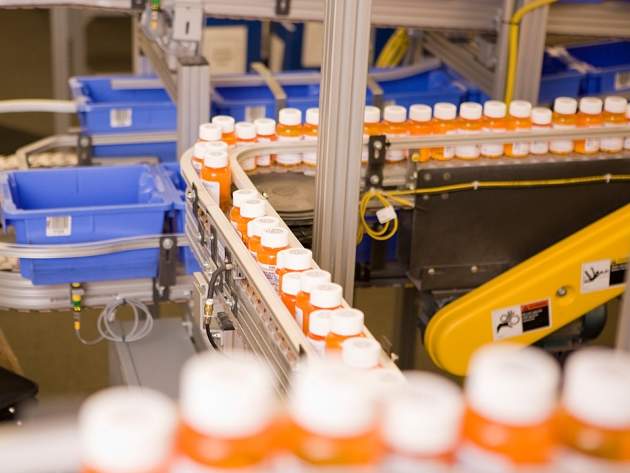 When a company as big as Amazon takes a leap, industries turn their heads and wait to see where it will land. The Seattle-based company started as an online bookseller. It has transformed over the last two decades into an online retail and technology behemoth with a market capitalisation that exceeded $500bn for the first time in July.
In that time, the company has proven itself willing and able to expand into sectors not considered suitable for online retailers. Fashion and electronics segments such as television sets were traditionally seen as the preserve of physical shops, where customers can judge an item's qualities in person. However, Amazon spearheaded the web's invasion of these markets, and younger consumers in particular have rapidly adopted online shopping with a readiness previously thought unlikely, massively extending Amazon's reach in the process.
The company has leveraged this reach (and the data that comes along with it) to launch artificial intelligence (AI), data analytics, and cloud computing ventures under the Amazon Web Services banner. Streaming music and video content soon followed, and with Amazon Video, the company is now even developing its own original programming, as well as hosting the content of others.
In short, then, it's no surprise that even a hint that Amazon is mulling an entry into the US pharmacy market has made waves among major American pharmacy chains, such as CVS Health and Walgreens . Although Amazon itself has confirmed nothing and declined to comment, there have been enough signals within the company to kick off a wave of speculation in the pharmacy industry, and no shortage of discussion over the challenges and implications of a major new entrant into this complex business.
Amazon and healthcare: signs of movement
So, why has the rumour mill been spinning up to hyper-speed in the first half of this year about Amazon's intentions for the retail pharmacy space? The first major interest picked up in May, when CNBC reported that the company had been holding meetings over the last few years to discuss the possibility of entering the pharmacy market. Those discussions have become more substantial with the Affordable Care Act and the increasing adoption of high-deductible health plans.
Amazon is reportedly planning to hire a new general manager to lead discussions on the pharmacy space, and has already hired Mark Lyons from health insurance company Premera Blue Cross to develop a pharmacy benefits manager (PBM) for Amazon employees, fuelling speculation that the company might use this new expertise to eventually itself become a third-party administrator of prescription drugs.
A month before the reports of Amazon's potential pharmacy plans, The Japan Times noted that the company had launched a pharmaceutical section on the Amazon Japan website, enabling customers to order Category 1 over-the-counter (OTC) medications. This is the most secure category of OTC drugs in Japan, which require pharmacist consultation and confirmation before purchase. While not prescription medicines, the launch signals that the company is beginning to experiment with online sales of the more tightly-regulated sections of drugstore shelves.
On top of this, Amazon already sells medical supplies and equipment through its online retail channels, and has indicated its interest in medical technology opportunities, even reportedly establishing a secret lab dubbed '1492' to work on hardware and software-based projects in areas like remote healthcare and electronic health records.
Even Amazon's massive acquisition of organic supermarket chain Whole Foods Market , announced in June and valued at around $13.7bn, has been examined for its potential impact on the company's possible pharmaceutical play. Ownership of Whole Foods gives Amazon a significantly boosted physical retail presence, opening the possibility to one day install pharmacy sections in stores.
A Morgan Stanley report published in June noted that the acquisition "creates an entry point into drug delivery", while GoodRx co-founder Stephen Buck said "the acquisition of Whole Foods makes entry into pharmacy much easier for Amazon."
Implications of an 'Amazon Pharmacy'
While these signals do not constitute solid evidence that Amazon is truly planning to enter the US pharmacy marketplace, there is a sense of anxiety that the retail giant could be coming, bringing disruption with it. Amazon has always been comfortable with slim profit margins, and has the money, time, and scope to potentially change the way that drugs are distributed and sold.
"I get asked all the time what Amazon is doing," Tom Rodgers, managing director of healthcare investor McKesson Ventures told CNBC in July. "Everyone in the supply chain is nervous. It's a low-level paranoia that Amazon will drive down profitability."
Even across the Atlantic, pharmacy industry representatives are nervous about the implications that Amazon brings to prescription drug transactions, as well as the possibility that it could diminish the human, consultative aspect of the pharmacy business to reduce costs. "Medicines cannot be compared to other products that you can sell online," UK National Pharmacy Association chief pharmacist Leyla Hannbeck told The Pharmaceutical Journal in May. "We don't know what Amazon is up to and they haven't confirmed anything but we have concerns about what that could do to pharmacy in general."
The financial rationale for Amazon to carve out a major presence in US pharmacy is clear, with total US drug sales worth more than $260bn in 2015, and projected to grow year-on-year. The pharmacy retail market is dominated by a relatively small number of massive companies, whose concern at Amazon's potential to reduce prescription drug costs and break up the PBMs' standard business practices is understandable.
Established pharmacy players downplay Amazon threat
Established US players such as CVS and Walgreens have been more measured in their response, despite stock price drops on the news of Amazon's potential plans. Leading companies have emphasised the challenges of debuting in a complex, tightly-regulated, and finely-balanced market.
This is especially the case as the trend among pharmacy benefits managers is to move towards value-based contracting rather than the rebate model, which requires a much more nuanced approach relying on good relationships between PBMs, drugmakers, insurers, and employers.
"Most people are thinking about pharmacy as another distribution point, but pharmacy is also about the clinical outcomes that are provided," said CVS chief executive Larry Merlo in an August earnings call with analysts. "In an environment where there's a migration to more value-based care, those clinical capabilities are going to continue to grow in importance. It's highly regulated, so the barriers to entry are high."
While some analysts and industry experts have pointed to Amazon's vast resources, its history of breaking into potentially tough markets, and the possibility that it could partner with or acquire an established company in the space to accelerate its plans, others are less convinced that Amazon is likely to make moves in the pharmacy industry at all.
Speaking to MarketWatch in June, Mizuho Financial Group analyst Ann Hynes argued that the stock reaction to the Amazon reports was overblown, and that there has been no mention of pharmacy in any of Amazon's earnings calls since 2006. Hynes contended that the reports of Amazon hiring pharmacy staff has been "mostly noise" and the company would have to spend vast sums to acquire any pharmacy firm or PBM that would give it sufficient market presence. The older, less web-savvy demographic of many pharmacy customers might also provide a barrier for Amazon, if it wants to leverage its online advantages.
The stakes would be high, perhaps too high even for a giant like Amazon, especially when there may be easier pickings in looser markets elsewhere. Whether the company is truly contemplating a disruptive debut in pharmacy might not become clear for years yet; in the meantime, the industry's reaction to the speculation might reveal more about its own mind-set than any external disruption in the future.