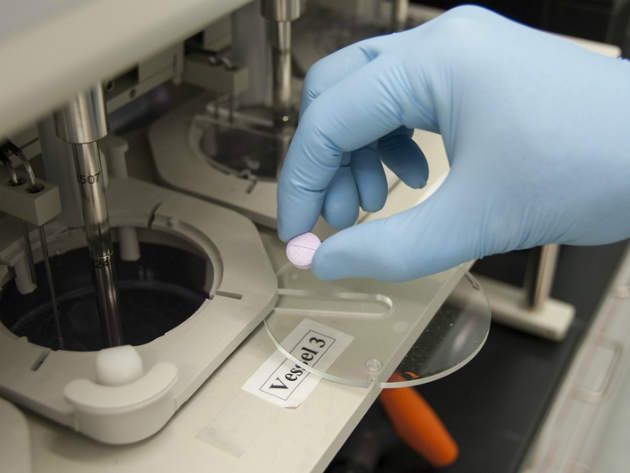 A new tool developed by the Association of the British Pharmaceutical Industry (ABPI) hopes to forge stronger links between pharmaceutical companies and UK academics in order to boost medical research in the long term. While academics will benefit from having access to a one stop shop for funding, equipment and collaboration opportunities, Big Pharma will be able to get earlier insights into promising research, streamlining the development process for new medicines.
Dubbed the Library of Initiatives for Novel Collaborations – or LINC – ABPI's online tool does what it says on the tin. Users can view preclinical and clinical initiatives and search by compounds, funding, non-specific partnership, investigator-initiated studies, equipment and resources, collaboration facilitators and challenges – or a mix of these.
The publicly available portal also allows people to search by company name to see what projects ABPI member companies offer and how they are supporting open innovation, working with researchers across the UK both in hospitals and universities.
Although it was only launched on 5 June this year, LINC already has some 370 projects so far – ranging from funding opportunities for promising dementia research, to an offer of 62 compounds available to academic scientists conducting preclinical research free of charge, plus free access to databases of drug-like bioactive compounds.
Creating synergies
The LINC database has also been launched alongside a booklet of industry-academic case studies in the UK, designed to highlight projects that have benefitted from the type of collaboration it is encouraging.
One of these is the partnership between GSK's collaboration initiative, Discovery Partnerships with Academia (DPAc), and Damian Mole, a senior clinical fellow from the Medical Research Council (MRC) and consultant surgeon at the University of Edinburgh to discover a treatment for severe acute pancreatitis (SAP), a devastating condition with no available therapy.
Through this project, which is now progressing towards clinical phases, Mole has learnt first-hand just how important it is for academia and industry to work together.
"There are things universities do really well – innovative ideas, basic science, bringing translational ideas through experimentation, testing new hypotheses, as well as closely interfacing with clinicians to identify what the key problems are in order to ask the right questions," he says.
"Meanwhile where pharmaceutical companies excel is the overlap between making those ideas and that great science that the universities deliver into a new medicine. Rather than try and make new medicines on their own, I believe it's much more productive and efficient for universities to team up with pharmaceutical companies to synergise with the critical mass, infrastructure and experience of negotiating the pathway to making a new medicine that these companies have. Pharmaceutical companies are also experienced in the marketing and post-marketing stages."
In a nutshell for Mole, it's a four stage process, although stages can overlap and don't always happen in the same sequence: 1 – Innovative idea, 2 – Making the molecule, 3 – Identifying and developing the clinical questions and 4 – Marketing and post-marketing of the drug.
"Although to a degree pharma and academia can do each of these independently, if industry has strengths in two and four and universities excel at one and three, it makes perfect sense to join forces if you want to do one, two, three and four," he summarises, adding that his partnership with DPAc is a perfect example of how a synergistic relationship between industry and academia can lead to a breakthrough that otherwise might not have been possible.
A case in point
After realising from clinical experience more than a decade ago that the main reason patients with SAP died was because they developed organ failure outside the pancreas, Mole and his team went back to the lab to discover why.
"We built up a mass of knowledge that the severity of the pancreatic damage was not the main driver per se; it was the systemic inflammatory response to that and also the development of organ failure," Mole recalls.
"So we did experiments and identified the metabolic pathway that we felt was potentially tractable and sensitive to treatment. Then GSK got involved as they realised they could take this challenge on and make a new medicine to target this particular metabolic pathway.
"If we hadn't interacted with GSK, we wouldn't be nearly as far on as we are now. Similarly, GSK wouldn't be in such a good position to be taking this medicine forward now had they not been working with us."
Taking luck out of the equation
While Mole believes both his team and GSK have been lucky to benefit hugely by joining forces, largely because both camps were committed to their goal and interested in working collaboratively, he hopes LINC will take luck out of the equation for other academics and pharmaceutical companies, by facilitating those first critical interactions.
From the university perspective, not only will LINC give academics a place to start, it will also bring the timing of the first industry-academic engagement to earlier in the process.
"One of the barriers is that early stage researchers often don't think the pharmaceutical industry is going to be interested in anything they've got until they've developed a high throughput assay, done a screen, and identified a target, but actually industry want to be aware of research right at the beginning so they can help do the screens and get a handle on the biology early," Mole says.
"They get to start thinking ahead as to what kind of medicine this needs to be early on. Will it be a small molecule or a biological or will it need IV dosing or long term oral? These things massively impact the development process right from the beginning."
Mole also thinks earlier industry-academia collaboration will lead to the end points of clinical trials being better designed. "The pharmaceutical industry is changing the way it does trials now. The days of '3,000 patients in each arm, carry on, it's a yes or no answer' are numbered, especially in the pre-marketing stages. There are many more smaller, early read-out, multiple end point, multiple stopping point trials. What working together will change is that those trials will be asking better questions of new medicines."
As Dr Malcolm Skingle, CBE, author of the foreword to the ABPI LINC booklet, chair of the ABPI's Academic Liaison Expert Network and director of GSK's Academic Liaison Worldwide Business Development, summarises:
"Collaboration has never been more important for successfully delivering new therapies for patients. Innovation requires a vast range of skills, resources, and knowledge, which no single organisation can hold by themselves.
?"ABPI LINC makes this collaboration easier than ever and has the potential to make a real difference to the speed of innovation in the UK by linking together the world-beating expertise we have in our universities, in the NHS and in the pharmaceutical industry.