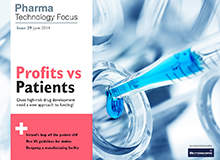 A new report questioning the use of off-label drugs to save money has again fuelled the debate about spiralling prices of patent-protected drugs, which inevitably poses the question: What incentive would remain for Big Pharma to invest in drug development and innovation if the prospect of a substantial profit was to be removed from the equation? We hear from both sides of the debate to find out whether R&D funding requires a whole new approach with stronger involvement from the public sector.
Also in this issue, we take a look at the challenges of building a first-rate manufacturing facility, take a look at the future of Ireland's pharma industry in the wake of the patent cliff and find out how the investment landscape for life science has changed in recent years.
Moreover, we investigate the potential fallout from new prescription guidelines for statins in the US which have led to renewed debate about their benefits vs side effects, and explore new findings on the medical potential of honey.
Click here to read this issue.
In this issue
Superior StandardsPharmaceutical companies are embracing the need for more advanced manufacturing facilities. Dr Nicola Davies speaks to Al Petro of NeurogesX about building a first-rate manufacturing facility.Click here to read more.
Ireland's Leap off the Patent CliffThe patent cliff hasn't been kind to Ireland, the world's fifth largest exporter of drugs. Elly Earls asks IDA Ireland's Barry Heavey what the next few years will bring for the country's pharmaceutical market.Click here to read more.
A Capital IdeaThe investment landscape in life science has changed with the emergence of many new categories of investors over recent years. Elly Earls finds out what's new from Life Science Nation's Dennis Ford, Atlas Venture 's Peter Barrett and SR One 's Jens Eckstein.Click here to read more.
Profits vs PatientsA new report questioning the use of off-label drugs to save money has been criticised for propping up an unfair status quo. Chris Lo asks if there is another way of funding high-risk research while avoiding budget-busting prices.Click here to read more.
Embracing Change to Drive BusinessWith new guidelines for the identification of medical products due to come into force, ArisGlobal COO John Dellisanti explains why total integration of all drug life cycle processes across departments could offer benefits for both compliance and business.Click here to read more.
Spotlight on StatinsNew guidelines for prescribing statins are expected to result in an increase of 12.8 million adults taking the drugs in the US. Dr Nicola Davies investigates the benefits and side effects.Click here to read more.
Sweet SolutionNew research has taken our knowledge of honey in medical applications a step further, indicating that it may have a role in the fight against bacterial resistance to antibiotics. Dr Nicola Davies finds out more.Click here to read more.
Next issue preview
A €53m project under the EU's Innovative Medicines Initiative aims to accelerate trials of new Alzheimer's treatments by pooling several candidate drugs into wider studies. We explore the potential of this approach. Also in this issue, we find out what Crown Bioscience 's new human surrogate trial platform HuTrial can do and take a look at the first drug approved in the UK for the treatment of pulmonary arterial hypertension.
Moreover, we profile the transformation of India's pharma industry from a manufacturer of generics to a new role as a drug innovator, get a market forecast for Parkinson's disease from GlobalData and take a look at the potential of self-expiring packaging in tackling compliance issues and counterfeits.
Digital magazine FAQ
Pharma Technology Focus is available on the iPad and as a free desktop version*. You can download our app or read the latest issue here.
View the archive of back issues.
Sign . up for your subscription here.
*Browser compatibility: The desktop version can be viewed in the latest two version of Chrome, Firefox and Safari, as well as in Internet Explorer 9 and 10. Some features may not be compatible with older browser versions.