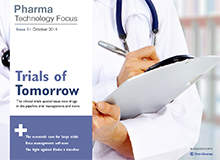 Nowadays large-scale clinical trials are generally viewed as an expense not worth incurring, a potentially wasteful use of resources given the uncertainty of the outcome. With funds more commonly allocated to smaller projects, the prevailing philosophy is to keep spending to a minimum. However, researchers looking into the one of the largest studies ever conducted recently found that the trial led to healthcare savings of more than $38bn over the years. We investigate what these findings have revealed about the economics of large-scale clinical trials.
We also get a market forecast for Type 2 Diabetes treatments in the pipeline, find out how changing attitudes towards marijuana are opening up new investigational paths for cannabinoid-based medicines and take a look at new drugs being trialled for the treatment of obesity. We also chart the medical community's contribution to the fight against Ebola on an interactive timeline.
In the light of new criticism of the World Health Organization 's International Clinical Trials Registry Platform, we investigate claims that trial data is difficult to access and ask how the system could be improved. We also take a look at new clinical data management software including Parexel International 's Perceptive MyTrials system, find out how the life sciences sector can make better use of cloud systems and explore the benefits of adaptive licensing for orphan drugs.
Click here to read this issue.
In this issue
Net ReturnAn investigation into one of the largest studies ever conducted on women has made interesting findings – the trial led to medical practice changes saving $37.1bn. Abi Millar explores the economic case for large-scale clinical trials.Click here to read more.
In the PipelineWith the market for Type 2 Diabetes treatments set to grow and change over coming years, Valentina Gburcik, PhD, GlobalData's senior analyst for cardiovascular and metabolic disorders, takes a look at the pipeline and the competitive landscape.Click here to read more.
Ebola: A TimelineThe medical community has been accused of not engaging in enough drug development and research to counter the deadly Ebola virus. Abi Millar charts the story of Ebola, from its first isolation in 1976 to the latest outbreak and new efforts to rush a vaccine into mass production.Click here to read more.
Marijuana MedicineAs attitudes towards medical marijuana continue to soften, a massive new investigational path for cannabinoid-based medicines has opened up. Chris Lo tracks some of the most promising developments in medical marijuana and related treatments.Click here to read more.
Lighter OptionsAccording to The Lancet, over two billion people suffer from obesity globally. Dr Nicola Davies investigates the multi-modal research being conducted around the world to tackle this epidemic, from drugs that replicate the gastric bypass procedure to Botox.Click here to read more.
Pitfalls and PossibilitiesAccording to a study, investigators using the World Health Organization 's International Clinical Trials Registry Platform encountered several problems accessing data. Abi Millar explores what needs to change for transparent clinical trial information to become a practical reality.Click here to read more.
Modern ManagementAs clinical trials continue to grow in size and complexity, more and more companies are adopting software-as-a-service applications as an effective means of data management. Laura Walkinshaw gets better acquainted with Parexel International 's Perceptive MyTrials platform.Click here to read more.
An Adaptive ApproachThe Fast Tracking Orphan Drugs conference brought together industry stakeholders with an interest in accelerating orphan drug access through new regulatory schemes. Based on discussions held at the event, GBI Research outlines how adaptive licensing could improve orphan drug development.Click here to read more.
A Platform in the CloudAs clinical trials grow in scope and size, life science organisations are following in the footsteps of other industries in using cloud computing to automate and simplify complex research processes. John Anstey, enterprise systems architect at Medidata Solutions , discusses how the life science sector can successfully exploit the cloudClick here to read more.
Next issue preview
As the deadline of the new safety features regulation in the EU's Falsified Medicines Directive approaches, we demystify arguments around compliance and ask whether UK pharma companies are on track with their implementation strategies.
We also explore the ISPE 's plan for preventing drug shortages, take a look at new lymphoma treatments in the pipeline and chart the industry's progress in the fight against dengue fever on an interactive timeline.
Moreover, we find out how the METRICS study is searching for new cancer treatments by combining established medicines and take a look at new research exploiting nanotechnology and big data to gain new insights into antimicrobial resistance.
Digital magazine FAQ
Pharma Technology Focus is available on the iPad and as a free desktop version*. You can download our app or read the latest issue here.
View the archive of back issues.
Sign up for your subscription here.
*Browser compatibility: The desktop version can be viewed in the latest two version of Chrome, Firefox and Safari, as well as in Internet Explorer 9 and 10. Some features may not be compatible with older browser versions.