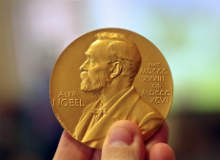 This year's Nobel Prize in Medicine is a testament to how far the research community has come in its ongoing battle against parasitic diseases. While one half of the award went to Youyou Tu, a Chinese pharmacologist behind a novel therapy against Malaria, the other was shared between a Japanese microbiologist and an Irish-born parasitologist who, together with their teams on opposite sides of the world, carried out research that led to the discovery of a new class of drugs with extraordinary efficacy against infections caused by roundworm parasites, transforming the lives of millions of people across the developing world.
Parasitic diseases have plagued mankind for millennia, many of them caused by parasitic worms, or helminths, which are estimated to afflict one third of the world's population and are particularly prevalent in sub-Saharan Africa, South Asia and Central and South America. Two of the most devastating diseases caused by these organisms are river blindness, which ultimately leads to blindness because of chronic inflammation in the cornea, and lymphatic filariasis, which affects more than 100 million people and causes chronic swelling, including elephantiasis, and disability, which can lead to sufferers being shunned by their communities.
Up to the 1970s there had been very limited progress in finding durable therapies for either of these debilitating diseases. Then Japanese microbiologist Satoshi Omura came onto the scene in 1974.
"Omura achieved a breakthrough when he isolated new strains of a group of soil bacteria called Streptomyces."
From the soil to the shelves
An expert in isolating natural products, Omura achieved a breakthrough when he isolated new strains of a group of soil bacteria called Streptomyces, which were known to have antibacterial properties, and successfully cultured them in the laboratory. He then sent the most promising organism, which had been found near a golf course, along with others, to a team led by parasitologist William C. Campbell at the Merck Institute for Therapeutic Research in Rahway, New Jersey, who took up the research from that point and were able to show that a component from one of the cultures was remarkably efficient against parasites in domestic and farm animals.
The team – and Campbell has emphasised again and again that the research was the work of the team, not just himself – then purified and named the agent Avermectin, which was chemically modified to a more effective compound and dubbed Ivermectin. In later tests on humans, the drug wiped out the parasitic roundworms that cause infections including river blindness and lymphatic filariasis and was released onto the market in 1981.
Six years later in 1987, Merck announced that it would donate the drug to anyone who needed it for treatment of river blindness and a decade after that, it was also given away to treat lymphatic filariasis. Now Merck gives away around 270 million treatments of the drug every year, according to the Mectizan Donation Program in Decatur, Georgia, and the medicine, which is used in all parts of the world that are plagued by parasitic diseases has had what the Nobel Committee described as an "immeasurable" impact on global health.
Indeed, so successful has the treatment been in improving the health and wellbeing of millions of individuals with river blindness and lymphatic filariasis that the two diseases are currently on the verge of eradication. As Steve Ward, the deputy director of the Liverpool School of Tropical Medicine, said in praise of Campbell and Omura's discovery: "Elephantiasis and river blindness blight the lives of millions of the poorest people on the planet, and Ivermectin is having a genuine effect on reducing the burden of disease to the point that we can think about getting rid of them for good."
In September, Mexico eliminated river blindness, joining Colombia and Ecuador as endemic countries in Latin America to have achieved the World Health Organization's (WHO) criteria for being declared free of the disease. Meanwhile, the drug has also shown efficacy against a growing range of other parasitic diseases.
Drugs from nature
For Campbell, whose initial response to finding out he'd been awarded the Nobel Prize was "You must be kidding!", the fact that Ivermectin came originally from nature, rather than being synthesised in a lab, is an important factor for the scientific community to note, looking forward.
"I think one of the big mistakes we've made all along, and I've been writing about that for 40 years, is that there is a certain amount of hubris in humans thinking that they can create molecules as well as nature can create molecules in terms of the diversity of molecules. Nature consistently produces molecules that have not been thought of by humans," he said to Nobel Media's chief scientific officer shortly after he was informed that he would be receiving the prize.
"Blindness anywhere, and especially in certain areas of the world, is likely to be calamitous and fatal."
He also noted that the drug's impact in preventing blindness had changed lives and the ability of people to live in certain fertile areas.
"Blindness anywhere, and especially in certain areas of the world, is likely to be calamitous and fatal because people cannot be productive and make a living when they are blind, in some circumstances," he stressed. "[This drug] enables them to repopulate areas that had been abandoned, so that has been another way it has been important."
When taken alongside the discovery made by the winner of the other half of the 2015 Nobel Prize in Medicine – a novel class of antimalarial agents that rapidly kill malaria parasites at an early stage of their development – this year's prize really is a testament to the progress that has been made by the research community in combatting parasitic diseases across the developing world.
As the Nobel Committee summarised: "The two discoveries have provided humankind with powerful new means to combat these debilitating diseases that affect hundreds of millions of people annually. The consequences in terms of improved human health and reduced suffering are immeasurable."