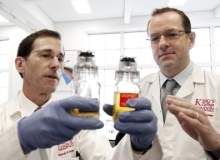 On 1 January 2014, the joint principles on 'responsible' sharing of clinical trial data, which were endorsed by the European Federation of Pharmaceutical Industries and Associations (EFPIA) and the Pharmaceutical Research and Manufacturers of America (PhRMA) in July 2013, took effect. The volume of clinical trial information now available to qualified researchers, patients and the public has, as the two associations put it, expanded 'dramatically'.
Under the new 'Principles for responsible clinical trial data sharing', researchers can submit proposals for access to patient-level data, clinical trial protocols and clinical study reports for new medicines approved in the US and the EU after 1 January 2014.
Opening up data to researchers and patients.
"Especially for the research community, the industry's new data sharing commitments will result in an extraordinary expansion in the amount of clinical trial data available for testing hypotheses and enhancing public health," emphasised Jeffrey Francer, assistant general counsel at PhRMA.
James Shannon, chief medical officer at GlaxoSmithKline (GSK), a company which has been committed to data sharing since early 2000, soon after its creation, agrees: "There's a huge amount of data which is captured as part of a clinical trial, which may inform science and medicine better, if it were open to the eyes of multiple sides who had different ideas, hypotheses or concepts of the treatment of a disease," he said. "We believe the more interrogation the data has, the better the answers will be."
---
---
In efforts to deflect criticism, GSK announced in October 2012 that it would make detailed data from clinical trials available to researchers.
---
As well as benefiting the research community, this new step from the pharmaceutical industry will also serve to empower patients, allowing them to become more involved in their own health. "We believe that sharing information and data with participants that have completed Pfizer trials will help support more empowered and engaged patients, who will be able to use their own data to further advance their health objectives while better understanding the research findings they have helped to make possible," explained Pfizer head of Clinical Innovation for Worldwide Research & Development Craig Lipset. Pfizer now uses Blue Button technology to enable trial participants to download their own electronic clinical data.
Of course, data sharing is not new for the industry; many pharmaceutical companies have been informally sharing their data for years. Indeed, for Shannon, the launch of these new official principles was a natural evolution of the industry's journey so far. But according to Francer, the launch of the new principles does mark a turning point: "PhRMA's and EFPIA's approval of the new principles represents a renewed commitment to work with others in the research ecosystem," he said.
Do the new principles go far enough?
This is the question critics, such as the AllTrials campaign group and the European Medicines Agency (EMA), have been asking since the new principles were endorsed last year. For AllTrials, one of the main concerns is that transparency initiatives are not retrospective and do not require the inclusion of data from older trials. The group is also unhappy about the fact that only certain researchers are allowed access to clinical trial data. Meanwhile, the EMA is seeking 'full transparency,' including access to the processes by which compounds are manufactured.
For PhRMA, though, it would be irresponsible to allow completely open access to clinical data – for three key reasons: "Companies cannot jeopardize the privacy of patients who volunteer to participate in clinical trials, undermine the authority of regulatory agencies or jeopardize the significant investment necessary to bring a new therapy to market by revealing confidential commercial information," Francer explained. "The principles carefully balance sharing clinical trial data to advance science and benefit public health with these concerns."
Patient privacy and independent reviews: essential for 'responsible' data sharing
Safeguards that ensure patient privacy are a key pillar of the new principles, and, for Shannon, the most crucial one. "The number one thing that is important in responsible sharing is that we protect the privacy and confidentiality of patients," he stressed.
"One of the main concerns is that transparency initiatives are not retrospective and do not require the inclusion of data from older trials."
"Of course, when a patient enrols in a clinical trial, they have the expectation that they are doing good, not only for themselves but for society, and they would like their data to be used to help other patents and inform science. However, there is also a reasonable expectation that their privacy will not be breached and that their confidential information will not be shared around the world."
At both GSK and Pfizer, therefore, all data is anonymised to ensure that no individual piece of information can be linked to an individual patient. "At Pfizer, patient-level data will be removed from Clinical Study Reports in the publicly posted synopses.
Moreover, all researchers are required to enter into a data sharing agreement with Pfizer before receiving access to patient level data through our secure portal," Lipset noted. "We are committed to ensuring the highest level of patient privacy and security and compliance with all patient privacy regulations."
Shannon is also keen to emphasise the importance of making sure that only qualified researchers can gain access to clinical trial data. "The danger is that when you have people who are not qualified addressing the question or asking questions the data cannot answer, the interrogation could produce bad information, which could lead to patients refusing medicines or taking too much. If the data is to be interrogated, it should be done so in an appropriate manner and produce good information for patients, scientists and physicians."
To ensure this, GSK requires that anybody who wants access to the company's data write a research proposal, outlining their hypothesis and which data they want to use to answer that hypothesis. This is then sent to an independent panel of scientists and clinicians for review. "They decide whether a legitimate question is being asked and whether the data can answer the question," Shannon explained. "This is not governed by GSK at all; if the external panel believes it's a legitimate analysis, it will grant access to the data."
Future steps: developing responsible sharing standards
---
---
What happens when the language of advertising is applied to products as complex and potentially life-changing as prescription medicines?
---
The launch of the new EFPIA-PhRMA data sharing principles is just one small part of the pharmaceutical industry's effort to enhance public health, and – even in this specific area – there is still a long way to go. Not only does the entire sector need to agree on a definition of 'responsible' data sharing, standards must be developed and collaboration improved to ensure the public benefits as much as possible from the industry's increased openness.
"There are still many complexities to be resolved including establishing common data standards and identifying review processes that promote sound science and quality analyses," said Lipset.
For Shannon, the next step is to create a platform where investigators and scientists can go to look at all available clinical trial data. "They will learn most when they don't only look at GSK or Pfizer data, but when they can look at data from all companies and all GSK is already on the way to facilitating this, having launched multi-sponsor request system clinicalstudydatarequest.com earlier this year, which includes studies from multiple organisations. "We're hoping that we can get academic centres and academic institutions to join into that and we are making good progress," added Shannon.
Ultimately, though, he believes this should be the responsibility of an independent institution within the industry. "The debate will go on in the world, among the scientific community, and among politicians. We would like ultimately, that the way this is done be driven by societal needs and scientific needs in a responsible manner," he concluded.