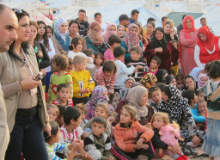 Silent killers like high blood pressure, diabetes and cancer are not only rich country diseases. Non communicable diseases (NCDs) are fast on the rise in low- and middle-income countries, causing particularly high mortality rates among refugees, for whom getting access to the long-term treatment essential to combat them is a huge challenge.
For this reason pharmaceutical giant Novartis and the ICRC have teamed up on a first-of-its-kind pilot project, designed not only to provide NCD drugs to refugees cheaply, but also to establish a blueprint for improving diagnosis, treatment and follow-up.
Their first stop? Lebanon, where refugees account for one third of the total population.
The big picture
Every year, 38 million people die from cardiovascular diseases, diabetes, respiratory diseases and cancer worldwide, with 75% of these deaths in low- and middle-income countries. In Lebanon, one of the countries at the centre of the largest refugee crisis witnessed since World War II – which has placed huge pressure on its already fragile healthcare system – the statistics are still starker. NCDs were estimated to account for 85% of total deaths in 2014, with high blood pressure and type II diabetes making up more than 50% of that figure.
The new partnership between ICRC and Novartis Access, the arm of the company focused on providing a portfolio of affordable NCD medicines to patients in low- and middle-income countries, aims to address this.
Established in March 2016 and slated to begin distributing drugs across Lebanon in July, its remit is both to provide high-quality medicines for high blood pressure and diabetes affordably and to ensure refugees get the ongoing care so essential to reducing mortality from these conditions.
"ICRC will be paying Novartis $1 per treatment per month, allowing a large number of patients to be included."
"Management of chronic diseases like diabetes and hypertension requires a continuum of care, from early detection to long-term, ongoing treatment – and it is thus particularly challenging for migrant populations to access the diagnosis and medicine they need," explains Harald Nusser, global head of Novartis Access.
"Beyond receiving affordable NCD medicines, the ICRC is also working to establish a blueprint for improving the diagnosis, treatment and follow-up of refugee patients suffering from hypertension and diabetes. This would help avoid long-term negative health outcomes (e.g. stroke, nephropathy, etc.) in such high-risk patients."
ICRC will be paying Novartis $1 per treatment per month, allowing a large number of patients to be included in the programme and avoiding shortages of these drugs once treatments are started.
What's happening on the ground?
As part of the long-term partnership, the Lebanon pilot will initially run for a year, during which time medicines will be delivered to 10 health facilities in the country with an overall reach of 350,000 people. And in anticipation of the first shipment, which is set to arrive in July, work on the ground has already begun.
"We have four offices throughout the country, and we already support many primary health care centres, so it's basically been a matter of screening patients and detecting the cases that will be benefiting from the partnership," explains Tarek Wheibi, ICRC's spokesperson in Lebanon. "In Lebanon, you're talking about 30% of the adult population that is either obese or with raised blood pressure, so the needs are huge."
Indeed, almost 5,000 people suffering from high blood pressure and diabetes have already been identified to benefit from the programme, a number that is expected to grow.
"Almost 5,000 people suffering from high blood pressure and diabetes have already been identified to benefit."
When it comes to the logistics of the operation, Wheibi anticipates very few complications. "The country is relatively safe, you don't have restrictions on movement and we have very good access to the community (both Syrian refugees and underserved Lebanese and Palestinians) so in terms of delivering the medical assistance, I don't think we will have any problems," he says, adding that ICRC also has established mechanisms in place to deliver medical supplies to primary healthcare centres, and its team of field officers – which has grown from 20-30 to nearly 350 over the last four to five years – is already in place.
"Our teams are capable of foreseeing demand and our logistics department places its orders with Geneva with regular control of the stock for replenishment. The ICRC also has a regional emergency stock in warehouses in Jordan for unforeseen situations that might develop. The main difference of course is that we will be able to get these drugs for much cheaper than we did before and get a wider range of drugs."
Individual follow-ups: key to success
One of the biggest challenges will lie in making sure both refugees, many of whom will be moving across the country, and underserved Lebanese NCD patients get access to the follow-up treatments they need.
"As NCDs require long-term treatment and as migrant populations move across borders, the key challenge is to provide them with an uninterrupted supply of medicines and regular medical check-ups, so they receive the steady care they need," Nusser notes.
"Yet, we foresee there will be an increasing competition between host and refugee communities for public health services, which means we also need to increase access to proper diagnosis, treatment and follow-up for patients affected by common NCDs in the catchment areas of the ICRC-supported health facilities."
ICRC has already made some headway. "We are currently setting up a follow-up mechanism with primary health care clinics by taking accurate information from the patients to be able to contact them and for them to be able to reach us as well," Wheibi notes. "Being able to individually follow up on cases is so important for chronic illnesses."
"The key challenge is to provide them with an uninterrupted supply of medicines and regular medical check-ups."
"Throughout the entire process, it is/will be essential to work with local authorities, governments and healthcare providers on the ground to ensure positive outcomes for the project," Nusser adds.
Looking forward, Novartis's hope is that once a blueprint has been established, the partnership could be expanded to other regions, although no timeframe has yet been set. "The ICRC's support to health facilities in Lebanon where the portfolio will be implemented is a one-year extendable project and for each year there is an evaluation of the outcomes to decide together with the local health authorities whether to extend the programme for another year," Nusser notes.
This initial pilot project, just one small part of the much wider-reaching Novartis Access scheme, is set to be a great start to the partners' aim to stem the tide of NCDs in a region where medical centres are currently struggling to provide basic levels of healthcare.