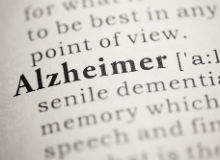 In 1901, during his tenure at the forbidding Institution for the Insane and Epileptic in Frankfurt, the psychiatrist and neuropathologist Alois Alzheimer noticed that a 51-year-old female patient, Auguste Deter, had begun to display strange behavioural symptoms, including a loss of short-term memory.
Upon her death in 1906, Alzheimer began to examine Deter's brain, employing staining techniques to identify rogue protein deposits known as amyloid plaques and neurofibrillary tangles. In a speech delivered on 3 November 1906, he revealed his findings. It was a historic moment, the first time the pathology and the clinical symptoms of presenile dementia were presented together.
A century on from Alzheimer's momentous discovery, the degenerative brain disease that bears his name is by far the most common form of dementia, afflicting an estimated 44 million people worldwide – and that figure is expected to more than double to 100 million by 2050. In the UK alone, Alzheimer's research, treatment and care will cost the national economy £27bn per annum by 2018.
But this is nothing compared to the human cost of the disease, which causes irreversible disruptions in memory, cognition and personality, leading, in the majority of cases, to death from brain failure.
For patients and their families, the outlook remains bleak. Current pharmaceutical treatments are palliative in nature, offering little or no symptomatic benefit. A study published this month in the US journal Alzheimer's Research and Therapy found that 99.6% of trials into potential drugs aimed at preventing, curing or improving the symptoms of the disease failed or were discontinued.
---
---
A new UCL report questioning the use of off-label drugs to save money has been criticised for propping up an unfair status quo.
---
However, a new collaborative project offers fresh hope to Alzheimer's sufferers. Funded to the tune of €53m by the EU's Innovative Medicines Initiative (IMI), it promises to revolutionise clinical trials for Alzheimer's drugs by allowing several different treatments to be evaluated at once.
"The challenge of developing new treatments for Alzheimer's disease is too great for any single organisation, country or company to tackle alone," stated IMI executive director Michel Goldman. "What is needed is an unprecedented, international, collaborative approach bringing together all stakeholders involved in the development of new treatments for Alzheimer's.
"As a public-private partnership experienced in running large-scale projects of this nature, IMI is the ideal platform to launch this new project that will hopefully deliver immense benefits for patients."
Joint enterprise: EU invests in public-private collaboration
Launched in December 2013 to coincide with a G8 summit in London dedicated to dementia, the EU initiative will see biotechnology and pharmaceutical giants such as GlaxoSmithKline, AstraZeneca and Novartis work with universities, small and medium-sized enterprises, patient groups and regulators.
By pooling their intellectual resources, these individual stakeholders hope to improve the existing system of 'proof of concept' studies, early stage clinical trials in which medical researchers try to determine if a candidate drug is safe and has a significant impact on Alzheimer's disease in humans.
Currently, companies carry out these trials individually. Each project is prohibitively expensive, lasts several years and may require thousands of patients, half of whom are treated with a placebo.
The new project will simultaneously compare several candidate drugs to a placebo. In this scenario, only about 20% of patients are placed in the placebo group, compared to 50% in conventional trials.
This novel 'adaptive' approach has already been found to be effective for testing new treatments for breast cancer and gives researchers the freedom to modify the trial design in response to emerging results as well as test both individual drugs and combinations of different medicines.
"The societal impact of this disease is enormous, and it will require unprecedented innovation and collaborative models between industry, academia and government to create better therapies and new models of patient care," said Paul Stoffels, J&J chief scientific officer and WW chairman Janssen.
Researchers have long hunted for the holy grail of a drug that not only stops Alzheimer's in its tracks, but also reverses some of the brain changes. Pharm-Cog, one of three five-year research projects being funded by the IMI, plans to employ a collection or 'matrix' of physiological, functional and biochemical markers to provide valuable data on about 150 patients with mild cognitive impairment.
The EMIF-AD project aims to extract new results from legacy data. By harmonising patient health records, research cohorts, biobanks, registries, epidemiology studies and biomarker research, the researchers aim to find biomarkers for early onset Alzheimer's to identify the people at risk.
"Funded to the tune of €53m by the EU's Innovative Medicines Initiative (IMI), the project promises to revolutionise clinical trials for Alzheimer's drugs."
Finally, AETIONOMY adopts a personalised approach to medicine for neurodegenerative diseases such as Alzheimer's and Parkinson's. The public-private partnership will tackle the problem of how to dynamically organise and structure different types of data, and how to apply this knowledge to construct a classification of patient groups based on the underlying causes of their disease.
Blood simple: British research project offers hope of early diagnosis
Earlier this month, an international collaboration involving scientists from King's College London and UK firm Proteome Sciences announced a significant breakthrough in the fight against Alzheimer's.
The team has developed a blood test that can predict with 87% accuracy which people with mild cognitive impairment – 60% of whom will subsequently suffer from dementia – will go on to develop Alzheimer's in the next twelve months. The test could cost patients £100-£300 and be available within two years.
"Alzheimer's begins to affect the brain many years before patients are diagnosed with the disease," King's College professor Simon Lovestone told The Guardian. "Many of our drug trials fail because by the time patients are given the drugs, the brain has already been too severely affected.
"A simple blood test could help us identify patients at a much earlier stage to take part in new trials and hopefully develop treatments which could prevent the progression of the disease."
The researchers investigated 26 proteins linked to Alzheimer's by taking blood samples from 1,148 individuals, of whom 476 had Alzheimer's disease, 220 had mild cognitive impairment and 452 were elderly but without dementia. A total of 16 of the proteins were associated with brain shrinkage either in mild cognitive impairment or Alzheimer's. A second set of tests identified a further ten proteins whose presence could predict, with a reasonable degree of accuracy, whether people suffering from mild cognitive impairment would develop Alzheimer's within a year.
The scientists now plan to stage larger trials involving 5,000 to 10,000 people. "The next step will be to validate our findings in further sample sets, to see if we can improve accuracy and reduce the risk of misdiagnosis, and to develop a reliable test suitable to be used by doctors," confirmed Lovestone.
Public enemy: finding a cure for dementia by 2025
The G8 summit on dementia in London in December concluded with experts committed to finding a cure by 2025. For this to be more than just rhetoric, investment and collaboration from the gamut of public and private medical and pharmaceutical stakeholders is crucial in order to identify the early onset of the disease – and bring drugs to market that prevent and reverse its devastating effects.
---
---
Exalted as a cure-all for centuries, past scientific research has concluded that there are sound medical applications for honey.
---
Speaking at an international conference in June, British Prime Minister David Cameron emphasised the need for collaboration in the fight against all forms of dementia, including Alzheimer's disease.
"The truth is that dementia now stands alongside cancer as one of the greatest enemies of humanity," he said. "In the UK alone there are around 800,000 people living with dementia. Worldwide that number is 40 million – and it is set to double every 20 years.
"We first need to tackle head-on the market failure perilously undermining dementia research and drug development. And we need investment in research, greater collaboration, better incentives for taking new treatments to market and earlier access to innovative new treatments for patients.
"We need to join up the dots and create a big, bold global push to beat this. It will take years of work but we have shown with other diseases that we can make progress and we will do so again."