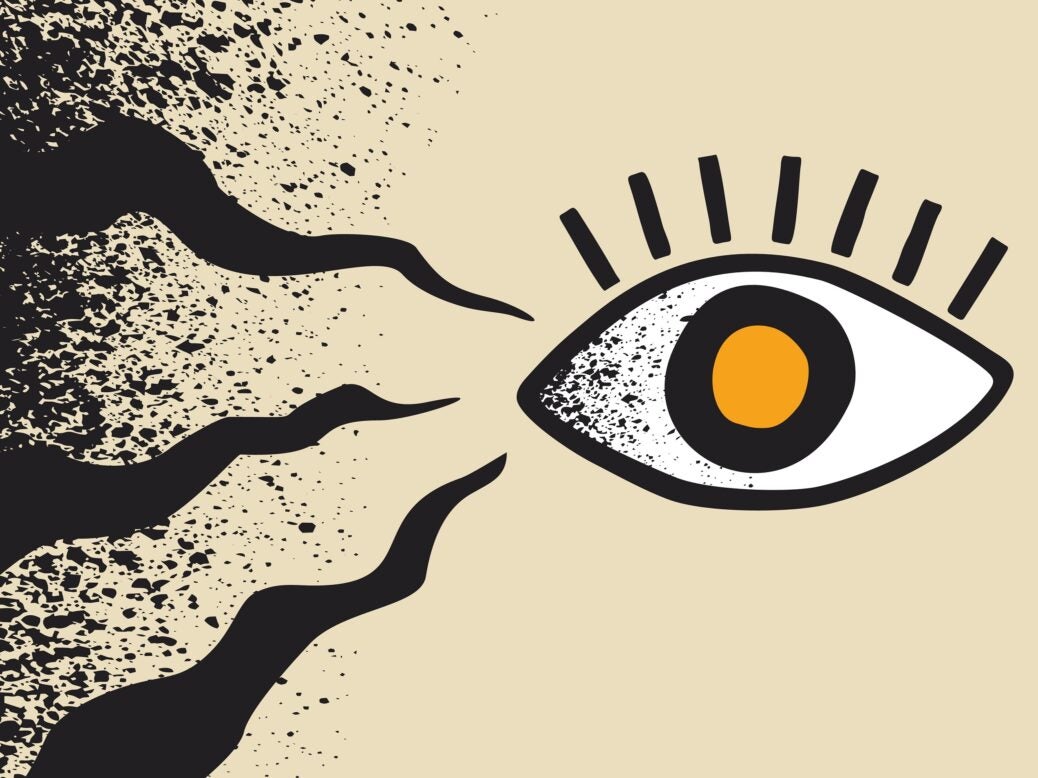 In May, just as the Delta variant of Covid-19 was ripping its way through India, we began to hear reports of a second epidemic. Mucormycosis, otherwise known as 'black fungus', was affecting thousands of patients in India who had also been afflicted with Covid-19.
Normally very rare, mucormycosis is caused by inhaling mucor mould spores, found in soil and vegetation. While these spores don't typically cause infection, vulnerable people – such as those with reduced immune function – may develop a debilitating array of symptoms.
The fungus colonises blood vessels, which can lead to tissue death and a loss of oxygen supply. Left untreated, mucormycosis has a fatality rate of 50% or more.
As case numbers began to pick up, the Indian government ordered tighter surveillance of the infection. By late June, 40,845 mucormycosis cases had been reported, most of which affected the nasal passages, brain, and sinuses. The overwhelming majority of patients (85.5%) were recovering from Covid-19 and more than 3,000 had died.
Meanwhile, the Drugs Controller General of India gave the nod to five pharmaceutical companies to manufacture Amphotericin B.
An anti-fungal drug, administered by intravenous infusion, it is the preferred therapy for mucormycosis and can make a difference if administered at an early stage. If caught late, patients may require invasive surgery in order to save their lives.
Why cases are surging
The association with Covid-19 – a little mysterious on the face of things – becomes more explicable when you consider that many of these patients were diabetics who were being treated with corticosteroids.
Steroids can curb the cytokine storm (excessive immune response) associated with Covid-19. However, they also serve to reduce the immune system's activity overall, as well as pushing up blood sugar levels. The latter is something you also find in untreated diabetes. Put together, you create a perfect storm.
"Both poorly controlled diabetes and use of the immunosuppressant corticosteroids are independent risk factors for the disease," says Dr Ashraf Ibrahim, investigator at The Lundquist Institute and a professor of medicine at UCLA, who has been working on mucormycosis for more than two decades. "If you combine both diabetes and steroids then you confound the risk factor for mucormycosis."
He adds that there are environmental factors in India that make the population more susceptible.
"Prior to Covid-19, we know from population-based studies conducted in hospitals in India predict that the burden of the disease is 70-80 times higher here than anywhere else in the world," he says. "So it cannot be just a matter of diabetes and steroids but also exposure to the spores of causative agents."
Dr SP Kalantri, professor of medicine and medical superintendent at the Mahatma Gandhi Institute of Medical Sciences (MGIMS), points out that iron is a growth stimulant for the mucor fungus, and that patients with severe Covid-19 tend to have elevated iron levels on top of everything else.
"It looks like the virus variant, irrational and prolonged use of heavy doses of steroids, and uncontrolled sugars in hospitalised patients created the perfect milieu for the fungus to invade, grow and destroy the sinuses," he says.
"The patients in the second wave were twice as likely to receive steroids and were more likely to have elevated blood sugars compared to those in the first wave."
How patients are being treated
Since the start of the second wave, Dr Kalantri has treated numerous mucormycosis patients. Between 15 April and 27 June 2021, 26 patients were admitted to the MGIMS hospital, with ten being treated there at the time of writing.
"We confirmed the diagnosis, by microscopy, histology and CT scans, debrided the sinuses and treated all patients with daily intravenous infusions of amphotericin B, administered for three weeks," says Dr Kalantri.
To begin with, the hospital faced shortages of amphotericin B because of limited availability and prohibitive costs. A single vial costs around Rs 5,000 (US$67) and each patient requires between six and eight vials a day. This means a three-week course of therapy costs Rs 10 lakh (US$11,340) – vastly out of reach to most patients.
"Almost all patients seeking healthcare in our hospital come from rural areas and poor strata of society," says Dr Kalantri. "However, beginning early May 2021, the district health authority took upon itself to supply the medicine, free of cost, to our hospitalised patients with proven mucormycosis. This gesture provided much-needed respite to the patients as well as to the hospital."
The drug, which is based on liposomal technology, takes 25-28 days to manufacture. In response to the epidemic, existing manufacturers ramped up production and new manufacturers sought approval to get started.
A new treatment avenue
Further down the line, Dr Ibrahim hopes we may have another line of defence against mucormycosis. His start-up company Vitalex Biosciences, a spin-off from the Lundquist Institute, is developing an antibody that stems the spread of the infection. It has proven highly successful in mouse studies.
"The mechanism of action of the antibody are twofold," says Dr Ibrahim. "First, it prevents the fungus from binding to human cells and invading human tissues. By doing so, it prevents tissue destruction and necrosis and this by itself makes delivery of antifungal agents much more efficient.
"Second, it decorates the fungal cells so that the immune system recognises the invading cells and kills them more efficiently."
The antibody works best in conjunction with current antifungal therapy. In animal models, the researchers have seen almost complete recovery from severe disease when the antibody is combined with either amphotericin B or an azole.
"Just to put things in perspective, the antifungal treatment alone results in 0%-20% survival from severe disease," says Dr Ibrahim.
"We are in manufacturing now and our initial studies indicate that we have a commercially viable cell line in hand. With our current funding avenues, we expect to be in clinical trials within four years, but if we have the money up-front, we will be able to be in clinical trials by summer 2022."
The team is also looking into the prophylactic (preventative) use of the antibody in high-risk patients, such as diabetic patients taking steroid therapy for Covid-19.
"Antibodies have a long half-life in humans, and perhaps once a month administration of the antibody will prevent the infection from happening, which in this disease is a much better approach," says Dr Ibrahim.
In the meantime, Indian doctors are issuing guidance on preventing mucormycosis – with the advice largely geared around keeping blood sugar levels under control, and avoiding indiscriminate use of corticosteroids. As the Covid-19 pandemic continues to rampage through the subcontinent, black fungus remains a cruel example of its unexpected harm.