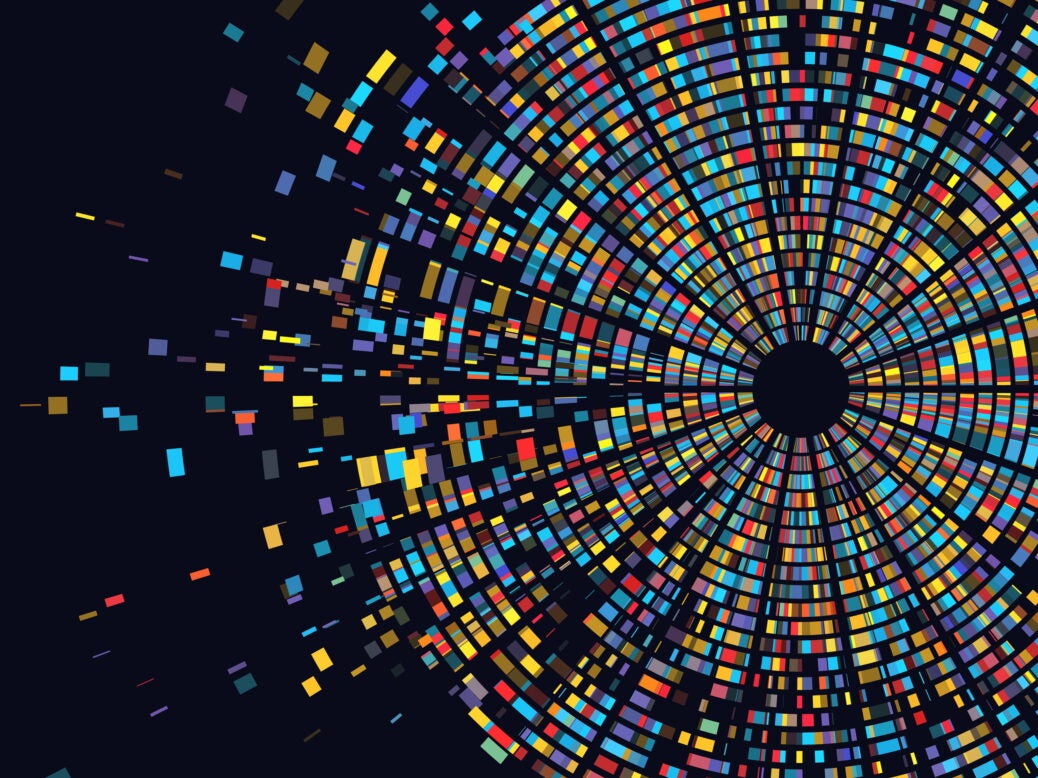 Genomics Nation, a report recently published by The BioIndustry Association, the Wellcome Sanger Institute and the Medicines Discovery Catapult, has highlighted the strength and potential of the UK genomics sector.
The report found that the genomics sector is valued at over £5bn, and its companies are "disproportionately successful at attracting investment", raising 34% of the wider UK life sciences sector's total investment.
Pharmaceutical Technology spoke to Adrian Ibrahim, head of technology transfer and business development at the Wellcome Sanger Institute, about the future of the sector, and how its potential can be harnessed for the discovery and development of new therapies.
Darcy Jimenez: How are UK drug developers and preclinical researchers using genomics to drive more efficient drug discovery processes?
Adrian Ibrahim: Drug developers have a lot more data to work with, and computing, to be able to actually interpret this stuff, has kept pace. It's one thing having data, it's very different being able to use it, but that capability is also here.
Then you look at some of the key technologies that have driven more functional studies, which are so important to pharma and drug discovery. CRISPR [gene editing] is now mature as a technology, but what has happened much more recently is very large-scale application of CRISPR. So if I take the most mature sector where this is being applied, which is oncology, we now have thousands of models that we can get multi-omic data for. We can use genetic tools like CRISPR across the entire genome, to go gene-by-gene across hundreds and thousands of models, and also in parallel with treating them with drugs. You start to get specific correlations between certain genetic backgrounds, certain drugs responses, due to the fact you're carrying it out on a systematic basis. So I think target identification, and target prioritisation, is probably the key area that we've seen massive advantages recently in applications for drug discovery.
DJ: Do you think the NHS is a vital advantage for the UK in terms of partnering on key projects and validating new technologies and treatments? Do you think the private sector collaborates enough with NHS groups and trusts?
AI: It's not even a question – the NHS is an enormous advantage. It's something that so many of us have always been very, very proud of, and they are engaging with some companies, perhaps not broadly enough, and I place that onus on the companies to be creative and to go to the NHS with a credible evidence base for their technology offerings.
But if we look at what [early cancer detection firm] GRAIL have been doing, they're developing technologies to potentially spot quite a large number of diverse cancers at an early stage, and they will be engaging with the NHS, the largest united healthcare system in the world, to trial this in a way that they couldn't do anywhere else in the world. There are other relatively unified healthcare systems in countries with smaller populations, and there are countries with much larger populations, like the States, but really, it is incredibly fragmented.
DJ: More generally, what would you say are the most productive ways for the public and private sectors to collaborate on harnessing genomics in medicine?
AI: We have lots of fantastic assets, and they span, academically, absolutely world-leading genomics in the UK – but that's always been the case. They do span public activities like Genomics England, which is fantastic, and we were the first in the world again to do UK Biobank, a brilliant initiative.
We shouldn't overlook the amount of public funding that's going into genomics, and that absolutely crosses that public-private threshold, because what they're doing is investing in a lot of early-stage opportunities, and de-risking for pharma. I think one of the key challenges is deciding what has to happen pre-competitively and what has to happen competitively. We all know the economics of drug discovery and how incredibly challenging that is, and one of the answers is to do some of these things collectively, if you think it doesn't significantly undermine your competitive advantage.
One of the key challenges is deciding what has to happen pre-competitively and what has to happen competitively.
The example I would use is the Open Targets Consortium, which is based across research institutes and pharma companies. It's an initiative that's had over £100m go into it, and it is an open initiative around developing new approaches to target validation, and from there, pharma will take that [forward]. So I think how we continue to do that will make the difference between having lots of parts and having a whole that is greater than the sum of the parts, but I think we are getting there.
DJ: How has Covid-19 impacted the genomics sector?
AI: I think Covid-19 has perhaps been the example that showed how wonderful our genomic sector is.
I can really highlight what we did with COG [COVID-19 Genomics UK Consortium]. This consortium was established in a matter of weeks; we work very closely with industry, we work very closely with government, and we work very closely with our own Institute. Literally where I'm sat now, I'm looking across at the building where more than half the world's Covid whole genome sequences have been done in recent months. For the UK to be able to do more than the rest of the world combined, I think it's phenomenal. More broadly, of course, the vaccine work has also been an incredible example of going across sectors to impact the entire world, and I think there have been many opportunities for diagnostic providers.
The negative impact is one that had an effect on everyone, and that is a lot of wet work slowed down, and a lot of wet work had to stop. That's highly impactful for pharma, and they did what they had to do, and they had to focus on the clinical work. It's even more impactful for SMEs, where R&D is pretty much everything you do, and you have to deliver within a certain timeframe to remain competitive. But overall, I think Covid has demonstrated how far ahead of the world the UK can be when we actually effectively work across sectors.
DJ: What areas of genomic medicine are looking particularly promising over the next few years?
AI: I'm going to take two examples here; they are at slightly different stages. Cancer is often regarded as the leader because cancer, by definition, is a disease characterised by genetic instability, and we've known that for a long time. A lot of more powerful high-throughput tools have been applied in the setting of cancer, to identify new cancer targets, to stratify patients for specific therapies developed against those targets. And that's an area that we continue to see a lot of benefit from – precision medicine, genomic medicine.
If I take one that has a different pathway and started much later, it's got to be the rare diseases. If you go back ten years, among the thousands of children born every year in the UK alone with undiagnosed developmental disorders, the diagnostic rate was somewhere in the order of 1% to 3%. – and just to make clear, it would take something in the order of nine years and 60-plus appointments to get to that diagnosis alone. So we now have a very comprehensive and world-leading genomics capability in sequencing the genomes of all of these children born in the UK. We have a far better ability to diagnose these children; moving from the 1% to 3% to 50-plus percent, we can actually understand what's driving these.
Now, the next stage in that journey, and this is what happens when you start to create very large amounts of data, is that you can start to make inferences about therapeutic targets. And then you can start to think about how you treat some of these patients.
DJ: What challenges still need to be overcome to maximise the medical potential of genomics in the future, and how can the pharma sector contribute to solving these issues?
AI: The top one might be coordination, really getting linked up across all of the foundational data sets, the infrastructure, the NHS, the translational academic work, the small companies and the big companies. And the many government funding streams that are going on, getting really well-linked up and consistent across those is probably challenge number one.
Pharma is particularly well placed; if you look at the National Genomics Board, it does have UK pharma representation, because they understand the importance of pharma in the development genomics guided medicine and who is actually going to deliver the medicines that come from all the genomic technologies, and all the genomic data. They are also really, really well integrated with governments, and they are very well integrated with the major genomic centres, here at the Wellcome Genome Campus, Cambridge, Oxford and others.
Pharma is a bit of a linchpin across the sectors.
I think in many respects pharma is a bit of a linchpin across the sectors, and they're also influential because of the role they will play in actually bringing medicines to market, and as a major provider of highly skilled jobs in the UK. So I think actually, they're integral because they sit across all of these things, and putting them together will be the challenge they have. The balance to that will be making sure that the benefit goes not just to the large companies, but they then start to merge some of the smaller companies who they will probably acquire or partner with, to bolster their pipelines in the future. But it is all about how we pull together all those pieces.
DJ: Has the UK lagged behind other genomic research hotspots when it comes to translating basic research into commercialisable technologies and treatments? How can this gap be closed?
AI: It's is true that we are not Boston, and we are not South San Francisco, those are incredible hubs. I feel truly inspired when I go over there. We are playing a bit of catch-up, and I think one of the things that the report highlights is actually, we are starting to see better translation of our research – the academic research is, pound-for-pound, at least as good if not better than what we see in those hubs.
Our historic ability to convert that science and those technologies into companies has definitely lacked, but I think the change that we've seen in the last few years in particular, is that we're starting to put together a more supportive ecosystem for taking those early technologies and translating them. We see many more accelerators, right around me here we have the Illumina accelerator, we have Start Codon down the road at Stevenage BioScience Catalyst – they have their own genomics and AI and drug-focused accelerator programme, which is excellent.
We need to be a little less British, and shout a bit more about how fantastic our science and innovations are.
One of the things I notice about the MIT environment in particular, is they're probably the world's leading entrepreneurial tech hub, but they don't sit back on it, they just push it harder and harder. And I think we have to do the same.
Then beyond that, we need to really promote that connectivity to make sure those companies, as they mature, have the investment to scale – again, a historical challenge that we're starting to overcome – and that they're really on the map of other pharma, who might be the companies to acquire them and really progress those through the late clinical stages.
Actually, part of the idea of this report was really to put all of those organisations on the map, and to build awareness, because in a way, we are very typically British. We don't like to talk about what we're very good at, in the way some other organisations do, and that's another piece we need to need to address; we need to be a little less British, and shout a bit more about how fantastic our science and innovations are.
DJ: Looking even further into the future – when we see how far the genomics field has come in the UK between 2000 and 2020, the progress has been incredible. How do you envision genomics being integrated with healthcare provision and drug development in the next 20 years?
AI: You're absolutely right, what's happened in the last five or six years is truly phenomenal. It was not something that anyone could have foreseen. That rate of innovation will continue to increase.
So, what does that mean? It means that whatever we think will be the future, it will be more impressive, and people will benefit more from the application of genomic technologies than we can imagine.
I think the biggest change I would like to see is to have really clear pathways for how we validate and accredit technologies in a clinical setting, in an NHS setting – trying to make clearer how people can access the clinical samples or clinical data, how they at a very early stage can build an understanding of the National Health and other clinical workflows, and how they can then work with the regulators to get new diagnostics and medicines approved. I would like to think that those things will become not just easier, but seamless.