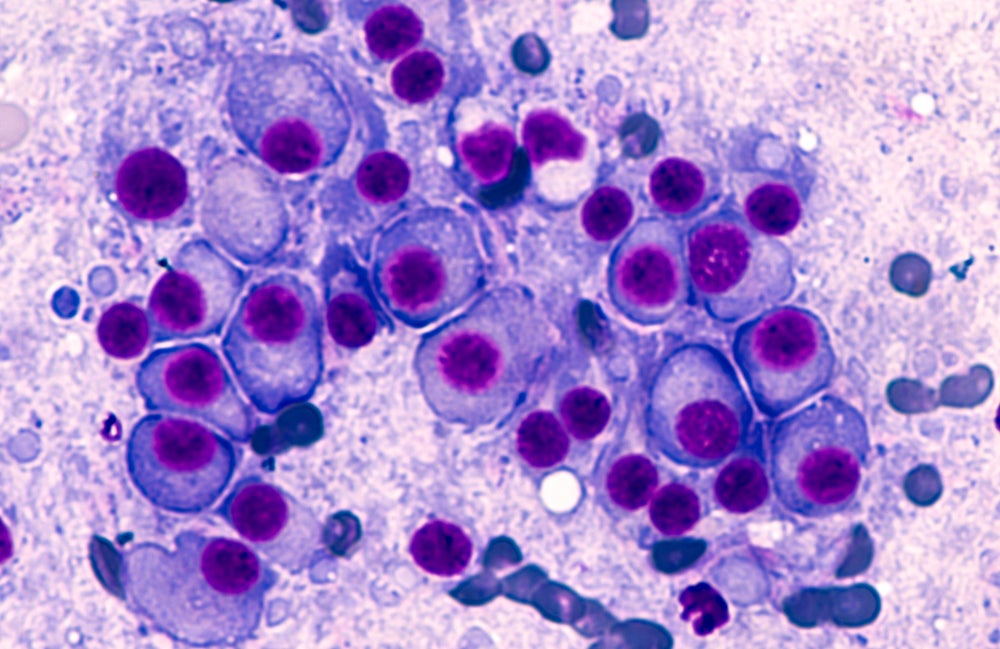 Netherlands-based Kiadis Pharma has licensed one of its four natural killer (NK) cell therapy programmes to French pharma giant Sanofi. The programme in question is known as K-NK004 and focuses on multiple myeloma.
The exclusive global licensing agreement centres around modifying Kiadis's NK cells so they do not express the glycoprotein CD38 – the modified versions are called CD38 knock out (KO) K-NK cells – and combining them with Sanofi's newly approved anti-CD38 monoclonal antibody Sarclisa (isatuximab-irfc) to optimise multiple myeloma treatment.
Sanofi global head of immuno-oncology research and therapeutic area Dmitri Wiederschain notes: "This collaboration is part of a robust effort from Sanofi to develop treatments for patients with multiple myeloma, a difficult-to-treat blood cancer, who often need multiple lines of therapy.
"Kiadis's CD38KO K-NK cell therapy is highly complementary to Sanofi's CD38 products and pipeline because it provides a way to deliver cancer-attacking natural killer cells to patients."
According to the terms of the deal, Kiadis will receive €17.5m upfront from Sanofi, and be eligible for up to €857.5m in potential milestone payments.
Sanofi has also received access to Kiadis's K-NK technology platform for two other pre-clinical programmes; further details have not been disclosed. Sanofi will be responsible for all research and development, manufacturing and commercialisation costs for the three K-NK programmes it has licensed from Kiadis.
Kiadis's K-NK cell platform
Founded in 1997, Kiadis is focused on developing personalised NK cell therapies for at-need patients. The company has developed an off-the-shelf NK-cell platform that can produce therapies for both liquid and solid tumours.
Kiadis's platform is based on NK cells from a unique universal donor, which are activated and expanded ex-vivo using proprietary PM21 particle technology.
These off-the-shelf NK cells "represent an attractive combination partner for other cancer therapies, such as monoclonal antibodies, that work in concert with NK cells to kill tumour cells through a process called antibody-dependent cell-mediated cytotoxicity (ADCC )", explains Kiadis CEO Arthur Lahr.
Kiadis's K-NK004 programme and its proprietary CD38KO K-NK therapeutic for multiple myeloma was created and modified using this NK technology platform.
Other products in the company's NK pipeline are focused on haematopoietic stem cell transplantation in blood cancer, acute myeloid leukaemia and solid tumours.
Transforming multiple myeloma treatment
"Despite available treatments, multiple myeloma remains an incurable malignancy and is associated with significant patient burden," notes Wiederschain.
Part of the issue is that anti-CD38 antibody drugs, such as Sanofi's Sarclisa, are the standard of care in multiple myeloma. Although they are effective, they also deplete patients' NK cells as they also express CD38 – this is known as fratricide.
"Kiadis's CD38KO K-NK cells have been modified to reduce expression of CD38 and are resistant to this fratricide effect," explains Lahr. "Adjunctive infusion of CD38KO K-NK cells can restore the natural synergism between NK cells and antibodies to kill tumour cells through CD38-targeting molecules like Sarclisa, thereby optimising efficacy."
"We hope that combination of Sanofi's CD38-targeted agents with Kiadis's NK cell therapy platform will lead to more durable clinical responses for multiple myeloma patients," concludes Weiderschain.
Kiadis recently published an article in the journal Blood, which played out a proof of concept that expanded CD38 KO K-NK cells have the potential to boost the efficacy of an anti-CD38 antibody in multiple myeloma.
"This publication demonstrates that CD38KO K-NK cells are resistant to killing by anti-CD38 antibodies, and demonstrates how CD38KO K-NK cells improve potency of anti-CD38 antibodies," noted Lahr in a release. "This data showcases the scientific rationale underpinning the collaboration with Sanofi, and should enhance the understanding of the potential of this combination."
Looking beyond multiple myeloma
Sanofi is also optimistic that Kiadis's K-NK therapies will be useful as a combination partner in other therapeutic areas. This is why Sanofi licensed two other undisclosed programmes from Kiadis at the same time as the CD38-focused K-NK004 therapy.
Weiderschain noted: "Our partnership with Kiadis will also enable Sanofi to further our combination strategies to enhance the effectiveness of immuno-therapies more broadly.
"For example, in addition to use with Sarclisa, Kiadis's CD38KO K-NK cell therapy may be combined with THOR-707, a variant recombinant interleukin-2 (IL-2) Sanofi gained access to through the Synthorx acquisition that induces strong immunological responses in vivo."