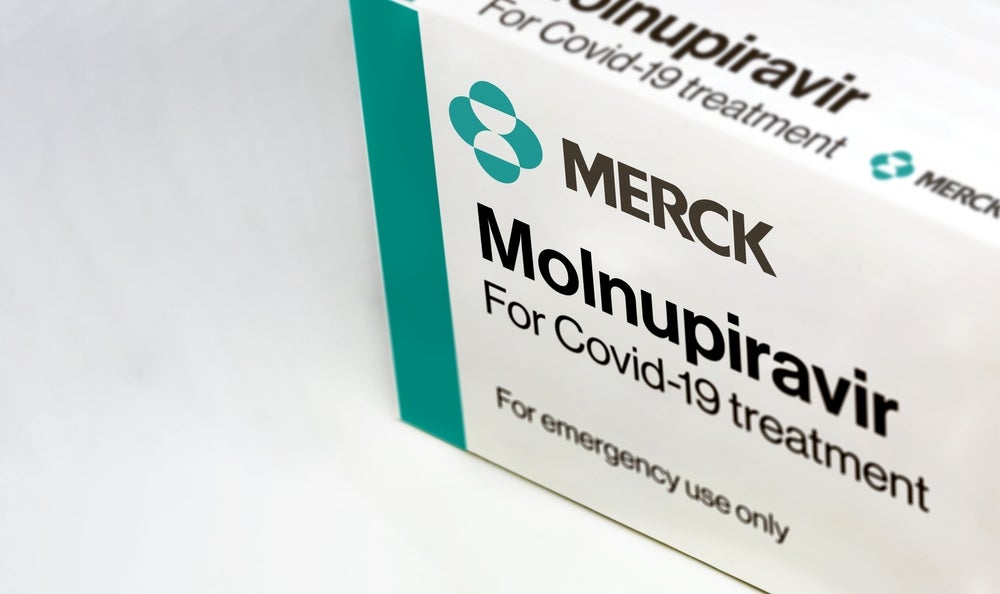 Molnupiravir, the investigational Covid-19 pill developed by Merck (MSD) and Ridgeback Biotherapeutics, has been hailed as a potential game-changer when it comes to treating the virus and reducing its burden on hospitals.
According to interim analysis, molnupiravir reduced the risk of hospitalisation or death by around 50%, and Merck has this week submitted an emergency use authorisation application for the oral antiviral drug to the US Food and Drug Administration (FDA).
As well as vaccines, effective antivirals are crucial to fighting Covid-19, and nowhere is this truer than in low- and middle-income countries (LMICs), which have been hit hardest by the pandemic. Poorer nations have received disproportionately low supplies of Covid-19 vaccines – only around 7% of Africa's population has received at least one vaccine dose, for example – while wealthy, largely-vaccinated countries have hoarded doses for booster shot programmes and the vaccination of younger age groups.
Approval of Merck's highly effective Covid-19 pill would be an important step towards tackling the pandemic – but will those in low- and middle-income countries, who need the treatment most desperately of all, be able to access it?
Molnupiravir production: Merck's agreements with Indian drugmakers
In April, Merck entered into non-exclusive, voluntary licensing agreements for molnupiravir with five Indian generics manufacturers. The purpose of the deals, the company said, is to boost availability of the antiviral drug in more than 100 LMICs, including India.
The agreements, signed with Cipla, Dr. Reddy's Laboratories, Emcure Pharmaceuticals, Hetero Labs and Sun Pharmaceutical, license the manufacturers to produce generic molnupiravir for India and other LMICs. Merck said it is also in discussions with the United Nations-backed Medicines Patent Pool about potentially providing additional licenses for the medicine.
The pharma giant's CEO Kenneth Frazier, who was commenting as a deadly second wave of infections swept through India in April, said: "The scale of human suffering in India at this moment is devastating, and it is clear that more must be done to help alleviate it.
"These agreements, toward which we have been working as we have been studying molnupiravir, will help to accelerate access to molnupiravir in India and around the world."
One of the chosen generics manufacturers, Hyderabad-based Hetero Labs, obtained positive results from a clinical trial of molnupiravir and submitted the data to India's medicines regulator in July.
Separately, two Indian drugmakers are currently producing the active pharmaceutical ingredient (API) for molnupiravir. Divi's Laboratories announced in May that it had been authorised to manufacture the Covid-19 drug's API and supply it to Merck's partners in India.
The bulk drug manufacturer was this week joined by Everest Organics, which said it had successfully developed the molnupiravir API and would be producing it at lab scale.
Another inequitable rollout?
Despite Merck's efforts to boost molnupiravir production and availability in LMICs, there are fears that poor countries could be left behind once again as wealthier nations scramble to buy up supplies of the drug.
Though molnupiravir is yet to gain regulatory approval, a number of countries – including the US, Australia and New Zealand – have secured orders for hefty deliveries of the drug. The US alone is set to receive 1.7 million courses of the medicine upon FDA authorisation, following a $1.2bn agreement with Merck in June.
An independent report commissioned by the World Health Organization has expressed concern that the therapeutics arm of the ACT-Accelerator – a global collaboration to accelerate equitable access to Covid-19 tests, treatments and vaccines – does not yet have a clear plan to supply LMICs with Covid-19 drugs or negotiate contracts.
The report said advanced purchase agreements, such as the US's deal with Merck for molnupiravir, could mean challenges for the ACT-Accelerator when it comes to procuring sufficient supplies of effective treatments for poorer nations.
While concerns about supplies of molnupiravir for LMICs remain, Merck, at least, is working to meet growing demand for the drug. This week, the Financial Times reported that the company is planning to double its own production of molnupiravir to at least 20 million treatment courses by 2022.
Merck has also said it plans to implement "a tiered pricing approach" for supplies of its Covid-19 pill. Based on World Bank country income criteria, the approach would see countries pay different prices depending on their "relative ability to finance their health response to the pandemic".