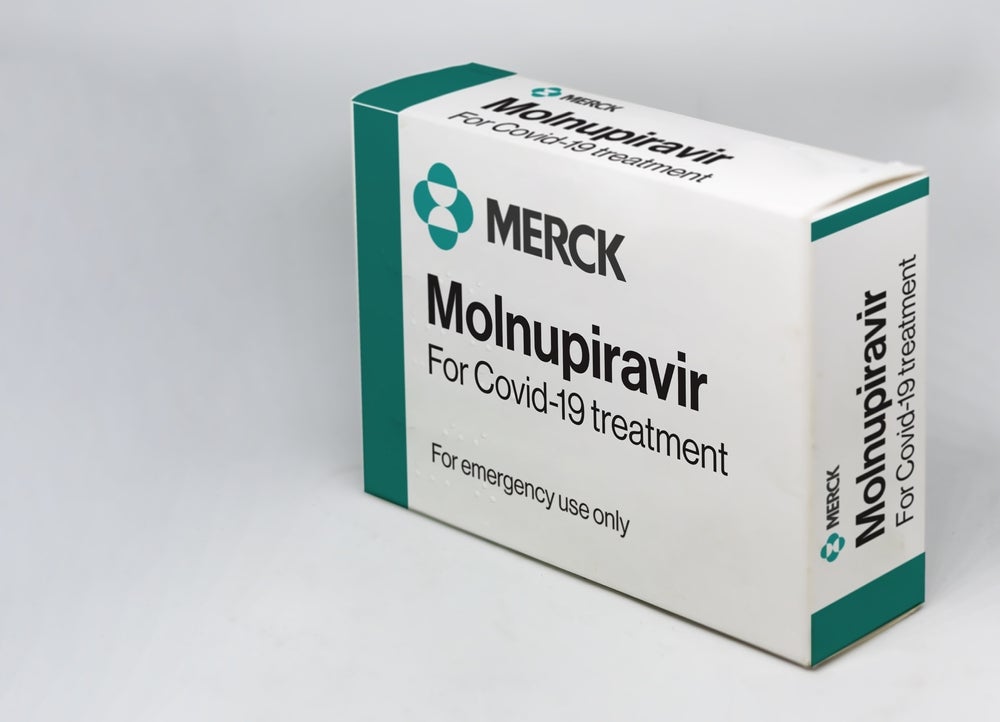 Merck and Ridgeback Biotherapeutics' antiviral of the moment, molnupiravir, appears likely to become the first oral treatment approved for Covid-19, after interim analysis showed the pill lowered the risk of hospitalisation and death by almost 50%.
Several countries, including the UK and the US, have already bought up large supplies of molnupiravir as winter approaches – but some experts are more cautious about embracing the investigational drug.
Concerns about molnupiravir's long-term safety revolve around the drug's basic mechanism of action against Covid-19. The SARS-CoV-2 virus, which causes Covid-19, replicates itself by encoding instructions onto RNA. Molnupiravir is a nucleoside analogue that mimics some of the base molecules of RNA, allowing it to enter the virus's RNA and cause mutations that prevent it from reproducing.
The process of artificially increasing a virus's mutation rate until it can no longer replicate, and eventually dies out, is called lethal mutagenesis. Agents like molnupiravir, which permanently change genetic information through mutation, are known as mutagens.
Molnupiravir safety concerns
Molnupiravir's mechanism against Covid-19 has some experts concerned about its mutagenic potential in human cells. One study has suggested that the drug, though intended to disrupt only viral RNA, could also incorporate into and cause mutations in human DNA.
The study's authors say mutations in host DNA could potentially "contribute to the development of cancer, or cause birth defects either in a developing foetus or through incorporation into sperm precursor cells".
Other experimental nucleoside analogue compounds have been found to cause birth defects in animals; former head of US Biomedical Advanced Research and Development Authority Rick Bright said offspring from animals treated with drugs similar to molnupiravir "had been born without teeth and without parts of their skull".
Professor Ron Swanstrom of the University of North Carolina's Department of Biochemistry and Biophysics is also concerned about the safety of the drug. While molnupiravir is "potentially an important antiviral strategy", he says, it's simply not possible to know what the long-term effects of the compound could be for humans.
"The question that I don't have an answer for, and it's unknown, as far as I'm concerned: is it a totally acceptable risk that means nothing?" Swanstrom says. "Or is it a more significant risk, but we won't know the outcome for 10 years?"
Accounting for molnupiravir's mutagenic potential
Merck has said it has "conducted a comprehensive nonclinical programme to characterise the safety profile of molnupiravir", including assays that are designed to provide a "robust measure" of a compound's ability to cause mutations.
Animals were given molnupiravir for longer and at higher doses than administered in human studies, Merck has noted, and the data indicates the drug "is not mutagenic or genotoxic in in vivo mammalian systems". The company did not respond to a request for comment for this story.
Swanstrom is not convinced. In his view, the assays used in Merck's animal studies are unlikely to be able to determine what may happen to mammalian DNA several years after the medicine is first administered.
Either way, Merck has acknowledged mutagenic drugs' potential to mutate non-viral cells in its inclusion criteria for the Phase III study. Participants in the trial could not be pregnant or breastfeeding, and those of childbearing potential had to abstain from heterosexual sex or use highly effective contraception for 28 days from the start of study intervention. Individuals taking part in the study were also required to refrain from donating sperm.
"In a foetus every cell, virtually, is dividing," Swanstrom explains. "So every cell has the potential to incorporate mutations – that's the worst of all possible times [to take a mutagenic drug]."
Swanstrom is also concerned about molnupiravir's long-term effect on the sperm cells produced by those who take the pills.
"Merck's talking specifically about just the generation of sperm during the treatment," he says. "I worry more about a step back, the germ cells that are going to sit there and make new sperm cells next year or 10 years from now.
"That's another potential risk, that you're actually making these really bad things, germline mutations, that affect the genes that are present in the next organism."
A short course of treatment
In human studies, molnupiravir was administered orally twice daily for five days. It's a relatively short treatment course, but this offers little reassurance to Swanstrom that the drug's potentially harmful effects will be minimised.
"It's long enough to mutagenise the virus, and at a pretty high level – enough to kill the virus by mutations," he says. "The idea of feeding people a mutagen orally, I think we have to acknowledge that this is new territory that we don't understand."
Additionally, the researchers behind the study of molnupiravir's mutagenic potential in mammalian cells wrote: "It seems unlikely that a short course of therapy would spare the host from this exposure, because both RNA precursors that affect the virus and DNA precursors that would affect the host pass through the common ribonucleoside diphosphate intermediate."
Post-approval measures
Despite some experts' concerns about its safety in humans, molnupiravir seems set for approval; governments are desperate for Covid-19 treatments that can be taken at home, reducing the burden on hospitals, and results from studies of molnupiravir show it to be pharma's most promising candidate.
If molnupiravir is authorised by regulators, Swanstrom says, there should be an ongoing, longitudinal study to assess the pill's long-term effects in those who have received it. He recommends also limiting the drug to only those who will meaningfully benefit – that is, symptomatic individuals with risk factors that make them more vulnerable to severe illness from the virus.
For those to whom Covid-19 presents only a slight risk of death or severe illness, the risk-benefit ratio of a treatment like molnupiravir will be much tougher to judge, at least until long-term safety implications become clear.