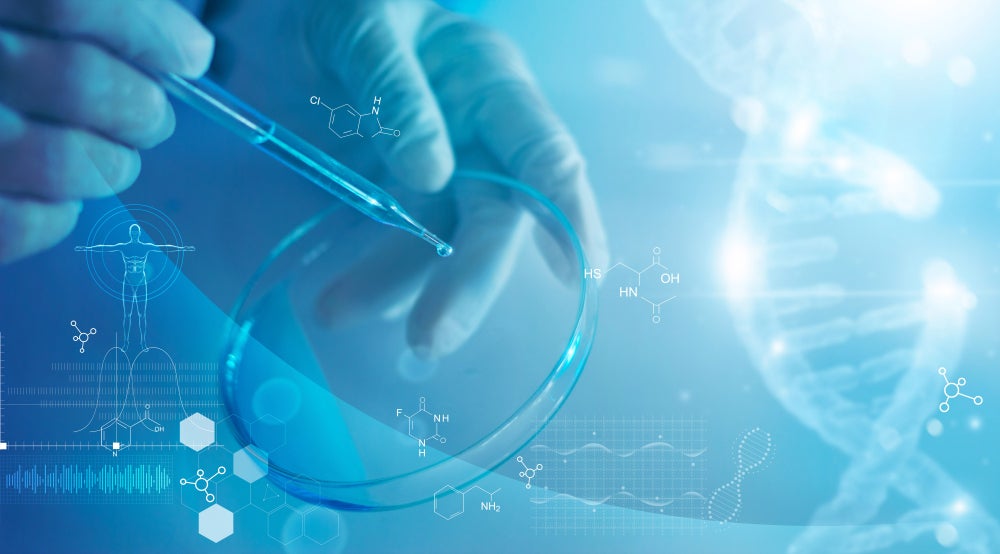 The search for novel therapies has long been a trial-and-error process that costs drug companies a vast amount of time and money. Now, with artificial intelligence (AI) set to transform the pharmaceutical industry more than any other emerging technology, a growing number of pharma and biotech groups are harnessing the cutting-edge tech to minimise the hit-and-miss nature of R&D and discover new therapies with previously impossible speed and accuracy.
Pharmaceutical Technology delves into the new generation of drug discovery companies leveraging AI to uncover novel treatments.
Generate Biomedicines
Founded in 2018 by life sciences venture capital company Flagship Pioneering, Massachusetts-based Generate Biomedicines uses machine learning to accelerate the discovery of protein therapeutics. The company's AI-powered Generative Biology platform analyses hundreds of millions of known protein structures, and uses the learned patterns to create novel protein sequences that form the basis of new therapies. The generalisable nature of the platform enables broad applications in the creation of antibodies, peptides, enzymes, receptors, and other therapeutic proteins for potentially any target.
Generate leverages new computational tools to identify therapeutic proteins – traditionally a costly, time-consuming process – with enhanced speed and success. Just last year, the company applied its machine learning technology to discovering novel molecules to treat Covid-19. In less than 17 days – and with a success rate far higher than that of a typical discovery campaign – Generate built a portfolio of therapeutic candidates for coronavirus neutralisation, including antibodies and peptides that target multiple epitopes on the spike protein peptide.
Free White Paper
The candidates are being developed in partnership with the Coronavirus Immunotherapy Consortium, an initiative led by La Jolla Institute for Immunology with support from the Covid-19 Therapeutics Accelerator.
Turbine Simulated Cell Technologies
Budapest-headquartered biotech Turbine was founded in 2015 and combines computer science, molecular biology, and the world's most advanced digital cell model to identify and design drugs for the 70% of cancers that are currently unexplored.
The company's computational human cell model, the Simulated Cell, predicts how cancer cells respond to treatments and enables the discovery of therapies for both new and known targets. The ability to run thousands of simulations through Turbine's platform dramatically speeds up the process of identifying novel cancer therapies.
The biotech currently has 11 oncology drug candidates in its pipeline, including three that are being developed in partnership with pharma giant Bayer. In addition to supporting other companies' oncology pipelines, Turbine is undertaking several of its own programmes, with a focus on targeting DNA damage.
Genome Biologics
Genome Biologics is a German biotech focused on treatments for cardiovascular and cardiometabolic disease. The company, established in 2016, facilitates AI-driven target identification and direct therapeutic interrogation of RNA interference (RNAi) disease targets – in vitro and in small and large animal models – through its GENIMAPS and GENISYST platforms. The technology allows Genome to translate AI-driven big data analysis into precision preclinical organoid and in vivo disease models for therapeutic RNAi validation.
The company currently has six drug candidates in its pipeline; its lead asset in the heart failure with reduced ejection fraction (HFrEF) indication, GEN-387, is on track to reach Phase I/II clinical trials this year.
Genome Biologics was awarded €2.5m in EU funding in 2018, and last year entered a research collaboration and exclusive licence option agreement with AstraZeneca to identify drivers of cardiac regeneration and recovery in myocardial infarction, heart failure and cardiotoxicity.
Insitro
Data-driven biotech Insitro was founded in 2018 with the aim to enhance drug discovery through the use of computational biology and AI. The California-based company builds large, high-quality custom datasets, which are analysed through machine learning to identify targets and biomarkers, and quickly and accurately predict the effectiveness of drugs on in vitro models of disease.
In March, Insitro announced that it had raised an impressive $400m in series C financing to expand the capabilities of its target and drug discovery platform and support its pipeline. The company last year entered a five-year collaboration with Bristol Myers Squibb to discover and develop novel therapies for amyotrophic lateral sclerosis and frontotemporal dementia; under the deal, Insitro will apply its platform to study disease progression, identify coherent patient segments and discover candidate targets for the neurodegenerative conditions. In 2019, the biotech also announced a partnership with Gilead to uncover new treatments for patients with non-alcoholic steatohepatitis.
XtalPi
XtalPi is an AI-focused drug research start-up, founded in 2014 by a group of quantum physicists at Massachusetts Institute of Technology. The company's Intelligent Digital Drug Discovery and Development platform combines quantum physics, AI, and high-performance cloud computing algorithms to assess how drugs react on a molecular level and generate therapy candidates more quickly and successfully than traditional methods allow.
The group has partnered with a number of major players in the industry, including Pfizer, with which it entered a strategic research collaboration to enhance the pharma giant's computational modelling capabilities in 2018. The company also announced last year that it had brought home $319m in series C funding to build on its drug research platform, and create an R&D system combining XtalPi's drug predictions with real-world data to accelerate and improve the drug discovery process.