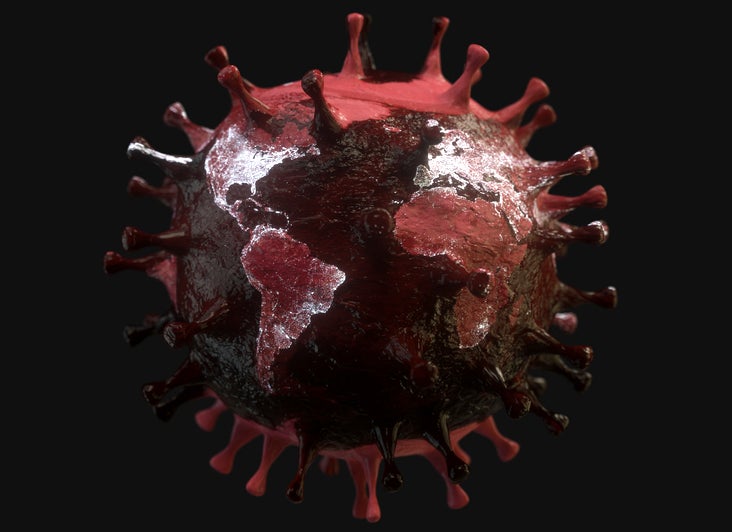 Since Covid-19 first entered the global psyche in January this year, the pharmaceutical industry has committed itself to developing both vaccines and therapies to prevent and treat this deadly virus.
However, Access to Medicine Foundation research programme manager Danny Edwards argues that drug and vaccine development is "only half of the equation". As we move closer to a vaccine and more drugs being approved, it is time to focus on how ending this pandemic will also require global access to any effective treatments or vaccines developed.
In addition to moral reasons why access to life-saving medicines shouldn't be reserved for rich, developed countries, there is a need to remember that this is a global health threat. As the world is so interconnected both economically and physically through air travel, "until we have a concerted and coordinated international effort to control Covid-19 everywhere, we will not control it anywhere," notes Just Treatment organiser Elizabeth Baines.
Pharma's commitments to global access
The pharmaceutical industry, as well as the governments of several developed nations, have acknowledged the need for global access to drugs to end the global Covid-19 pandemic.
To this end, the sector has made commitments to ensure fair and equitable access to treatments through global organisations such as Gavi and the Vaccines Alliance, as well as to operate as a non-profit business until the end of the pandemic.
However, ensuring global access to medicines and vaccines, particularly in the quantities and scale required, is not as simple as "grand statements", as Baines describes these commitments.
There are numerous challenges to ensuring that no-one is left behind and that the world can come out of this pandemic with as few lives lost as possible; the barriers range from pricing and allocation to manufacturing and distribution.
Allocation challenges: avoiding 'business as usual'
Although Edwards hopes that the world can trust promises made by Big Pharma, there is a need to prevent business-as-usual by encouraging the industry to be more transparent about how it is going to ensure access and affordability in poorer countries.
This is particularly important since the pharma industry has received significant criticism for its actions during previous epidemic situations. MSF Access Campaign South Asia Head Leena Menghaney picks out the 2009 H1N1 influenza pandemic, during which, she argues "the lion's share of these limited supplies went to wealthy countries".
Despite the promises made by Big Pharma and commitments of global health organisations, there are already examples of so-called vaccine nationalism taking place in the developed world, which according to Menghaney, "May once again get in the way of global cooperation on vaccines and therapeutics for Covid-19."
If continued, this situation would represent normal market conditions for pharma where: "Countries [are] bidding against each other for access, leading to potentially astronomical prices and preferential access for the wealthiest countries," says Baines. "Middle and low-income countries would be priced out of accessing vaccines and other Covid-19 technologies."
The need for binding commitments
Instead of relying on Big Pharma to do the right thing and remain committed to these promises in the long term – we may need to be prepared for future waves and mutations of Covid-19 – Menghaney argues there is a need to act quickly to implement binding international agreements and mechanisms to guarantee equitable access in low and middle-income countries. Baines agrees, stating: "Promises of equitable access mean very little without the legal agreements to back this up."
Important access lessons were learned during the human immunodeficiency virus (HIV) epidemic; Menghaney notes: "It was only by making antiretroviral treatment available in all countries and particularly to the most marginalised, that reduction of HIV disease incidence, prevalence, and mortality has been achieved."
Central to the success in overcoming HIV access issues were pooling mechanisms, according to STOPAIDS advocacy officer James Cole. This was exemplified in the Medicines Patent Pool, which was set up by global health initiative Unitaid in 2010 and now also covers Hepatitis C and tuberculosis (TB).
How could a patent pool work for Covid-19?
The Medicines Patent Pool has now re-oriented itself to also focus on Covid-19 vaccines, drugs and other technology, a move that Cole describes as encouraging. Other similar voluntary patent pool mechanisms are also in the works, including one put forward by the governments of Chile and Costa Rica in the World Health Organization's (WHO) first virtual assembly and 'Solidary Call to Action' in May.
Patent pools can work in different ways but the core principle is that patent holders transfer their intellectual property for a product to a joint venture, so they can enter into licensing agreements with other parties. This can be successful in reducing the price of drugs by enabling the production of generics.
However, Edwards and Menghaney have concerns about looser, voluntary forms of patent pool. Menghaney notes: "Voluntary patent pools share considerable limitations and leave decision-making power with patent-holding pharmaceutical corporations."
To avoid this situation, MSF is calling for the implementation of mandatory patent pooling to ensure R&D is not subject to private monopolies.
Further collaboration as a solution
There has been significant reluctance from Big Pharma to commit to pooled procurement mechanisms, with companies' concerns centred around the practice being equal to seizing their intellectual property rights, which would undermine future innovation.
Instead, individual companies have gone solo to sign their own deals with certain countries. A noteworthy example is Gilead, which has signed voluntary licenses with various low and middle-income countries for its repurposed Covid-19 drug, remdesivir. Unfortunately, this approach is not ensuring equitable access globally because: "They've stayed silent about what they're doing in other countries that aren't included, such as a lot of Latin America," notes Edwards.
Not only are these country-by-country approaches flawed, as they are not global, but to end the pandemic all companies working on Covid-19 drugs and vaccines need to commit the fair allocation and pricing approaches. Why should poorer countries not have access to the most effective drugs or vaccines against Covid-19?
A central theme of this pandemic has been collaboration. The pharma industry has found unprecedented ways to work together on drug and vaccine development – a notable example is two competing pharma giants, GlaxoSmithKline and Sanofi, partnering on a Covid-19 vaccine. However, this collaborative spirit needs to be transferred into allocation as we look towards drug and vaccine approvals, according to Edwards.
The main collaboration needs to occur between governments and pharma since public funding has been crucial for R&D efforts against Covid-19. "We cannot hand [pharma companies] billions along with publicly funded vaccine candidates… and then give them the power to decide who does and doesn't get access," notes Baines.
Public opinion from across the developed world is very supportive that if a Covid-19 treatment or vaccine is developed in their country "it should be made available around the world as quickly as possible, even if that means some people in their own country don't get it first", according to a YouGov poll commissioned by the Wellcome Trust.