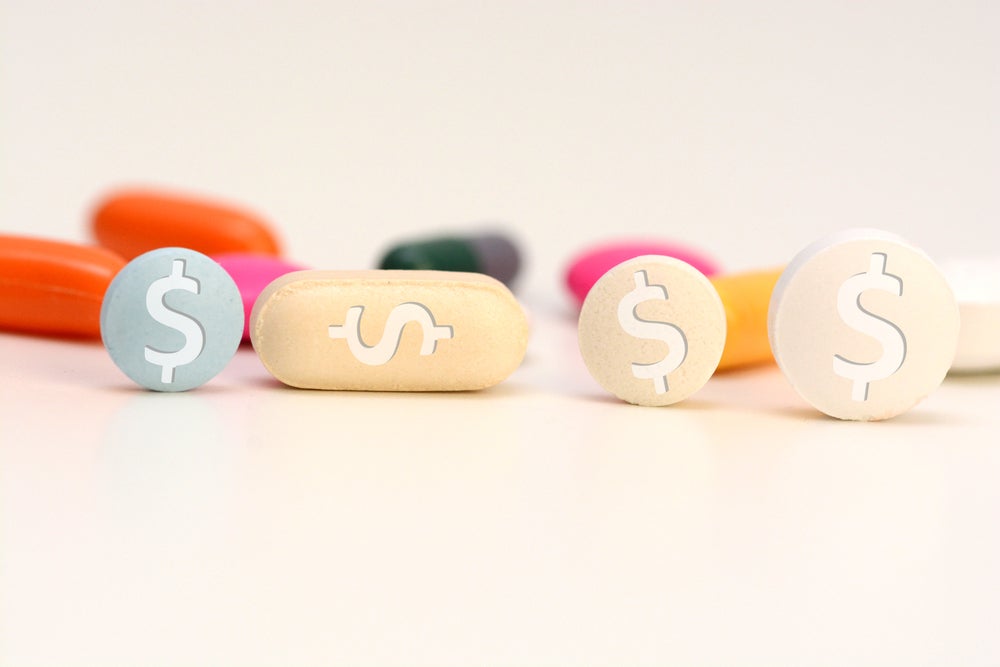 For centuries, there were two main ways to operate a business: as a for-profit corporation or as a non-profit company. However, in 2010, the US state of Maryland introduced legislation that allowed for a third legal entity: a public benefit corporation (PBC). These are for-profit corporations that do not just focus on maximising profits for shareholders, but also prioritise having a positive impact on society and the environment.
Free Case Study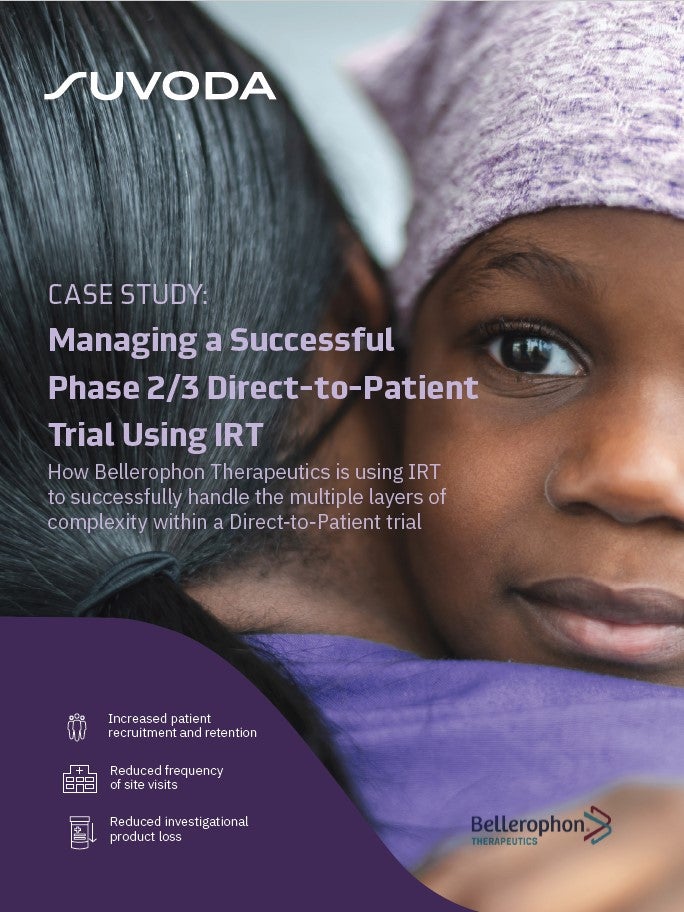 Direct-to-Patient Trials: How IRT Plays an Important Role in Bellerophon's Direct-to-Patient Trials
As the industry strengthens its focus on patient centricity, Direct-to-Patient clinical trials have emerged as a popular trial design that have the potential to increase patient recruitment and retention. IRT plays a crucial role in the success of a Direct-to-Patient trial. Because drug supplies are being managed and shipped from distribution facilities directly to patients' homes, a sponsor must have a high-quality system in place to accurately track the chain of custody, ensure patient-blinding and handle other logistical challenges. What You Will Learn Benefits and challenges associated with the Direct-to-Patient model Bellerophon's top considerations when implementing this trial design How IRT can equip study teams to successfully track chain of custody, ensure patient blinding, and handle logistical challenges
by Suvoda
A PBC is legally required to have a well-defined mission, which is expressed in its charter and drives all decision making. This mission statement is protected by the company directors and board. Unlike normal for-profit corporations, PBC boards must make sure the company goes beyond maximising shareholder profit and also considers the company's public benefit. As a result, PBC legislation protects directors from liability where they prioritise long-term goals at the expense of short-term shareholder profit.
Moreover, a PBC is required to demonstrate to its shareholders every two years how it is both promoting and advancing its purpose. To further increase transparency, PBCs are required to make their social and environmental performance reports publicly available.
Over the next decade, more and more US states – currently 38 and the District of Columbia – and countries across the world, including Italy, Australia and Colombia, followed suit and introduced legal backing for the PBC model. The structure has been particularly attractive to consumer brands, including crowdfunding site Kickstarter and outdoor clothing company Patagonia.
The PBC model and pharma?
The pharma industry has long suffered from a reputation issue. Although the Covid-19 pandemic has provided an opportunity for pharma to prove its value, it has also placed a spotlight on issues with the sector's business model.
The industry defends high drug prices because of how hugely expensive drug research and development (R&D) is. However, research from the Institute of New Economic Thinking suggests that many large pharma companies spend more money on paying dividends to their shareholders and buying back shares in their company than they do on R&D.
This has led to criticism that healthcare markets have unique problems that are founded "in the pervasive disconnect between the private incentives of the companies that develop and provide healthcare products and services, and public health needs," as noted in the Boston College Law Review in 2019. The authors argued it is not possible for this to be fixed in the traditional corporation model.
Given that the pharma industry has a ready-made public-focused mission – to tackle disease and save lives – could the PBC model encourage a wider culture of social responsibility in the sector?
Early pharma PBC adopters
Despite the PBC model being only a decade old, there has already been some interest from the pharma sector in making the transition.
In December 2014, the non-profit Multidisciplinary Association for Psychedelic Studies (MAPS) decided to spin off a PBC to help bring MDMA-assisted therapy being researched at MAPS to market. This was because commercialising drugs was outside of the organisation's 501(c)3 mission, explains MAPS PBC CEO, Amy Emerson.
This move also allowed MAPS to become a sustainable organisation, as it can funnel any profits back into R&D. Emerson notes this could have been done through a traditional for-profit corporation, but the PBC model provides further protection to the MAPS mission. MAPS PBC's mission includes accessible mental health, open science principles and decisions informed by research, as well as trust, accountability and transparency.
Another early PBC adopter is Phlow, an end-to-end solutions provider of essential medicines that aims to fix the way that drugs are manufactured, starting with the US.
"We believe that every human being should have access to essential medicines necessary to sustain life and conquer disease," explains Phlow CEO Eric Edwards. The company does this by leveraging flow chemistry and using modern continuous manufacturing approaches.
To figure out how to fix the issue of drug shortages, Phlow considered multiple different models. Phlow considered the non-profit model but found it to be untenable for fundraising, so the company turned to the PBC model in 2020.
"We love how the PBC focuses on the triple bottom of financial, social and environmental returns," notes Edwards. "There were more funding opportunities that were afforded by us doing the PBC model, while we were able to keep that social impact focus on transparency."
Spotlight on Veeva
In February 2021, life sciences technology vendor Veeva Systems became the first publicly-traded company to adopt the PBC model. Since it was founded in 2007, Veeva has been looking for ways to incorporate social responsibility into its work, explains general counsel Josh Faddis.
Veeva became aware of the PBC model in 2014, which started high-level conversations over the next few years. "The more we looked into it, we thought it could be beneficial over the long-term… in particular because of the industry we are serving" and its natural society-benefiting mission, Faddis says.
Veeva CEO Peter Gassner, who led the PBC move according to Faddis, wrote in a letter to shareholders in December: "Looking ahead, Veeva has the potential to become essential to the process of developing medicines and cures and bringing them to patients. Society's interest in the success and sustainability of this process is clear. Our vision is not sustainable over the long term if it is only about financial returns."
PBC benefits for pharma
According to Edwards, the main benefit of the PBC model is that it sends a "clear signal that we are patient-centric, and impact-driven" and have a governance structure that holds the company accountable. This is more than just a marketing exercise, notes Edwards. The PBC model can signal a genuine commitment to patient-centricity for pharma, which has struggled with public perceptions.
Emerson adds that in a normal for-profit model, you can't protect your mission of serving the public as "you're beholden to your shareholders". Since public benefit is central to drug development, she asks, doesn't focusing on the public benefit and the patient make sense?
Faddis agrees that the PBC model is "particularly beneficial to industries…that have a direct impact on individuals and societies", especially since the model provides more "operational flexibility" than C corporations. Faddis continues: "You have the ability to react…in ways that may not service short-term shareholder interest but may be beneficial in the long-term."
Attracting investment and talent as a PBC
Operating a pharma company is an incredibly expensive endeavour. Can the PBC model enable companies to attract sufficient investment given that shareholder interest is no longer paramount?
Unsurprisingly, embracing the PBC model allows companies to attract investors and form partnerships that are aligned with the mission at hand. Edwards notes attracting funding has not been an issue for Phlow so far; in mid-2020, the company attracted $354m in US Government funding to manufacture essential medicines in the country, including for Covid-19 response. In addition, the PBC structure has "allowed Phlow to solidify stronger partnerships with Civica Rx" and other US non-profits.
Faddis notes that half of Veeva's investor community had already been thinking about how corporations could be more socially responsible and were positive about the move. The other half were not clued up about the PBC structure, which is not surprising given its relative novelty. However, when it came to the vote, 99% of shareholders supported the move. "We really couldn't have hoped for that level of support," Faddis says.
Having a clear public-focused mission is also a huge plus for attracting and retaining talent. This is partly because PBCs are required to work in the interests of employees. There is also a growing trend for prospective employees to prioritise working for companies that want to do good.
Edwards notes that Phlow has "had great success in attracting world-class talent [mainly] because we have taken a stand to prioritise mission, as opposed to solely maximising profit". Faddis adds that at Veeva the PBC model has been "very valuable for retention" and that the feedback from employees has been fantastic.
Leading by example
As companies embrace the PBC model, Edwards argues this shows that "there is a better way to be profitable and successful", while being focused on a public mission. Emerson adds: "If these [PBCs] are successful, they show the world that you can do it differently: you can bring benefit and still make money."
Edwards is hopeful that Phlow can lead by example, while Emerson notes that since MAPS PBC was launched, other psychedelic therapy sites are also incorporating as PBCs. "There is already a knock-on effect of other people thinking of it as a potential model," she concludes.
Emerson also notes that as a listed company and a major player in healthcare, Veeva's decision to become a PBC is particularly noteworthy.
"Hopefully part of what we've done is raise awareness and taken some of the fear factor out of the move," notes Faddis. "We have already started [having] conversations with a few other companies who are considering this model and wanted to talk about how we made the conversion… I couldn't predict that there is going to be a tidal wave, but I do think others will take the step."
Free Case Study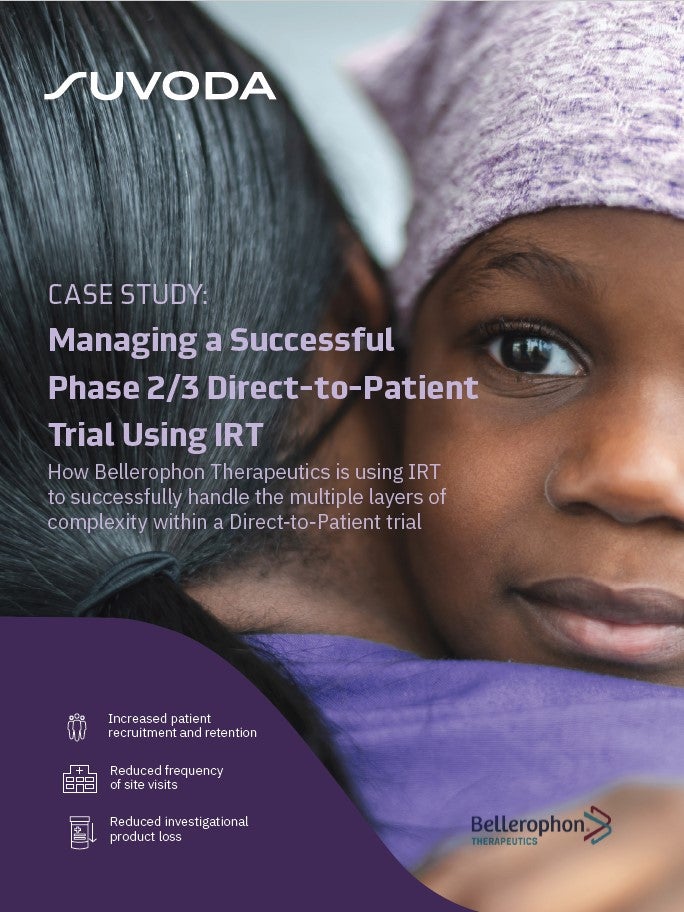 Direct-to-Patient Trials: How IRT Plays an Important Role in Bellerophon's Direct-to-Patient Trials
As the industry strengthens its focus on patient centricity, Direct-to-Patient clinical trials have emerged as a popular trial design that have the potential to increase patient recruitment and retention. IRT plays a crucial role in the success of a Direct-to-Patient trial. Because drug supplies are being managed and shipped from distribution facilities directly to patients' homes, a sponsor must have a high-quality system in place to accurately track the chain of custody, ensure patient-blinding and handle other logistical challenges. What You Will Learn Benefits and challenges associated with the Direct-to-Patient model Bellerophon's top considerations when implementing this trial design How IRT can equip study teams to successfully track chain of custody, ensure patient blinding, and handle logistical challenges
by Suvoda