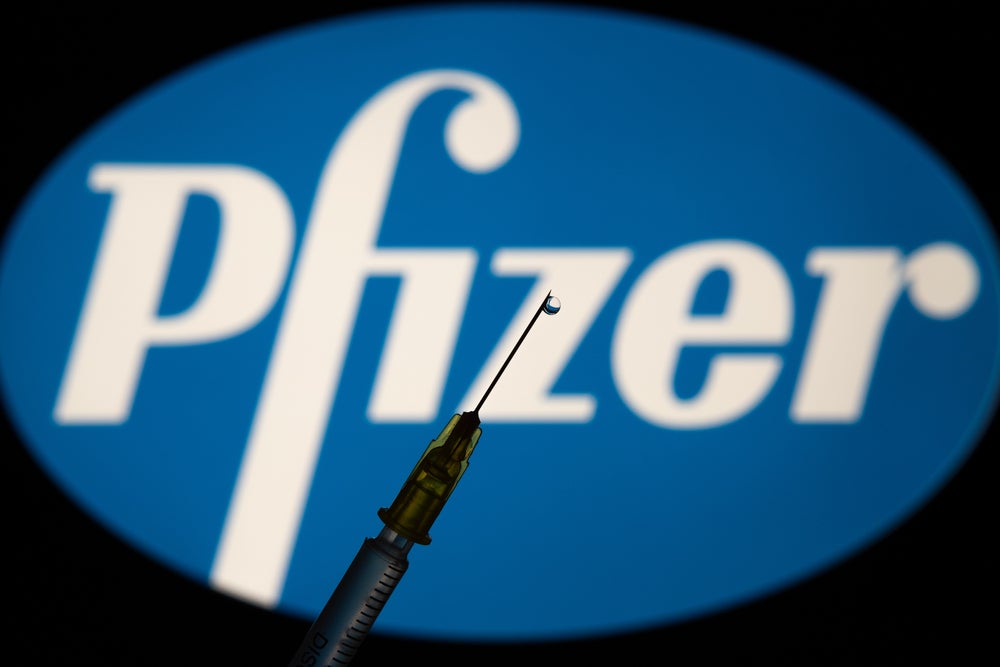 After many months of speculation around when data from one of the 11 ongoing Phase III trials of Covid-19 vaccines might be available, Pfizer and BioNTech became the first Covid-19 vaccine developers to publish interim results from the final stage of human studies.
On Monday 9 November, the partners reported that, according to interim efficacy analysis by the trial's independent data monitoring committee (DMC), their mRNA vaccine candidate BNT162b2 achieved an efficacy rate against Covid-19 of over 90% seven days after the second dose.
This was based on the evaluable Covid-19 case count of 94, which was split between vaccinated individuals and those in the placebo group. BioNTech's co-founder and CEO Professor Ugur Sahin explained in a statement that the trial will continue until a total of 164 confirmed Covid-19 cases have been evaluated.
In this update, no safety data was presented, but Pfizer CEO and chairman Dr Albert Bourla noted that "the DMC has not reported any serious safety concerns and recommends that the study continue to collect additional safety and efficacy data as planned".
Although this news is certainly exciting and brings hopes that there may soon be at least one vaccine to help manage the Covid-19 pandemic – especially since it far exceeds the 50% efficacy bar set by the US Food and Drug Administration (FDA) – the world is far from out of the woods yet.
Despite the market's overwhelmingly positive reaction to the news, there remain many unanswered questions about Pfizer/BioNTech's Covid-19 vaccine. Scientists are responding with cautious optimism to these results and the world is anxiously waiting for the full results of Pfizer/BioNTech's trial, as well as the results of the other vaccine programmes. Both AstraZeneca and Moderna are expected to publish interim results in November.
Only interim efficacy results
Although these are incredibly exciting efficacy results, and much stronger than what was expected, it is important to note that these are only interim results. As noted by finnCap in its Health Matters life sciences analysis, the results have also not been peer reviewed; this will only happen once the full Phase III data is available.
It is more than possible for the efficacy of BNT162b2 to change before the final results are published. This was emphasised by the UK's deputy chief medical officer Jonathan Van-Tam on Tuesday; as reported by the Guardian, he stated: "The 90% is a first estimate of effectiveness. That could change up, it could change down by the time the final results from the trial are ready. I think it'll be like that with all of the vaccines."
Can it protect against transmission?
Van-Tam also noted that there are other unknowns linked with these results. For instance, it is unknown if the vaccine can prevent transmission as well as illness; this is also mentioned by the finnCap report. This is particularly important given that many experience no or mild symptoms after infection, and are therefore more likely to inadvertently transmit the disease in a community setting.
University of Lincoln associate professor and programme leader in bioveterinary science Dr Colin Butler explained: "Presently there is no published data on whether the vaccine protects only against clinical disease or also prevents transmission to another individual. If the former, then individuals will be well protected, but herd immunity won't be reached."
Another related issue is that it is unclear at this point whether Pfizer/BioNTech's vaccine can protect against more severe cases of Covid-19. King's College London visiting professor in pharmaceutical medicine and Faculty of Pharmaceutical Medicine chair of the education and standards committee Dr Penny Ward noted it is important to know the severity of illness of participants in the trial. This is because "the objective is not only to prevent symptoms of milder disease, but to prevent hospitalisation and death".
Linked to this, there is limited evidence of "whether the vaccine altered the severity of disease in patients who became unwell having received vaccine", Ward added.
Can it protect at-risk or older patients?
Another unanswered question noted by finnCap is whether the vaccine has demonstrated efficacy in different populations; for instance, the elderly who are in urgent need of protection. University of Nottingham professor of molecular virology Professor Jonathan Ball explained: "For a vaccine to be truly effective it needs to protect those most vulnerable from suffering severe Covid-19 or prevent those less vulnerable from becoming infected and then transmitting the virus to others."
Pfizer/BioNTech's Covid-19 vaccine trial recruited more than 40,000 participants aged between 18 and 85 and this interim analysis does not break down the results by age.
No clear safety results yet
Beyond these uncertainties about the specifics of the efficacy results published by Pfizer and BioNTech, there is also need to determine how safe this vaccine is.
Pfizer and BioNTech have not experienced any halting of trials, which has plagued other Phase III vaccine trials by AstraZeneca and Johnson & Johnson, and the DMC said there was no safety concern. Nevertheless, full safety data is critical to whether BNT162b2 will be approved by regulators like the FDA. Pfizer estimates that full safety data will be available in the third week of November.
Challenges in logistics and manufacturing
Throughout the pandemic, there has been a lot of discussion about scaling up manufacturing in advance of Covid-19 vaccine approvals. In May, Pfizer announced a strategy centred around ordering materials in advance, putting in place parallel supply chains and modifying its facilities for this type of vaccine.
Despite having these plans in place and the aim of delivering 50 million doses of the vaccine in 2020 and 1.3 billion in 2021, there are significant logistical challenges to then distributing this mRNA vaccine to patients around the world.
There are two related logistical issues with this vaccine: it requires two doses that must be administered three weeks apart and it must be kept in ultra-cold storage, which means below -80 degrees Celsius.
"Both properties will severely complicate administering the vaccine to many recipients, particularly in countries which are warm and have less developed cold chains," noted the Francis Crick Institute's retrovirus-host interactions laboratory group leader Dr Jonathan Stoye.
Although acknowledging this cold chain challenge is more acute in poorer countries, University of Birmingham professor of cold economy Professor Toby Peters added: "Nowhere on the planet does the logistical capacity exist to distribute vaccines at this temperature and volume without massive investment."
As a result of this, even if it were to be approved quickly based on full safety and efficacy data, there is unlikely to be widespread global availability of this vaccine in the short term.
This is particularly the case since Pfizer has signed multiple early access agreements – including 100 million doses for the US through Operation Warp speed, 40 million doses for the UK through the Vaccines Taskforce and 200 million for the European Union – and so other countries would have to wait in line for access.