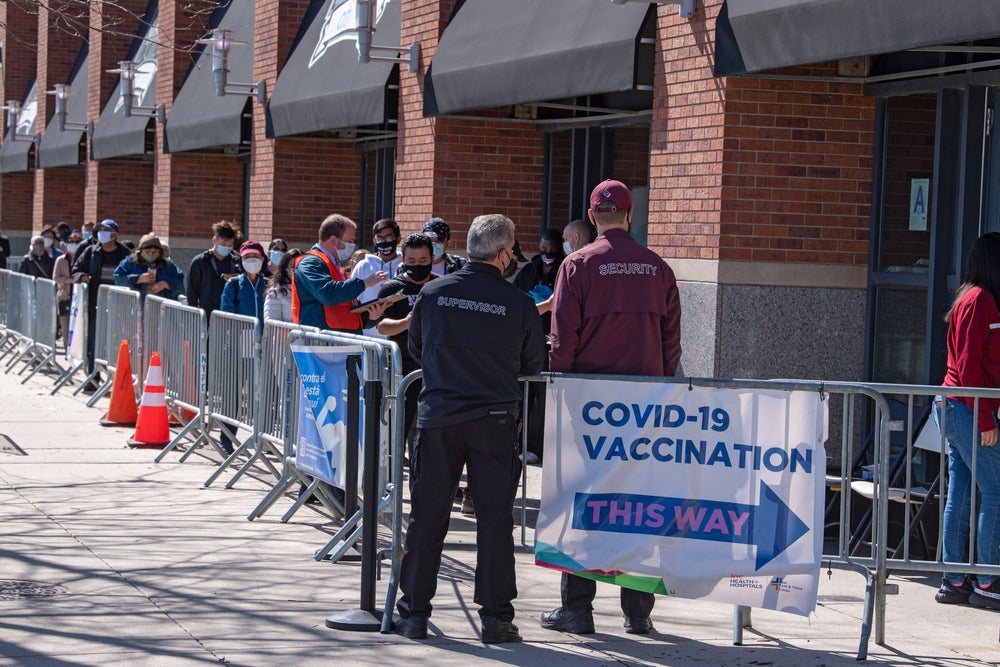 This week, pharma giant Gilead Sciences announced it would require all employees and contractors to be fully vaccinated against Covid-19 by 1 October, excepting those with medical or religious reasons for opting out.
The company said its goal is to "safeguard the health of our workforce and to protect the patients we serve" – and it's not the only industry player to mandate staff vaccinations or regular testing as the Delta variant sends coronavirus cases skyrocketing in the US and elsewhere.
What have been the stances taken on staff Covid-19 vaccination from other players in the pharmaceutical and biotech space, and what is the wider context in which these decisions are being made?
Eli Lilly
Eli Lilly announced yesterday in an email to Endpoints that it would require all US and Puerto Rico staff to be vaccinated against Covid-19, effective 15 November. Employees' requests for medical or religious accommodations will be considered on an individual basis.
Lilly said: "As a science-based company, we have thoroughly reviewed all the data and options available to us. We believe this decision helps keep our employees, families and customers safe and healthy, and ensures we can continue making life-saving medicines for people around the world."
Pfizer
Less than a week before Gilead's announcement, Pfizer said it would require all US staff and contractors to either get vaccinated against Covid-19 or undergo weekly testing.
Pfizer spokesperson Pamela Eisele told CNBC the company is "strongly encouraging" those outside of the US who are able to get vaccinated to do so. She added that individuals with medical conditions or religious objections would be able to seek accommodations.
Novartis
Swiss multinational Novartis told Endpoints that it expects everyone on its campus to either be fully vaccinated or have tested negative for Covid-19 within the last two weeks before each visit.
A spokesperson said: "With the increase of people becoming infected with the highly contagious Delta variant of the virus, and the potential for more variants to develop among the unvaccinated, we strongly encourage all of our associates to be vaccinated as soon as possible."
Emergent BioSolutions
Emergent is a contract manufacturer that has inked multi-million-dollar deals with AstraZeneca, Johnson & Johnson and Novavax to produce their Covid-19 vaccines.
According to the company's federal contract, Emergent has permission to hold back a "reasonable quantity" of jabs to vaccinate its "employees and critical subcontractors, and their respective immediate families".
While some have expressed concern that this could mean Emergent employees are vaccinated before priority groups, the company told NPR in January that its staff would not be jumping the queue for Covid-19 vaccines, and should receive their jabs in line with states' vaccine distribution plans.
AbbVie
US-based biopharma AbbVie has given employees two options when it comes to being Covid-safe in the workplace: get vaccinated and scrap the masks and social distancing, or keep following anti-coronavirus measures and undergo weekly on-site Covid-19 testing.
In an email to employees, the company said that "vaccination is the most effective way to keep people safe from Covid-19 and stop the spread of the virus", the Chicago Tribune reported.
Moderna
In December, Moderna announced that it would be making its vaccine available to workers, contractors and board members in the US. The company said the programme would also extend to adult household members of employees to "reduce the risk of absenteeism and disruption due to a Covid-19 infection in an adult household member".
According to the statement, staff participation in the vaccination programme is entirely voluntary.
The wider debate: can employers mandate staff vaccination?
Employers in industries outside of pharma are also keen to get their workers jabbed. In the UK, several of the nation's leading employers have encouraged their staff to get vaccinated, with many pledging flexibilities to allow them to attend vaccine appointments during work hours.
Carol Frost, chief people officer at Metro Bank, one of the companies involved in the scheme, said: "The vaccine roll-out is crucial to the health and wellbeing both of the nation and the economy, bringing with it hope for a return to normality.
"We are fully behind the vaccination programme and have encouraged colleagues to get vaccinated in line with government advice, giving them time off, if needed, to get their jabs."
On Wall Street, Morgan Stanley and BlackRock are opening their office doors to vaccinated employees only, while Goldman Sachs requires its staff to disclose their vaccination status.
The Financial Times also reported earlier this year that some UK organisations, ranging from care home companies to multinational firms, are looking at drawing up contracts that would make Covid-19 vaccination a condition of employment.
But not all staff are happy with mandated Covid-19 vaccinations. In June, for example, over 150 Houston Methodist Hospital employees resigned or were fired after an unsuccessful lawsuit against the US hospital's vaccine requirement for staff members.
According to law firm Lewis Silkin, UK employers are allowed to strongly encourage their staff to get vaccinated, and only allow vaccinated employees back into the office. Whether or not employers can mandate vaccination is less clear, as it has never been tested in UK law.
"The key legal problems with mandating the vaccine are the risks associated with dismissing employees who refuse and have over two years' service, and the potential for discrimination claims from employees with protected characteristics," the law firm said.
Care home employers are an exception to this rule. The UK government has made vaccination compulsory for all English care home employees, meaning employers will have a legislative basis for dismissing staff members who refuse to get jabbed.