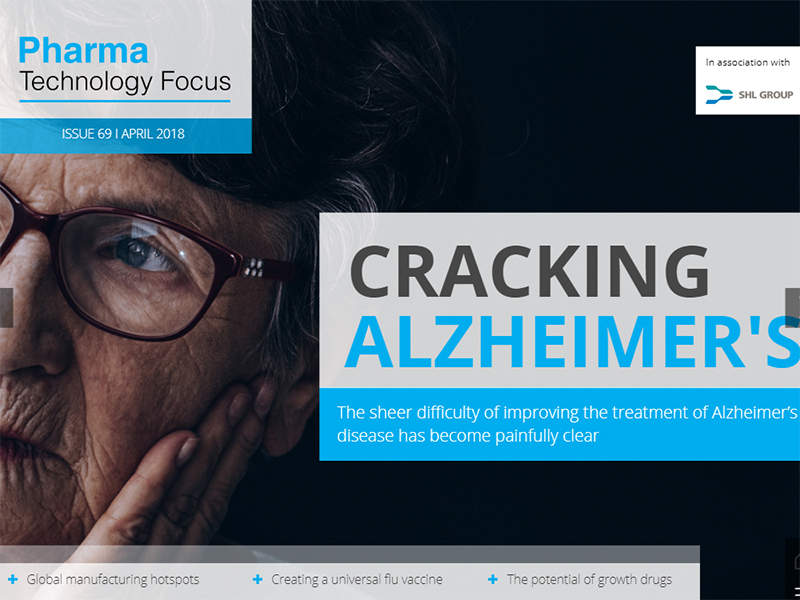 Pharma Technology Focus is now available on all devices. Read it for free here.
Pfizer is closing its neuroscience unit, effectively ending its research into Alzheimer's and Parkinson's, and intends to reallocate funding to areas where it thinks it can make a bigger impact. We reflect on the difficulties involved in improving treatment options for those suffering from degenerative neurological conditions.
We also take a look at the world's pharma manufacturing hotspots, consider the obstacles on the road to developing a universal flu vaccine, and speak to researchers at Cardiff University who have developed a tool to systematically test the likelihood that a drug will undergo 'racemisation', i.e. turning into an inert or even dangerous version of itself once it enters the human body.
Finally, we explore the use of growth drugs in both unmet clinical needs and as a solution to cosmetic issues, and find out more about a new method of screening a person's diverse set of antibodies, which could unlock the potential for rapid therapeutic discoveries.
In this issue
Where are the world's pharma manufacturing hotspots? Many countries around the globe have pushed local pharmaceutical production to the top of their agenda in recent years. Elly Earls takes a closer look at some of the world's manufacturing hotspots. Read the article here.
Cracking the mystery of Alzheimer's disease With Pfizer shutting down its neuroscience unit and a long list of failed late-stage trials, the sheer difficulty of improving the treatment of Alzheimer's disease has become painfully clear. Chris Lo asks: how can researchers crack the mystery of this neurodegenerative disease? Read the article here.
Is a universal flu vaccine on the horizon? Oxford University spin-out Vaccitech is trialling what it hopes will be a more effective, universal flu vaccine. Chris Lo talks to co-founder Professor Sarah Gilbert about the science behind the vaccine, and the potentially revolutionary benefits of inducing T-cells. Read the article here.
The racemisation risk: new tool could identify drugs destined to fail Researchers have developed the first tool to systematically test the likelihood that a drug will undergo racemisation, which could help identify drugs destined to fail at an early stage. Abi Millar finds out more. Read the article here.
Shooting up: what does the future hold for growth drugs? Growth drugs hold huge potential for various unmet clinical needs, including foetal growth restriction. But for better or for worse, these drugs are also sought after as supplements. Abi Millar explores the latest trends and research in this field. Read the article here.
Could a new antibody screening method lead to better drugs? A new technology can screen orders of magnitude more antibodies than existing methods. Elly Earls finds out why this breakthrough could vastly improve our understanding of how to leverage the immune system to prevent and cure disease. Read the article here.
Next issue preview
Life sciences innovation non-profit The Pistoia Alliance has launched the User Experience for Life Sciences toolkit, designed to help pharma and biotech companies improve the user-friendliness of their software. We find out how poorly designed software can impact R&D and clinical trial processes, and how the toolkit could help.
We also consider the problem of unapproved and unregulated antibiotics being manufactured in India, investigate whether self-imposed price caps by some big pharma companies will be enough to keep drugs affordable, and find out more about Elsevier's plans to create a new taxonomy for traditional Chinese medicine.
Finally, we take a look inside Canada's Centre for Drug Research and Development as it works to solve unmet medical needs using innovative technologies, and unveil the six winning packaging systems at Pharmapack Europe 2018, which range from a motor-driven disposable auto-injector to an all-in-one contactless multi-dose delivery cap.