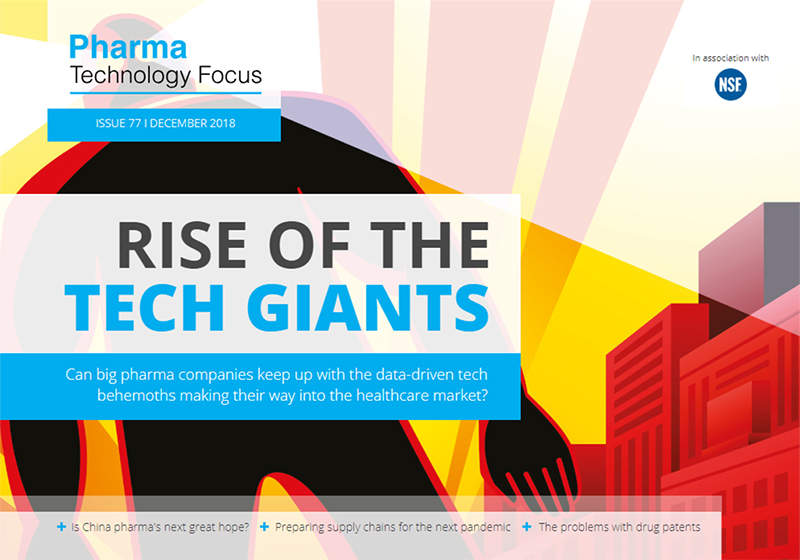 Pharma Technology Focus is now available on all devices. Read it for free here
The top pharmaceutical companies have been forced to drop prices to get a slice of the Chinese market, but that hasn't dampened spirits one bit. We find out about China's growing pharmaceutical market. Plus, we take a look at the role pharmaceutical pollution plays in the rise of superbugs resulting from antimicrobial resistance
Also, we examine why academics struggle to replicate potentially exciting pre-clinical research data, explore an initiative to design a new global gateway that will help government procurement agencies access information on thousands of individual patents anywhere in the world, and ask if the rise of tech behemoths will change pharma forever.
Plus, we find out how C4X Discovery plans to use video game technology to generate novel medicines, investigate whether the global supply chain is ready for the next pandemic, and examine if blockchain could stem the tide of counterfeit drugs in India.
In this issue
Is China the next great hope for the pharma industry? Many top pharma firms have been forced to drop prices to get a slice of the Chinese market, but that hasn't dampened spirits one bit – on the contrary, CEOs from companies like AstraZeneca and Pfizer have been celebrating dramatic Chinese sales increases in 2018. So how is China's pharmaceutical market growing and is it really a clean bill of health for any internationals lining up to profit? Chris Lo finds out. Read the article here.
Antimicrobial resistance: is pharmaceutical pollution creating superbugs? In 2001, the European Commission identified a link between antibiotic waste and the threat of superbugs resulting from antimicrobial resistance, yet to date no effective measures have been taken to prevent this. Sally Turner finds out what the risks are and what drug companies and legislators should be doing to curb the threat. Read the article here.
Why is it so hard to reproduce medical research results? Early-stage scientific studies are one of the major drivers of innovation in the pharma industry, but replicating them can be surprisingly difficult. Charlotte Edwards finds out how reproducibility issues impact drug development, and what needs to be done to improve the validation of the scientific results that drive innovation in the pharma sector. Read the article here.
PAT-Informed: the solution to drug patent procurement issues? Many countries do not have the equivalent to the US's Orange Book, and as a result health officials are wasting time establishing whether patents have been taken out on medicines. As a solution, leading biopharmaceutical companies, the UN's World Intellectual Property Organization and the IFPMA have worked together to develop Pat-INFORMED, an innovative global gateway. Sally Turner takes a look at this new initiative. Read the article here.
Will tech giants like Amazon and Google change the pharma sector forever? The world's tech giants have recognised vast business opportunities in the healthcare space, and could soon become a threat to established drug developers and high street pharmacies. Allie Nawrat examines what they will have to do to survive. Read the article here.
Unreal Engine: from gaming to ground-breaking cures Drug development company C4X Discovery is using the same technology used to build the incredibly popular Fortnite video game to develop medicines in the digital world that it hopes can make an impact in the real world. But, why use a gaming engine, and how does it work? Elliot Gardner finds out more. Read the article here.
Are pharma supply chains ready for the next major disruption? Global pharmaceutical supply chains are weak; there are many manufacturing issues and a lack of incentives to continue to produce less profitable but necessary medicines. How can we ensure that global supply chains are prepared to survive the next pandemic, natural disaster or trade war? Allie Nawrat reports. Read the article here.
Can blockchain stem the tide of counterfeit drugs in India? Counterfeit drugs are a multi-billion dollar problem. Now pharma companies are looking for a technological solution, could blockchain be the answer? Charlotte Edwards reports. Read the article here.
Next issue preview
In the next issue of Pharma Technology Focus, we find out about a new class of cancer therapeutics developed by Cybrexa, which looks to identify combinations of chemotherapy and DNA inhibitors to increase efficacy and reduce toxicity in cancer treatment, and explore the environmental impact of clinical antidepressants entering waters around the UK.
Also, we speak to LNC Therapeutics to find out if the company's exclusive license agreement with Cornell University for its Christensenella patent family could form the foundation for the first drugs using microbiome bacteria, and take a look at a new app developed by Roche, which may help physicians to match patients to clinical trials.
Plus, we examine the results of Eli Lilly's GIP and GLP-1 receptor agonist, which showed strong and clinically meaningful blood sugar reduction and weight loss in people with type 2 diabetes, and investigate how pharma companies and the supply chain tackle the challenges of controlling an epidemic in an uncontrollable environment.