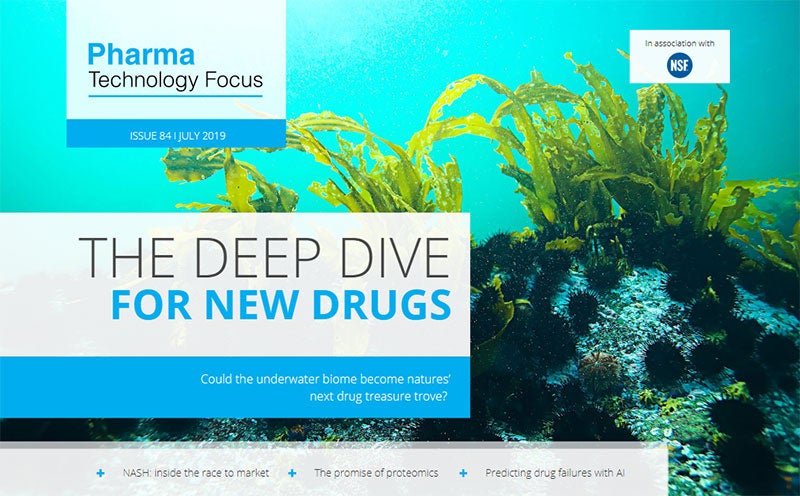 Pharma Technology Focus is now available on all devices. Read it for free here
Earlier this year, former banker and superbug pundit Lord Jim O'Neill suggested that a nationalised drug company could be the answer to the UK's lack of investment in new antibiotics. But is such drastic action really necessary? We debate the need for a state-run system.
Also, we dive into the topic of ocean forests and the search for the next drug treasure trove in the underwater biome, take a look at the race to get NASH drugs to market as industry heavyweights including Pfizer, Novartis, Merck and Bristol-Myers Squibb compete to win the first approval, and examine the therapeutic benefits of the world's first treatment for post-partum depression, Brexanolone.
Plus, we find out about an AI platform that can predict trial failures to see how technology could help save pharmaceutical companies time and money in the clinical stage, and explore the promise of 'enriching' clinical trials with 'discovery proteomics'.
In this issue
In the age of AMR, does a nationalised drug company make sense?
A UK economist has come out saying that pharma companies are dragging their heels in the fight against superbugs and the only resolution would be creating a state-run drug company. Could he be right, or is international support and funding for a competitive marketplace the best solution to developing new lifesaving antibiotics? Our editorial team put forward the arguments for and against a national drug company.
Read the article here.
Underwater forests and the search for natures' next drug treasure trove
Building upon existing findings of the medical properties of marine-derived actinobacteria, Portuguese researchers have found new possible bioactive compounds in Laminaria ochroleuca, a common variety of brown seaweed. How can the potential of seaweed as a source of antibiotics and anti-cancer drugs be unlocked? Allie Nawrat reports.
Read the article here.
Developing drugs for NASH: the race to market
Developing drugs for NASH, a type of liver disease is an emerging field in medicine, which is expected to be extremely lucrative, capturing the imagination of pharma companies and plunging them in a race to market the first drug. Allie Nawrat tracks the race to market currently led by Intercept's Ocalavia.
Read the article here.
Zulresso: the world's first post-partum depression drug
Sage Therapeutics' Zulresso became the world's first drug for post-partum depression when it was approved by the FDA in March this year. The company plans to use the success of Zulresso's novel mechanism of action as a catalyst to capitalise on a growing market and further expand its post-partum depression portfolio. Allie Nawrat reports.
Read the article here.
Predicting drug flops with AI
While drug development can be incredibly lucrative, it is a very risky business. German company Innoplexus has developed a domain-specific AI prediction engine, which recently caught attention by correctly predicting that Biogen's Alzheimer's drug aducanumab would fail with 70% to 90% certainty. Allie Nawrat finds out more.
Read the article here.
Proteomics and the promise of 'enriching' clinical trials
Swiss pharma giant Roche is working with proteomics specialists Biognosys and Caprion on introducing 'clinical proteomics' to clinical trials. This could help identify or measure new biomarkers and work out why a particular intervention is or isn't working. So what's the potential for 'enriching' clinical trials? Abi Millar finds out.
Read the article here.
Next issue preview
In the next issue of Pharma Technology Focus, we examine how the industry is responding to the growing threat of drug resistant tuberculosis, look back at key milestones in the decades long fight to prevent and treat HIV, and, after allegations that Teva orchestrated a sweeping scheme to inflate prices, we investigate what is going on with the company.
Also, we find out more about the dangers of unlicensed stem cell clinics, speak to the team behind research into the way that cancer cells communicate, and profile Verona's ensifentrine to understand its potential as a life-changing solution for COPD patients.
Plus, we talk with Hedley Rees, author of the new book Taming the Big Pharma Monster about his experience in the UK pharma sector and how the industry could be modernised, and examine a UK initiative to create a 'pay as you go' database of AI programs for drug discovery firms.