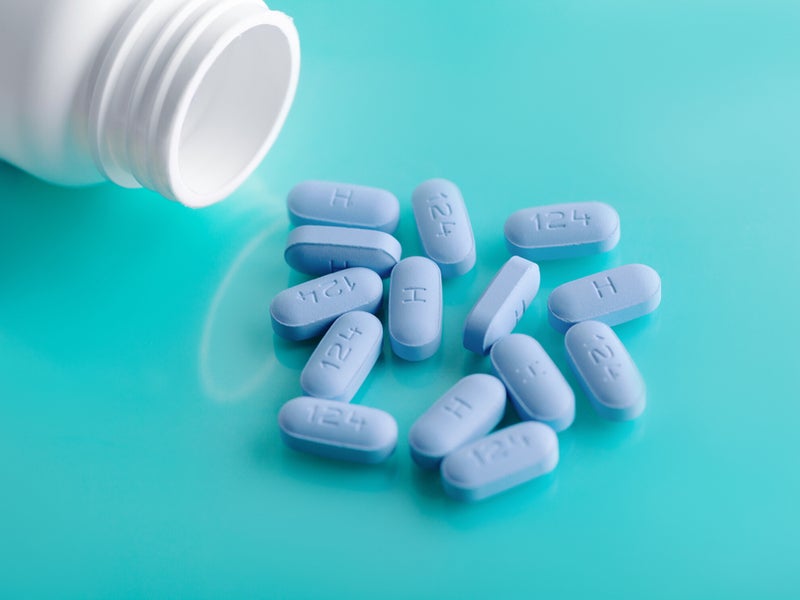 PrEP is a daily tablet – sold by Gilead under the brand names Truvada and Descovy, with generics expected to hit the market later this year – which prevents those taking it from being able to contract HIV. On 15 March, one week before the UK's lockdown was imposed, it was announced that the government would be giving local authorities £16m across 2020 and 2021 to get the drug into routine commissioning across England.
The country's largest sexual health clinic, 56 Dean Street, has now told patients the rollout has been "indefinitely postponed" due to the Covid-19 pandemic, as reported in iNews.
Daniel Bowen is a patient who attempted to access PrEP through the Whittall Street Umbrella Clinic, and eventually gained a place on the Impact Trial. Due to Covid-19, he had only one appointment before his follow-up was cancelled, meaning he was unable to begin taking the drug.
Bowen says: "As lockdown restrictions are easing, I don't understand why distribution of the drug itself is delayed. Even if we don't have an opportunity to use it for a few months yet, I think it would be good to start taking it to see if there's any side effects and get into good habits taking it every day."
UK government criticised for unequal distribution of PrEP
The UK government has faced significant criticism for the way access to PrEP has varied throughout the nation since Gilead's patent on the branded Truvada variant lifted in June 2017. While the drug has been freely available through NHS Scotland and Wales since July 2017 and has been available in Northern Ireland through sexual health clinics since 2018, in England the drug is only accessible through the NHS Impact Trial. While the trial is taking place partially to assess the logistics of distributing the drug in England, its origins have a more complex legacy tied up in European patent law.
When the Truvada patent expired, Gilead attempted to extend it with a supplementary protection certificate (SPC). SPCs are issued to compensate for delays to the marketing authorisation of drugs, and apply for 15 years after the date of first market approval. This would mean Gilead would have had protection from PrEP-based competition in Europe until 2020. At the time, Truvada cost around €400 for 30 tablets, too much for most potential users to afford privately and too much for the NHS to cover for the number of patients who would want it.
While a group of generics manufacturers swiftly began challenging the SPC in court, different health systems had to make their own decision about what to do next. NHS Scotland and NHS Wales took the risk of making a generic version of PrEP they could afford to supply freely available via general practices and sexual health clinics while the court case between Gilead and the generics manufacturers was still ongoing.
NHS England instead chose to offer a generic version of the drug through the Impact Trial. This removed the risk of legal action from Gilead, as supplying a generic version of a patent-protected drug is legally acceptable in the context of a clinical trial, but meant it couldn't be distributed as freely.
While England's High Court ruled the SPC as invalid in September 2018, at this point the Impact Trial was already well underway.
Those currently accessing the drug via the Impact Trial in England will continue to receive PrEP until October 2020. After that, what happens for them is uncertain.
PrEP access: squandering a once-in-a-generation opportunity?
Lockdown offers a unique opportunity for the UK to quell HIV transmission on a massive scale, and public health initiatives like the Time To Test campaign are now encouraging people who may have been exposed to the disease to take advantage of this bizarre silver lining to the pandemic.
HIV is largely spread by unprotected sex with a person who doesn't know they're infected, with men who have sex with men and black African populations the most at risk. Perhaps unsurprisingly, fewer people are having sex with new partners while legally confined to their homes. If people potentially exposed to the virus are tested during lockdown, when there is less of a chance of them unknowingly passing it on to someone else if infected, this means less potential of it spreading when restrictions are lifted as they will be able to begin treatment for the disease. Treatment for HIV+ patients eventually leaves them with such low levels of the virus in their bloodstream they are unable to pass the disease onto another person, and will test negative for it.
Unfortunately, progress made by initiatives like Time To Test could be set back if PrEP isn't available in England when lockdown lifts. The more HIV+ people who know their status and are on treatment the better, but access to PrEP is needed alongside this for the UK to get closer to its goal of becoming HIV transmission-free by 2030.
Bowen says: "I don't think it's realistic to think people aren't taking risks now. There are definitely people sending me messages wanting to hook up – and that increased a lot when Dominic Cummings flouted the rules. I think queer men are starting to hook up, and by not rolling PrEP out now, they're increasing the chance that those people will get HIV and the chance that it will spread to people like me who haven't been doing so.
"I also think I'm more likely to take risks in those first few weeks after lockdown. After missing out on sex for so long, I think I'm just more likely to make irresponsible but fun decisions like unprotected sex, because I can. So if we can get as many gay men as possible PrEP as soon as possible after this lockdown, it would be a really good thing."
A UK Department of Health and Social Care spokesperson told iNews: "We know how important PrEP is and now we are through the peak of this global pandemic, we are doing everything possible to ensure the routine commissioning of PrEP.
"We will continue to work closely with local authorities so this happens as quickly as possible."