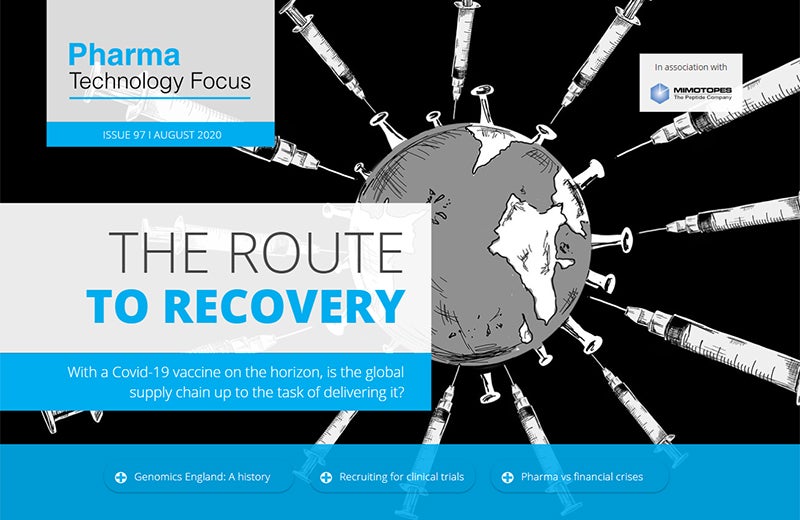 Pharma Technology Focus is now available on all devices. Read it for free here
Founded in 2013, Genomics England has become a staple feature of the pharma industry. In a dedicated timeline feature, we take a look back at some of the pioneering projects to emerge since its founding; and with a post-Covid-19 recession looming, we examine what pharma companies can learn from previous economic crises.
Also in this issue, as researchers draw ever closer to creating a viable Covid-19 vaccine, does the industry have the ability to produce enough supply? We take a look at the logistics of ending a global pandemic. Plus, we speak to Innovative Trials to find out how to effectively recruit clinical trial participants, and find out about a new broad spectrum synthetic antibiotic being developed by Australian biotech Recce that could prove to be crucial in winning the fight against AMR .
Turning our focus to drug development, we take a look at the current state of the autism pipeline, find out how scientists from Newcastle and Durham universities are using crystal chemistry to accelerate drug development, and dive into the complex world of psychedelics to understand why legislators in the US are pushing for funding to research the promise of drugs such as magic mushrooms in mental health treatment.
In this issue
From rare diseases to Covid-19: charting the history of Genomics England
Genomic England is participating in a £28m nationwide human genome sequencing project to try and uncover why Covid-19 has such varied effects on patients. Allie Nawrat looks back at the short history of Genomics England, from the rare disease and cancer-focused 100,000 Genomes Project to its latest commitment to tackle the coronavirus pandemic, which has killed more than 40,000 people in the UK.
Read the article here.
Covid-19: how will pharma cope with a looming recession?
The pharma sector has long been a strong performer during economic downturns. With a massive recession lurking in the wake of the Covid-19 pandemic, will the industry's sturdy reputation hold up in the coming years? Chris Lo reports.
Read the article here.
Pandemic logistics: guaranteeing equitable access
The Covid-19 pandemic is a truly global health emergency, and one that will not end unless drugs and vaccines to tackle the deadly viral disease are available to everyone that needs them. This is a lot easier said than done. Allie Nawrat investigates pricing and allocation challenges and solutions that are required to tackle the logistics in ending a worldwide pandemic.
Read the article here.
Pandemic logistics: resolving manufacturing and distribution challenges
Allocation challenges are not the only barriers to ending the Covid-19 pandemic. The need to manufacture and distribute vaccines and therapies at an unprecedented global scale also poses logistical issues. So, what are some innovative solutions to these problems? Allie Nawrat finds out.
Read the article here.
Q&A: how to find the right clinical trial participants with Innovative Trials 
Patient recruitment is one of the biggest challenges in clinical trials. Founder and CEO of Innovative Trials Kate Shaw tells Natalie Healey what sponsors should be doing to ensure they attract and retain the right participants for medical research.
Read the article here.
Recce Pharma: a new frontier in the fight against AMR
Antimicrobial resistance is a looming threat for modern medicine, but Australian biotech Recce Pharmaceuticals might have found a solution in its broad-spectrum synthetic antibiotic. Chloe Kent speaks to Recce executive director of regulatory affairs Michele Dilizia about the idea behind this novel approach.
Read the article here.
Autism pipeline: are better therapies in sight?
Autism spectrum disorder presents immense challenges for pharma and biotech firms looking to improve treatments for this complex condition. With an array of ASD hypotheses being tested with novel drug candidates, what are the prospects for a breakthrough in this long under-served indication? Chris Lo finds out.
Read the article here.
How a new crystallography technique may speed up drug development
Scientists from Newcastle and Durham Universities have developed a new technique that uses nanoscale droplets to grow crystals of organic soluble molecules. This development has the potential to accelerate and enhance the drug development pipeline. Abi Millar finds out more.
Read the article here.
Psychedelics: a game-changer in mental health? 
Psychedelics have been used throughout history for medical purposes. After going out of favour in the 1960s and 1970s, they have begun to return to the mainstream as rigorous clinical trials have demonstrated their potential as treatment for unmet needs in mental health. Allie Nawrat talks to four companies working in the psychedelics space.
Read the article here.
Graph technology: the remedy for broken supply chains is connected data 
The Covid-19 pandemic has exposed the fragility of global supply chains. Many pharma companies do not have a transparent end-to-end view of their supply chain. They lack the agility to flex and adapt to rapid change. Graph database technology that can record complex data interdependencies can help address these issues right now, argues director of AI graph analytics at Neo4j , Amy Holder.
Read the article here.
Next issue preview
Over the past 100 years, the bacteria samples that make up the National Collection of Type Cultures in the UK have played a vital role in advancing medicine. As the collection celebrates its centenary, we take a look back at the history of this living museum. Looking to modern drug development, we explore the promise of the gut-brain axis as a drug target for gastrointestinal disorders, neurological diseases and mental health conditions.
Also, we get up close with the horseshoe crab to find out why the pharma industry is so reliant on its icy blue blood for safety tests, unpack the complicated topic of puberty blockers to sift the fact from fiction when it comes to these controversial drugs, and take a look at the future of recruitment in pharma, could the industry's role in tackling Covid-19 help bring more young talent into the sector?
Plus, we examine the findings of Faller Packaging's recently published sustainability report to learn more about sustainable packaging in pharma, review recent attempts to develop drugs for rare diseases, and debate whether drugs discovered by AI can be patented.