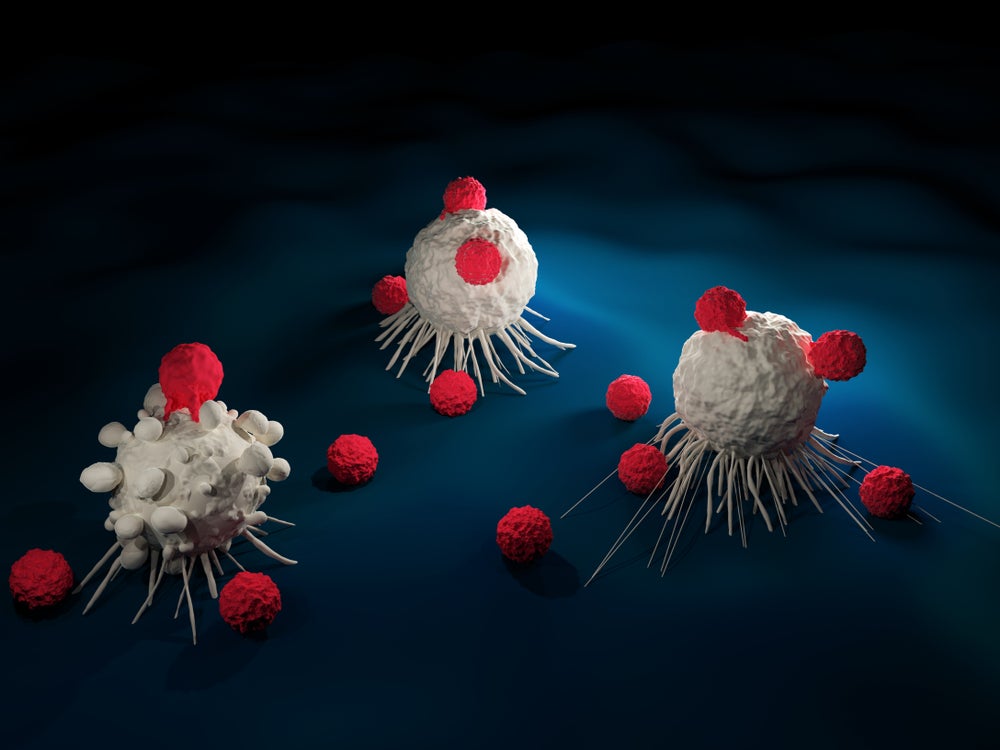 Massachusetts-based TScan Therapeutics has closed an oversubscribed $100m Series C round. This financing attracted both new and existing investors. New investors that participated were BlackRock and RA Capital, while existing investors include Longwood Fund, Novartis Venture Fund and 6 Dimensions Capital.
The Series C funding will support TScan in advancing its T cell receptor (TCR)-T cell therapies for cancer into clinic trials. These novel therapies are developed using TScan's proprietary technology platform.
TScan CEO David Southwell adds the $100m "will fund TScan into 2023, including the filing of two INDs [investigational new drug applications] for the liquid tumour program in 2021 and three INDs for the solid tumour program in 2022". The funding will also "support generation of initial data from first-in-human studies for TScan's liquid tumour programme".
Exploring TScan's oncology TCR-T therapies
Founded in 2018, TScan is the name of the target discovery technology developed by Harvard Medical School's Steven Elledge, who now serves on the company's advisory board. This technology "uniquely enables the identification of T cell targets in a high-throughput, comprehensive, and whole genome fashion" to support the development of TCR-T cell therapies, explains Southwell.
Southwell notes these targets are derived from patients actively responding to immunotherapy, meaning "we uniquely know that these TCRs and their associated targets drive clinically meaningful anti-tumour responses in patients".
TScan views TCR-T cell therapies as a promising treatment modality because "the natural interaction between T cells via TCRs and tumour cells can be harnessed to reprogram a patient's immune system in a systematic, safe and effective way to eliminate cancer", explains Southwell.
Because "the TScan platform can be used to screen TCRs for potential off-target binding," TScan's TCR-T cell therapies are "highly de-risked against potential off-target toxicities observed in many [competing] current clinical-stage TCR-T programs", Southwell says.
TScan's TCR-T cell products are also differentiated from other products in development because they are multiplex treatments where patients receive multiple TCR-T cell products. Southwell notes: "A multiplexed approach uniquely addresses current concerns with tumour antigen escape and incomplete responses observed with single-target products currently in clinical development."
Comparing TCR to CAR-T therapies
Southwell argues TScan's TCR-T cell therapies are superior to other T cell therapies, such as chimeric antigen receptor T-cell (CAR-T) approaches. For instance, "CARs recognize tumour-associated antigens expressed on the cell surface, whereas TCRs can recognise not only cell surface antigens but also intracellular targets representing the vast majority of cancer-associated antigens."
In addition, a major challenge of CAR-T therapy has been targeting solid tumours. "TCR-T cells are able to naturally traffic within solid tumours, penetrating deeply into the tumour allowing for a more robust anti-tumour response," explains Southwell.
Also, "CAR-T cells often require high target expression for activation", whereas "targets expressed at low levels in a tumour cell may be sufficient to activate a TCR-T cell". Finally, TCR-T cell therapies have longer persistence as their natural signalling and survival process are engaged.
TScan's pipeline targets liquid and solid tumours
TScan's two lead candidates – TSC-100 and TSC-101 – are in its liquid tumour programme. They are indicated for leukaemia following haematopoietic stem cell transplant (HSCT) therapy. They focus on targeting histocompatibility antigens, HA-1 and HA-2, that are exhibited in patients with lower relapse rates to HSCT.
Further behind is the solid tumour programme, where TScan will soon be nominating its first three targets, explains Southwell. "TScan intends to uniquely multiplex these TCR-T cell therapies together for patients." TScan is also working with Novartis on a target discovery partnership for tumours.
TScan's platform is not only useful in oncology; the company is also exploring its role in infectious and autoimmune diseases, including Covid-19. The company recently signed a partnership agreement with Qiagen to develop a T cell-based Covid-19 diagnostic that, Southwell says, "enables highly specific, long-term detection of prior SARS-CoV-2 exposure given long-term T cell persistence and target specificity".