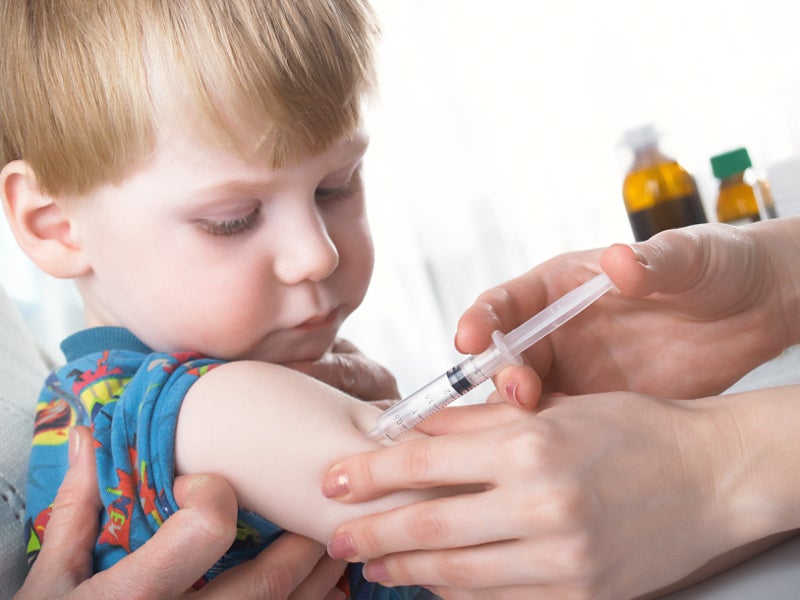 Top tweets in infectious diseases in November 2019
1. Peter Hotez's tweet on the false link between vaccines and autism
Prof Peter Hotez, a vaccine scientist based in Texas, US, tweeted on the false claims related to the link between vaccines and autism. The influencer further stated studies conducted in more than 1.2 million children revealed that vaccines do not cause autism. He noted that approximately 100 autism genes are at work during the early foetal development.
The influencer shared an article in his tweet, detailing how Bill Maher, a HBO host, promoted the opinions of a vaccination skeptic, Dr Jay Gordon. The article further revealed that the host agreed to the skeptic by listing his own experiences and the fallacies associated with modern medicine. Although the medical community believes that vaccines do not cause autism, vaccine evasion instances in the past year led to a rise in preventable diseases in children in New York and California. This caused health officials to take drastic measures such as isolating unvaccinated minors from public spaces.
I wrote VACCINES DID NOT CAUSE RACHEL'S AUTISM @JHUPress so this would never happen. We have studies in >1.2 million children showing that NO #vaccine causes #autism + we have 100 autism genes operating in early fetal brain development, during pregnancy. https://t.co/gb3hrwRjQw

— Prof Peter Hotez MD PhD (@PeterHotez) November 3, 2019
Username: Prof Peter Hotez
Twitter handle: @PeterHotez
Retweets: 280
Likes: 971
2. Francis Collins' tweet on gene editing for curing unthinkable diseases
Francis Collins, director of the National Institutes of Health (NIH), shared an article on gene-editing technologies capable of curing diseases such as sickle cell disease (SCD), HIV, muscular dystrophy, and other severe conditions. The new breakthrough is called the 'prime editing' system, which can make a wide range of edits to a DNA code.
Researchers are currently working on lab tests to see how prime editing can correct genetic mutations that cause two severe conditions – SCD, a life-threatening blood disorder, and Tay-Sachs disease, a neurological disorder. Prime editing requires further research before being launched for human clinical trials, opine health experts.
Gene editing has the potential to treat conditions that were once unthinkable including #sicklecell disease and #HIV. A new @liugroup advance brings us even closer to this breakthrough. #NIH https://t.co/0wYv6QFN6J

— Francis S. Collins (@NIHDirector) November 5, 2019
Username: Francis S Collins
Twitter handle: @NIHDirector
Retweets: 256
Likes: 548
3. Tara Smith's tweet on what measles can do
Dr Tara Smith, an epidemiologist specialising in infectious diseases, tweeted on how measles has caused 42 deaths, with 200 new cases reported each day. The influencer shared an article listing the latest updates by the government of Samoa on the measles outbreak.
Approximately 3,149 cases have been reported since the measles outbreak, with as many as 42 deaths, according to the government of Samoa. Further, 50,068 individuals were vaccinated in the recent Mass Vaccination Campaign held during the end of November 2019.
42 deaths. Over 200 new cases in a day. This is what measles can do. https://t.co/1xa2BSYomU

— Dr. Tara C. Smith (@aetiology) November 29, 2019
Username: Dr. Tara C. Smith
Twitter handle: @aetiology
Retweets: 209
Likes: 232
4. Helen Branswell's tweet on the approval of Ervebo Ebola vaccine
Helen Branswell, a public health reporter and writer, shared an article about the marketing authorisation of Ervebo, the Ebola vaccine by Merck in Europe. Clinical trials and research protocols related to the vaccine are currently taking place in the Democratic Republic of the Congo.
Merck is in the process of working with a number of regulatory bodies and the US Food and Drug Administration (FDA) to obtain approval for the vaccine. The company expects the licensed vaccine to be available in the third quarter of 2020.
This is a day for the #Ebola history books: There is now a licensed Ebola vaccine. Merck's Ervebo has been approved in Europe. https://t.co/zWURhXipYy

— Helen Branswell (@HelenBranswell) November 11, 2019
Username: Helen Branswell
Twitter handle: @HelenBranswell
Retweets: 200
Likes: 262
5. Laurie Garrett's tweet on China's pneumonic outbreak
Laurie Garrett, an author and science journalist, shared an article about China informing WHO about the pneumonic outbreak almost two weeks later than the first cases of hospitalisation. She noted that more than the disease, the slack way in which the government responded was worrisome.
The author stated that the government was more prompt about managing public reactions, rather than curbing the spread of the disease. People started venting out their fears on social media platforms, especially fuelled by Chaoyang Hospital's role in concealing the outbreak since it was previously responsible for hiding the SARS epidemic in 2003.
China notified @WHO that two people are hospitalized in Beijing with pneumonic #plague— the form that spreads thru the air. That notification happened on Nov 13 — nearly 2 weeks after the cases were found.Here, I explain why that's a big problem. https://t.co/lA6Gc7JnLF

— Laurie Garrett (@Laurie_Garrett) November 16, 2019
Username: Laurie Garrett
Twitter handle: @Laurie_Garrett
Retweets: 115
Likes: 114
6. Seth Berkley's tweet on children dying from diarrhoeal disease
Seth Berkley, an epidemiologist and CEO of Gavi, the vaccine alliance, tweeted about diarrhoeal diseases being the third leading cause of death in children and the rotavirus being the leading cause of childhood diarrhoea. Approximately 76 million children have been immunised against this deadly virus, stated Seth.
The article further highlights that approximately 1.6 million people died from the disease in 2017, with almost one-third of them being children aged below five years. Exposure to risk factors and lack of essential treatment are being posed as the dominant factors of diarrhoeal related deaths in children. Some interventions to treat the disease include vaccination, antibiotics, sanitation, breastfeeding and oral rehydration solution (ORS).
Diarrheal diseases are the third leading cause of child mortality globally & rotavirus is the leading cause of childhood diarrhea. @Gavi has helped to immunize over 76 million children against this deadly virus! Here's why it's such an important vaccine: https://t.co/vWB4tIBHln

— Seth Berkley (@GaviSeth) November 11, 2019
Username: Seth Berkley
Twitter handle: @GaviSeth
Retweets: 75
Likes: 132
7. Mathew Hodson's tweet on the late diagnosis of HIV in non-African women
Mathew Hodson, the executive director of NAM aidsmap, tweeted on the late diagnosis of HIV in women, and especially non-African women. Non-African women are often perceived to be not so much at risk of contracting the disease. Mathew noted that HIV testing and prevention work was vital for women.
The influencer shared video of a personal account of Adrienne, an HIV survivor living in the UK. She was diagnosed with the virus three years after having actually contracted it.
Women, and in particular non-African women, are often diagnosed late with #HIV because they are assumed not to have been at risk.It's vital that in HIV testing and prevention work, women are #InvisibleNoLonger.pic.twitter.com/ulA232YFa6

— Matthew Hodson (@Matthew_Hodson) November 2, 2019
Username: Matthew Hodson
Twitter handle: @Matthew_Hodson
Retweets: 53
Likes: 108
8. Judy Stone's tweet on infections catching up on migrant children
Judy Stone, a physician and author, shared an article explaining how infections are increasing among migrant detained children and how the treatment of these flu-affected children has gone unnoticed and unconcerned.
Approximately 57,000 people, including 129 children, died in border detention camps during the 2018-2019 flu season. Despite this the U.S. Customs and Border Patrol is refused to provide vaccines to the children. Health officials are of the opinion that children are succumbing to infections such as influenza at these detention camps because of inhumane, and low sanitary conditions.
Likely my most important post: The Political Battlefield Of Infections And #Migrant Children's Bodies via @forbes https://t.co/vkUfXF44wn #asylum #CBP #outbreaks #flu #Pediatrics

Please share. Thx pic.twitter.com/LW0EwBguoB

— Judy Stone (@DrJudyStone) November 2, 2019
Username: Judy Stone
Twitter handle: @DrJudyStone
Retweets: 140
Likes: 124
9. Didier Pittet's tweet on antibiotic-resistant healthcare associated infections
Didier Pittet, an infectious disease expert, shared an article defining the role of infection prevention and control in preventing antibiotic resistance in healthcare. The influencer tweeted that one in every ten patients affected by healthcare associated infections (HAIs), were more than likely to die than otherwise.
The article further details the need for effective infection prevention and control (IPC) programmes, and water, sanitation, and hygiene (WASH) to stop the growth of antibiotic-resistant bacteria. The article also stated that approximately 50% of surgical site infections are antibiotic resistant.
1 in every 10 patients is affected by #healthcare associated infections#antibioticresistance HAIs candouble or more, thelikelihood of deathEvery infection prevented is an antibiotic treatment avoidedEnsure #IPC programmes are in place. Champion IPC best practices #WAAW2019 pic.twitter.com/6DXDWzTAlg

— Prof Didier Pittet (@DidierPittet) November 18, 2019
Username: Prof Didier Pittet
Twitter handle: @DidierPittet
Retweets: 62
Likes: 106
10. Ron Daniels' tweet on world antibiotic awareness week
Ron Daniels, the creator of UK Sepsis Trust, tweeted on the World Antibiotic Awareness Week (WAAW), which takes place every year in November. The aim of this campaign is to promote awareness and to educate the world about antibiotics, its role in treating infections, and the growing risks associated with antibiotic resistance.
The influencer further tweeted that it was not about one infection alone, antimicrobial resistance (AMR), or sepsis, but about global health. The campaign was endorsed by the Sixty-Eighth World Health Assembly in 2015, to raise awareness on and to prevent antibiotic resistance.
It's #WorldAntibioticAwarenessWeek

It's not just about #AMRIt's not just about #Sepsis It's not just about #InfectionPrevention

It's about the global threat of infections.

It's about all 3.

We need to address #OneHealth with one voice.

— Dr. Ron Daniels BEM (@SepsisUK) November 20, 2019
Username: Dr Ron Daniels
Twitter handle: @SepsisUK
Retweets: 58
Likes: 101