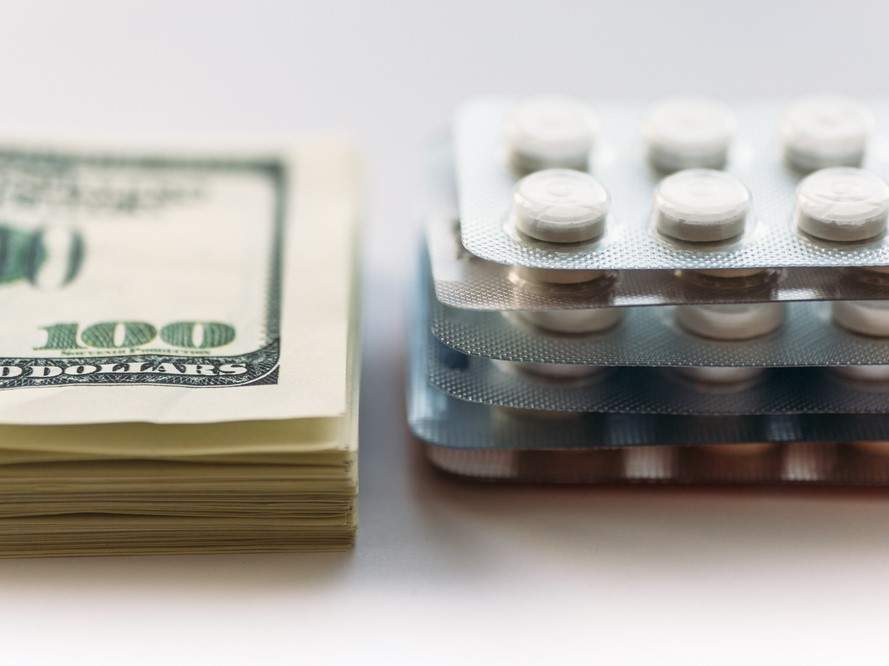 In recent months, one of US President Donald Trump's focuses has been to reduce the price of medication in the US, all the way from the most expensive drugs to the cheapest.
This, along with increasing public pressure, has caused several major drug manufacturers, including Pfizer, to promise to postpone their periodic drug price hikes.
This saga begs the question: how expensive are drugs in the US, and how do these prices compare to other countries, particularly the UK?
Prescription price comparison resource GoodRx published a ranking of the top ten most expensive drugs in the US by wholesale acquisition cost (WAC) or list price for a one month supply in May 2018. This data is based upon the cost of drugs at over 75,000 pharmacies across the US.
A list price is set at the beginning of the reimbursement period and does not include possible rebates or voucher schemes patients are subscribed to.
Since the UK has a public National Health Service (NHS), the way that drug prices are set is different. Once a drug has been approved by the European Commission and therefore can be marketed across the European Union (EU), the drug manufacturer submits a cost proposal.
Often the price is negotiated through consultations with the NHS's pricing regulator the National Institute for Health and Social Care Excellence (NICE), which then decides to rule if the drug is cost-effective, as well as clinically effective. When a drug is recommended by NICE, the regulator registers the agreed price in its records.
1. Actimmune
Marketed by Ireland-based Horizon Pharma, Actimumune (interferon gamma-1b) is indicated for two rare genetic diseases: severe, malignant osteopetrosis and chronic granulomatous disease. The drug is administered through an injection under the skin to avoid infections.
The most expensive drug in the US, Actimmune, was approved by the US Food and Drug Administration in 1999 with orphan drug designation and its current US list price is $52,321 for 12 vials.
NICE has recommended the drug for routine use at a price of £450 per vial, making it £5,400 ($6,897) per 12 vials
2. Daraprim
Daraprim (pyrimethamine) is an oral anti-parasitic drug indicated for toxoplasmosois, a potentially life-threatening infection caused by the Taxoplasma gondii parasite that is particularly common in those with suppressed immune systems, such as those with HIV and malaria, cancer patient undergoing chemotherapy and organ transplant recipients.
The drug was approved in the US in 1953, and is currently marketed by Vyera Pharmaceuticals for a list price of $45,000 for six tablets.
The company was embroiled in a scandal in 2015, when it increased the price of the drug by more than 5,000% from $13.50 per pill to $750 per pill after acquiring the rights to sell it in the US from Impax Laboratories.
Vyera's CEO Martin Shkreli then announced the company would lower the price to an undisclosed more affordable amount. However, the branded drug price has increased since and has now settled at $7,500 per tablet.
In response to the pricing scandal, Imprimis Pharmaceuticals launched a generic version of Daraprim in 2015 to be sold for $99 per 100 tablets in the US.
In the UK, pyrimethamine is marketed as a generic by GlaxoSmithKline and available to the NHS for £13 ($20) for 30 tablets.
3. Cinryze
Developed by Dublin-headquarted pharmaceutical company Shire, Cinryze (C1-INH) was approved by the US FDA in October 2008 with priority review designation for adolescents and adults with hereditary angioedema (HAE). HAE is a rare, genetic disorder that causes swelling in various parts of the body.
The list price for the US' third most expensive drug is $44,140 for 20 vials.
In the EU, the drug was approved in 2011 and is currently available in Austria, Belgium, Denmark, France, Germany, Italy, Netherlands and the UK.
NICE has recommended Cinryze for use in the NHS at a price of £1,336 per vial, meaning it is priced at £26,720 ($34,293) per 20 vials.
4. Chenodal
Chenodal (chenodeoxycholic acid) is a synthetic bile acid, which helps to treat gallstones in patients who cannot have gallbladder surgery, as well as to treat rare, genetic disorder cerebrotendinous xanthomatosis.
It was FDA-approved to treat gallstones in 1983 and is currently marketed by Retrophine for $42,570 for 90 tablets.
Chenodeoxycholic acid was approved in the EU in 2017. The drug is marketed by a different pharmaceutical company in Europe, Leadiant Biosciences, and is available for £14,000 per 100 tablets in the UK's NHS, meaning it costs £12,600 ($16,160) for 90 tablets.
Recently, Leadiant announced a 500% price increase of chenodeoxycholic acid in Europe from €300 to €150,000.
5. Myalept
Myalept (metreleptin for injection) is a leptin replacement therapy to treat problems caused by leptin deficiencies in generalised lipodystrophy patients. Leptin is crucial for controlling key metabolic processes occurring in the body.
The drug was approved by the US FDA in 2014 while it was owned by AstraZeneca. Rights to the drug were divested to Aegerion Pharmaceuticals later in 2014, which has priced it at $42,137 per vial, making it the US's fifth most expensive drug.
The drug is not currently approved in the EU. However, Myalept received CHMP opinion in patients with generalised and partial lipodystrophy in June 2018.
In preparation for the drug's imminent European marketing authorisation, NICE has begun its consultation with Aegerion and relevant, interested parties regarding the drug. However, the pricing estimates for Myalept will only be submitted to NICE once the drug has been approved.
6. H P Acthar
H P Acthar (repository corticotropin injection) is marketed by Mallinckrodt for $38,892 for two vials.
Although it has been approved by the FDA for approximately half a century, the FDA reviewed and updated H P Acthar's label guidance in 2010 meaning the drug is now indicated for 19 conditions, including infantile spasms, lupus, rheumatoid arthritis and multiple sclerosis.
Mallinckrodt has been involved in pricing and legal disputes over the drug. In 2017, a class action suit was filed by Medicare Advantage Organisations, accusing the company of increasing the price of H P Acthar gel by 85,000% since 2001 from $40 per vial, and squashing generic competition.
The company responded by saying it has only made modest price adjustments within the mid-single digit percentage range since acquiring the drug.
H P Acthar is currently only available in the US, therefore, there is no price comparison with the UK.
7. Juxtapid
Like the US's fifth most expensive drug, Juxtapid (lomitapide) is marketed by Aegerion Pharmaceuticals. Approved by the FDA in 2012, the drug lowers the levels of different types of cholesterol, including low-density lipoprotein (LDL), in adults with homozygous familial hypercholesterolemia, when used in combination with dietary changes.
In the EU, the drug is known as Lojuxta. It was approved by the EC in 2013 for the same indication. In April 2018, NICE published its positive draft policy proposition for Lojuxta.
Juxtapid is priced at $36,992 for 30 capsules in the US. In the UK, the net cost per patient over five years of treatment is £692,423, making its monthly cost £11,540 ($14,836).
8. Firazyr
Firazyr (icatibant injection), like the third most expensive drug in the US, is marketed by Shire Pharmaceuticals and is indicated to treat acute attacks of HAE.
The FDA approved the drug in 2011. The original manufacturer of the drug, Jerini AG, received EC approval for icatibant in 2008; Shire acquired Jerini later in 2008.
Its US list price is $32,468 for two syringes, compared to £1,395 ($1,799) per one syringe, or $3,597 for two.
9. Harvoni
Manufactured by Gilead Sciences, Harvoni (ledipasvir+sofosbuvir) is a combination drug indicated for hepatitis C virus.
The drug was first approved in the US in 2014, however, it underwent subsequent label expansions in 2016 and 2017. Its current price for 21 tablets is $31,500.
The EC also granted Harvoni marketing authorisation in 2014. In the UK, 28 tablets are available for £12,993, with a corresponding price of £9,745 ($12,561) for 21 tablets.
10. Cuprimine
The tenth most expensive drug in the US is Cuprimine (penicillamine). It is primarily indicated for Wilson's Disease, a rare genetic disorder that results from the malfunction of the pathway that removes copper from the body. Cuprimine is a chelating agent, which works by getting rid of excess copper from patients.
Marketed by Valeant Sciences, now a subsidiary of Canadian company Bausch Health, Cuprimine was approved in the US in 1970, it is currently priced at $31,426 for 120 capsules.
There are many generic versions of Cuprimine available to UK patients via the NHS. In terms of price they range in price from £23.08 to £88.77 for 56 capsules. Therefore, the maximum price for 120 capsules is £177.54 ($150.84).