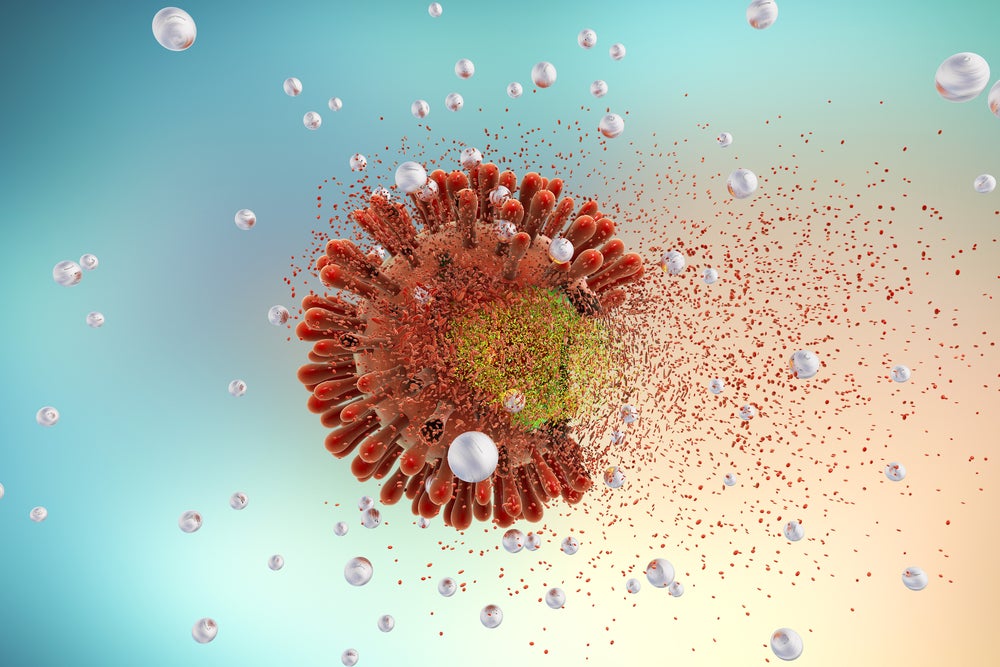 More than a decade after its founding, specialist pharma company ViiV Healthcare remains committed to furthering the excellent achievements in transforming human immunodeficiency virus (HIV) from a death sentence into a disease that is now manageable through medication to such an extent that HIV patients can live a normal lifespan.
Despite these achievements, significant stigma and burden still exists around this infectious disease, meaning further innovation is required to continue to improve the lives of HIV patients. As ViiV head of research and development Dr Kimberly Smith explains, her company is working to combat this by investigating longer-acting anti-retroviral therapies.
After proving once-monthly dosing of cabotegravir and Janssen's rilpivirine was as safe and effective as daily dosing, ViiV announced in March this year that the same two drugs were as effective when dosed every two months. The study met its primary endpoint of non-inferiority to monthly doses in terms of anti-viral activity and safety.
Smith goes on to note the importance to ViiV of not stopping innovation at treatment, but also focusing research efforts on developing a cure against this devastating disease.
Allie Nawrat: How much stigma is still related to HIV? Has there been a significant decline in recent years?
Kimberly Smith: Recent surveys show that more than 80% of people living with HIV say they have experienced some sort of stigma in the past year. So, yes, it is still very much prevalent.
A lot of people have made the effort to become more knowledgeable about HIV, [compared to the] early days where there was a huge paranoia and fear about HIV. But, nonetheless, there's still stigma where people do not understand that people who are living with HIV can live a normal lifespan if they are on treatment, and if they are on treatment and have their virus suppressed they cannot pass it on to their partner through sexual contact. As the general public gets to know more and more, we hope that that will ultimately lead to less stigma.
AN: Why is there a need to optimise and improve upon anti-retroviral therapeutic approaches?
KS: It's important to recognise that, even though there's been tremendous progress in HIV treatment, we don't have everyone on treatment, and not everyone who's on treatment is suppressed. That is an indicator that obviously there's a number of systemic problems that mean individuals aren't consistently on therapy.
This suggests we need to have more options for people. While we were extremely excited to progress to the point where we had one pill a day in comparison to the bad old days when people took 20 pills, for some people, that's still tough. It's a daily reminder of living with a very stigmatised disease. Also, having consistent access to healthcare and insurance is still a challenge [for many].
We need to have more options that meet the needs of all patients who are living with HIV.
AN: How could long-acting and fewer doses of ART reduce the burden of the disease, and related stigma, for patients?
KS: A year ago, we proved that once a month dosing with cabotegravir and rilpivirine was as effective as staying on daily therapy, but was highly preferred over daily therapy.
A couple of weeks ago, we presented [data from a] brand new study ATLAS-2M, which showed that twice monthly dosing [with cabotegravir and rilpivirine] was as effective as once a month, and it was highly preferred over once monthly and daily – 98% of individuals preferred changing their dose to every two months compared to daily and then 94% preferred every two months over monthly. People love the idea of going from dosing 365 days a year to dosing six days a year. 
There is this terrible fear, for example, when people travel and they have to take their HIV meds with them. They are worried someone from TSA [Transportation Security Administration] will pull the bottle out and ask them, what it's for, and they will have to explain in a public setting. In some countries in the world, sadly, they will try to exclude people from entering the country who are living with HIV. Some of the individuals in our trials who travel a lot for work talked about how wonderful it felt to not have to take that pill with them anymore. 
People who are living with HIV don't only experience external stigma, but self-stigma. As much as they've fought it, many people with HIV judge and blame themselves. But it's not something they did wrong, they just happened to be unlucky. We hear from individuals who've been a part of our trials that they were actually surprised at how much better and more liberated they felt from not having to have that daily reminder [from a daily pill].
AN: Why does pharma have a responsibility to reduce and control stigma related to HIV?
KS: For us, we feel an added responsibility to address issues that are not just about treatment, but really about the lives of people who are living with HIV.
It's important to recognise that stigma can be a big deterrent for some individuals seeking care and treatment, especially if you're fearful that you're going to be somehow outed as living with HIV, because you go to a clinic where HIV is being treated or you're seen to have a medicine.
Overcoming stigma contributes to maximising people's outcomes; we still see individuals who don't get treatment ultimately succumb to this disease.
AN: Despite all the significant advances in treatment, why is it essential that the industry focuses on finding a cure?
KS: It's tremendous that we've been able to transform HIV from a disease that was almost uniformly fatal, with the exception of few fortunate individuals, to a disease where individuals can live a normal lifespan as long as they take medication. That transformation is a medical miracle, but we are not in a utopia.
The lives of people who are living with HIV are still challenged by the need to take medicines every day. All medicines have side effects and there's always the risk of individuals developing resistance to medications. Also, even though we keep the virus at bay, there may be underlying chronic inflammation and other challenges that exist in individuals with HIV, which may make them more prone to certain types of malignancies and frailties, [ranging from] weaker bones, kidney disease to central nervous system diseases.
If we can get to the point where we can actually take HIV out of the picture and take the medicines out of the picture, then we've really done something that is actually completely revolutionary.
AN: What is the primary approach ViiV is taking to cure HIV? Why do you believe this is an effective approach?
KS: Our biggest project is a collaboration with the University of North Carolina Chapel Hill is called Qura Therapeutics. Some of our scientists are actually co-located with scientists from the university to come up with ideas and to work on products to move us towards cure. We know HIV integrates itself into the human's immune system, so it can live in some cells that are essentially dormant; we call this a reservoir.
This reservoir of HIV sits quietly, so even though we've suppressed the virus to levels that are undetectable in the bloodstream, that virus is sitting there and these reservoirs are ready to break out as soon as medicine is not present. Our strategy is to try to induce that virus to come out of those cells, and then be able to get rid of the virus that comes out of that reservoir. So, we need get those dormant cells to turn on and release virus, then you can reduce that reservoir and ultimately get to a cure.
That's the approach that we and many other researchers are taking. We have a number of different products that might get you there, but ultimately it is about the general idea to induce and ultimately reduce.
The two individuals that have been cured today are individuals who underwent aggressive chemotherapy on top of their HIV treatment. I think they teach the field quite a bit; [mainly] that it is possible to cure HIV. However, we also recognise that that path is not something that's scalable; it's going to be a rare thing that can happen for a few fortunate lucky individuals, not something we can do broadly for the general population of people living with HIV.