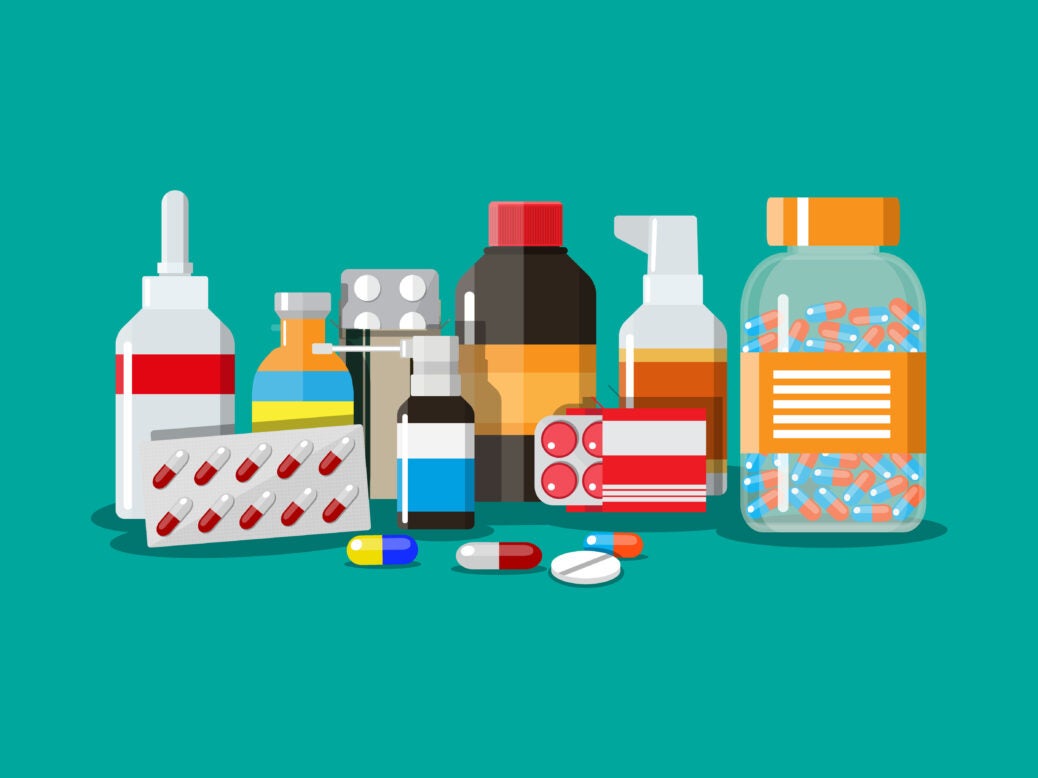 In February, researchers learned that the arthritis drug tocilizumab reduces the risk of death in the sickest Covid-19 patients. The only problem? The UK Prime Minister couldn't pronounce it.
At a televised briefing to the public, Boris Johnson fumbled his words. He spent almost 20 seconds trying and failing to say the name of the life-saving treatment on live TV. Johnson's stumble was embarrassing but relatable – even to those in the pharmaceutical industry. Many medicines are not exactly intuitive to pronounce. But there's method in the madness.
Prescribed drugs generally have at least three different names: chemical, generic and branded. And the latter two must be submitted to an approval body.
"In most industries, you create a name for the product and as long as the trademark is considered available you can start using that name of your product," said Michael Quinlan, trademark development at Pfizer, in a blog for the company's website. "But the drug name has to get reviewed and be considered safe before it'll be approved to be used on that potential product."
A matter of safety
Running a name past the regulator may sound like overkill, but there's a safety reason behind it. Medication mix-ups can have severe consequences. A study in the British Medical Journal found that 251,000 people die every year in the US from medical errors –including drug name confusion.
In March 2021, the US Food and Drug Administration (FDA) announced that it was reopening a proposed study to determine how drug names influence consumers and healthcare providers. The agency has suggested that depending on the findings, it may update its drug-naming guidance.
"It's essential that consumers, patients, caregivers, physicians, pharmacists and other healthcare professionals are provided clear and accurate information to ensure these products are prescribed, dispensed and taken as safely and accurately as possible, said FDA principal deputy commissioner Amy P Abernethy in a statement.
"Proprietary names of drug products are commonly used by physicians and other healthcare professionals to prescribe or discuss a drug, and for this reason, accurate identification of these products is essential."
Step one: The chemical name
The first step of the drug naming journey is the chemical name. It's a straightforward process but it requires a good grasp of chemistry. It also generates the least memorable name. For instance, the antidepressant fluoxetine (often better known by its brand name, Prozac) has a mouthful of a chemical name: n-methyl-3-[4-(trifluoromethyl)phenoxy]propan-1-amine.
This type of name is based on rules established by the International Union of Pure and Applied Chemistry. It sounds the most scientific, but it's rarely used to identify the drug in marketing.
Step two: The generic name
Drug makers then need to determine the generic (or non-proprietary) name for their compound. The generic-naming process was formalised in the 1950s as a way of ensuring that drugs would generally have the same names all over the world for ease of communication between patients and healthcare professionals.
In the US, the United States Adopted Names (USAN) Programme is responsible for assigning generic names. A drug usually can't be marketed in the country without this USAN. But in most other parts of the world, drugmakers use International Nonproprietary Names (INN) designated by the World Health Organization (WHO).
Usually, pharma companies will already know what the last part of the drug's generic name will be. The drug's suffix is based on the medicine's pharmacological properties.
For instance, erectile dysfunction drugs such as sildenafil, vardenafil and tadalafil all have the same suffix, 'afil'. These medicines have the same mechanism of action – they are PDE 5 inhibitors. While monoclonal antibody drugs such as tocilizumab, adalimumab and natalizumab all have the suffix 'mab' to impart the type of medicine they are.
Deciding on the generic name's prefix is more challenging. The WHO says each INN should be unique and distinctive in sound and spelling. It usually needs two syllables in the prefix to ensure it is sufficiently different from other medicines in the same class.
It's also best to avoid letters that aren't used in certain languages such as Y, H and K. And drugmakers are urged to avoid using the company's name – or parts of it – in the generic name.
If the proposed generic name is accepted by WHO, it is published on the organisation's INN list, which members of the public can review and, if necessary, object to. If no one has raised alarm after four months, WHO publishes the generic name to a recommended INN list. The pharmaceutical company can then start using the name in its marketing activities.
Step three: the brand name
Then there's the brand name (or proprietary name). Think Prozac, Viagra, Mirena. Such names are chosen because they're often more memorable – or easier to spell – than the generic name and therefore more marketable.
Companies have more creative freedom during this part of the naming process. They often conduct market research, including surveys with doctors, to gauge the response to different names.
But it can take two to three years for a brand name to be developed, screened and accepted, according to Pfizer. And there are rules to bear in mind. A proprietary name can't make use of any suffixes frequently used in INN. And it cannot make any overt claims about what the drug does.
Once the company has decided on a shortlist, the company's legal team will go through it with a fine-tooth comb to ensure it's not too similar to existing brands. Once the pharma company has chosen their top two picks, they file for approval with the regulator. The team must then play the waiting game. But they'll still need to watch out for third parties filing potentially conflicting names.