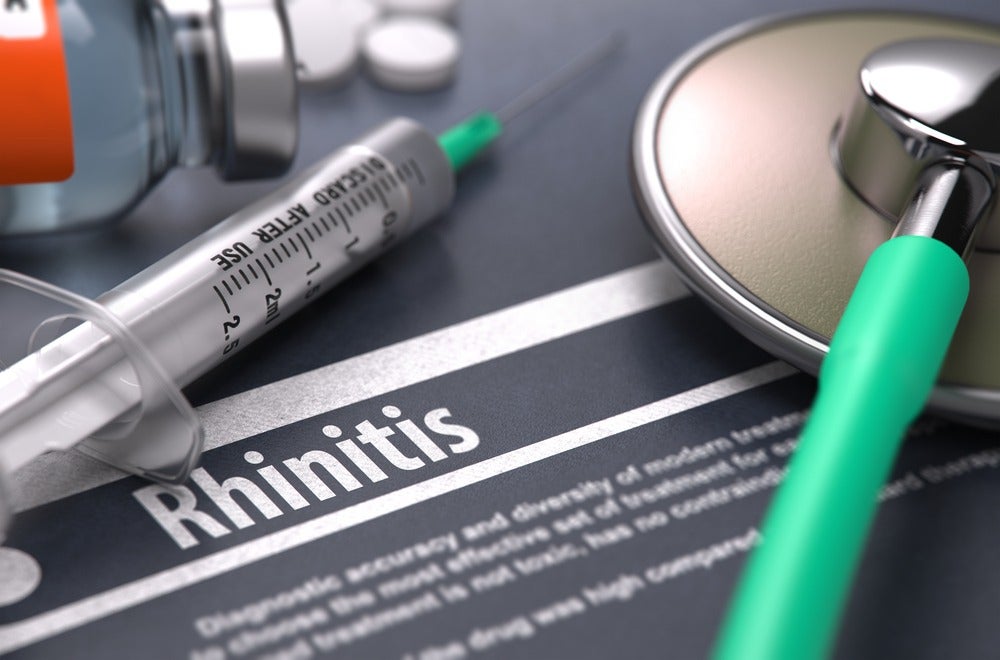 Allergy Therapeutics stunned investors this month with the failure of a pivotal trial for its subcutaneous allergen immunotherapy product, Pollinex Quattro (PQ) Birch, in the treatment of allergic rhinitis.
Allergic rhinitis treatment
Between active and placebo groups, the study found no statistically significant difference in the combined symptom and medication score (CSMS) averaged over peak birch pollen season in Europe.
However, in the same breath as this devastating news, the company expressed a hint of hope: there was an intriguing secondary finding.
Patients administered PQ Birch had significantly higher levels of birch-pollen-specific serum IgG immunoglobulins than patients receiving placebo. The company posited that this could mean a meaningful response to the immunotherapy had occurred and was obscured by confounding factors in the trial.
GlobalData agrees that with the inherent complexity and uncertainty baked into Phase III trial design for allergen immunotherapy products, there is a possibility that a positive result could have been masked, but argues that only limited faith should be placed in the clinical relevance of the IgG biomarker findings.
Allergen immunotherapy studies for aero-allergens are notoriously difficult to execute as their success relies heavily on uncontrollable environmental factors and relatively subjective efficacy readouts. For example, the poor definition between the PQ Birch and placebo treatment arms in the trial could be due to lower-than-average exposure to birch pollen during the season.
To add to this uncertainty, the primary endpoint for the trial and many other allergen immunotherapy studies, CSMS, is a fairly subjective measurement: during pollen season, patients score their own nasal and conjunctival symptoms and note their need for symptomatic medication like antihistamines.
Because of these issues, many Phase II studies for allergen immunotherapy products are conducted in more controlled settings such as environmental challenge chambers, or using efficacy endpoints that rely on allergen challenges in the physician's office, such as the nasal provocation and conjunctival provocation tests.
Although these methods are permissible for use in earlier stages of clinical development, they still lack thorough validation and are not considered acceptable endpoints by regulatory agencies for use in Phase III trials.
Concealed positive findings
Although it is possible the Phase III PQ Birch trial contains concealed positive findings, it should be noted that a treatment-associated increase in allergen-specific IgG is not a reliable biomarker of actual clinical response during allergen immunotherapy.
Changes in the expression of different classes of allergen-specific immunoglobulins are common secondary endpoints pursued in allergen immunotherapy studies. The typical pattern seen during allergen immunotherapy is a shift from allergen-specific IgE to allergen-specific IgGs, particularly IgG4. However, the function of this rise in allergen-specific IgG remains unclear.
Based on findings from the Future of the Allergists and Allergen Specific Immunotherapy workshop in 2017, experts from the European Academy of Allergy and Clinical Immunology still affirm that there is no solid relationship between serum IgG4 antibody levels and clinical efficacy of allergen immunotherapy.
It has even been suggested that a large component of the observed increase in serum allergen-specific IgG levels after allergen immunotherapy instead reflects the high allergen exposure and would be more useful to monitor patients' adherence to immunotherapy regimens.
GlobalData believes that despite the well-known complexity of allergen immunotherapy pivotal trials, there is a low likelihood that Allergy Therapeutics' trial for PQ Birch was a hidden success. While the demonstrated increase in allergen-specific IgG levels among PQ Birch-treated patients is interesting, this biomarker has not yet been shown to conclusively link with clinical efficacy.
Forthcoming reports
GlobalData (2019), Allergic Rhinitis Immunotherapy: Opportunity Analysis and Forecasts to 2028, to be published