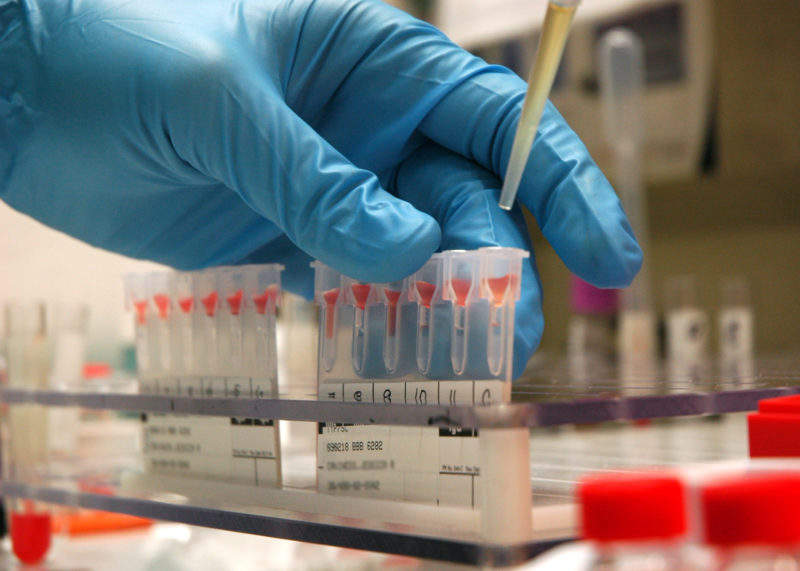 A novel blood test that is less intrusive and more accurate at detecting early brain changes has moved one step closer to clinical use.
Finding a biomarker to detect Alzheimer's disease (AD) in its pre-symptomatic stages has been a real challenge for the field of biomarkers in the central nervous system (CNS).
Measuring levels of amyloid beta protein deposits in the brain is the best diagnostic tool for detecting the progression of the disease, and the current way to definitively diagnose AD is through brain scans and tests of cerebrospinal fluid (CSF) that must be collected via lumbar puncture.
Such procedures, however, are both invasive and expensive.
The lumbar puncture, a very invasive procedure, requires local anaesthetic before a doctor inserts a needle between two vertebrae in the lower back, while the positron emission tomography (PET) scan is highly expensive and can only detect amyloid beta deposits in the brain with 20 to 30 per cent accuracy.
Several blood tests that look for peripheral protein biomarkers have been investigated, but research into developing these biomarkers is still ongoing.
Development of a blood test
A new study from researchers at the Washington University School of Medicine showed that a blood test combined with age and genetic risk factor can identify subjects at an early stage of AD, years before symptoms appear.
In a previous study, researchers at the Washington University School of Medicine used a technique called mass spectrometry to measure the amounts of two subtypes of amyloid beta in the bloodstream: amyloid beta 42 and amyloid beta 40.
The results of that study showed that as levels of amyloid beta 40 and 42 decrease in the blood, amyloid beta deposits in the brain increase.
The accuracy rate of detecting amyloid brain deposits was 88 per cent compared to PET scans.
The new study, which was published in Neurology, enrolled 158 adults over the age of 50 years, where the majority of the participants were cognitively healthy.
The study showed an improved accuracy rate of detecting amyloid brain deposits, from 88 per cent to 94 per cent.
The researchers included a number of major risk factors for AD such as age and the presence of a genetic variant called APOE4.
Need for early treatment
Given the high failure rate in AD clinical trials, there is a growing consensus among scientists that treatment needs to begin in the early stages of the disease, and as there are no symptoms, biomarkers will be required.
There is a great unmet need for simple, inexpensive, and non-invasive tests that could be applied on a large scale to screen for AD. This need could be met by blood tests that may be even more sensitive than the gold standard, PET brain scan, in detecting amyloid deposits in the brain.
The blood test could also be used as a widespread population screening test, replacing CSF testing and brain imaging if it proves to be more accurate than the currently used tests.
Blood tests could also help to accelerate patient screening for participation in clinical trials and enrol people with early signs of the disease, thus better evaluating whether drugs can prevent AD. Enrolment takes years, is time consuming, and is very expensive.
As such, it is currently one of the biggest challenges for the development of new disease modifying drugs (DMDs) for this disease.
Having patients with early signs of the disease in clinical trials will help scientists to develop new treatments for AD and have a significant impact on the life of patients.