The number one mechanism of action (MoA) for the Alzheimer's disease (AD) pipeline is the inhibition of amyloid plaque formation. However, according to new research by the University of Cincinnati, amyloid plaques may not be the major cause of AD as previously thought—so are they the best target?
AD is the leading cause of dementia, which is an umbrella term for a series of syndromes that can lead to memory loss, cognitive decay and behavioural change. AD currently affects more than 55 million people worldwide. It is a complex and still poorly understood disease; however, one of the leading theories for its occurrence is the formation of abnormal amyloid plaques due to the misfolding of amyloid beta proteins. The pharma industry has, therefore, focused on drugs that target and prevent the formation of these amyloid plaques by stopping the release of amyloid beta from the beta-amyloid precursor protein (beta APP).
Because of this, the leading MoA for AD is amyloid beta A4 protein (ABPP) inhibitors, as shown in Figure 1, where ABPP inhibitors are the top MoA within the current AD pipeline. ABPP Inhibitors lead by a significant margin, having 38% more drugs in development than the next leading MoA, microtubule-associated protein tau (MAPT) inhibitors.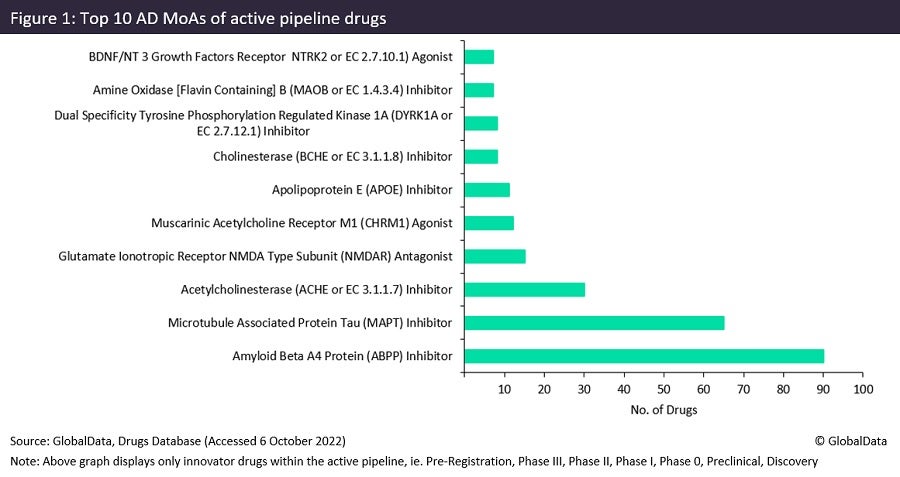 Regardless of this focus by the industry on ABPP inhibitors, which account for just under 10% of all pipeline AD products, there have been very few successful drugs utilising this MoA. Most infamously, Biogen's supposed AD blockbuster aducanumab was an ABPP inhibitor. According to UC researchers, led by Alberto Espay, MD and Andrea Sturchio, MD, this may be due to AD being caused not by the formation of amyloid plaques but rather by the decline in the amount of amyloid beta available, with their research indicating that people with high levels of amyloid plaques are as likely to suffer from AD as the general population and are not at higher risk, as conventionally thought.
While ABPP inhibitors are the leading AD target, there have been very few successes and the pipeline drugs may even be detrimental by lowering the amount of amyloid beta available, as suggested by Sturchio in their research. Despite these claims, the future of AD appears to remain dominated by ABPP inhibitors, with three ABPP inhibitors hotly anticipated: Roche's gantenerumab, Eisai's lecanemab and Eli Lilly's donanemab. Most recently, lecanemab published positive Phase III trial results on 27 September, demonstrating that targeting amyloid beta proteins can be a successful way to treat AD, meaning that ABPP inhibitors may still be viable targets to treat AD.