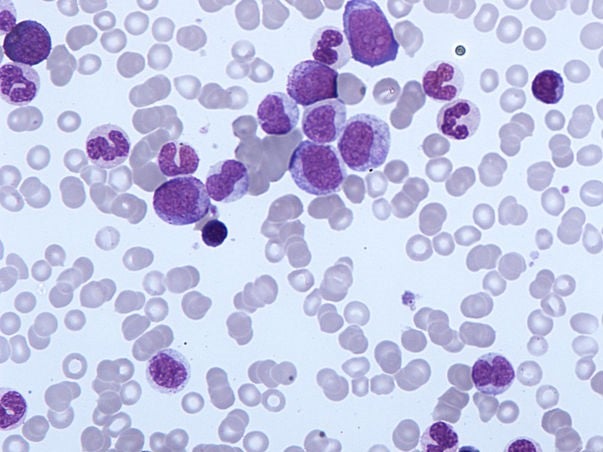 Leukaemia can be classified as a group of blood cancers that develop in the bone marrow and are caused by a high volume of abnormal cells, called leukaemia cells.
Generally, leukaemia can be classified into two separate forms. The first form is acute leukaemia, where there is a rapid increase of immature blood cells directly inhibiting bone marrow from producing normal healthy blood cells. Due to the rapid accumulation of malignant cells and high risk of progression to other organs, treatment, usually chemotherapy, is required immediately.
The second form is chronic leukaemia, which occurs when there is an excessive buildup of abnormal white blood cells. This form of leukaemia is slower to progress, usually taking anywhere from months to years. Treatment for chronic leukemia is only administered after constant monitoring of the disease.
GlobalData has analyzed the number of clinical trials examining leukaemia with start dates between January 1, 2009 and July 16, 2019. Most of these trials were led by non-industry sponsors (68.0%). Among the top five countries to conduct ovarian cancer trials, the US had the highest rate at 63.2%.
The majority of trials analyzed were in Phase II (52.9%), followed by Phase I (26.7%), Phase III (12.2%), and Phase IV (8.2%).
Biomarkers can play a very important role in making sure leukaemia trials come to completion, therefore, GlobalData has also analyzed the five leading biomarker roles for studies researching leukaemia.
The main purpose of biomarkers in leukaemia trials was found to be monitoring treatment response (65.7%). This was followed by having biomarkers involved in the inclusion criteria (27.4%), monitoring treatment response and inclusion criteria (2.8%), monitoring treatment safety (2.1%), and having biomarkers involved in the exclusion criteria (1.7%).