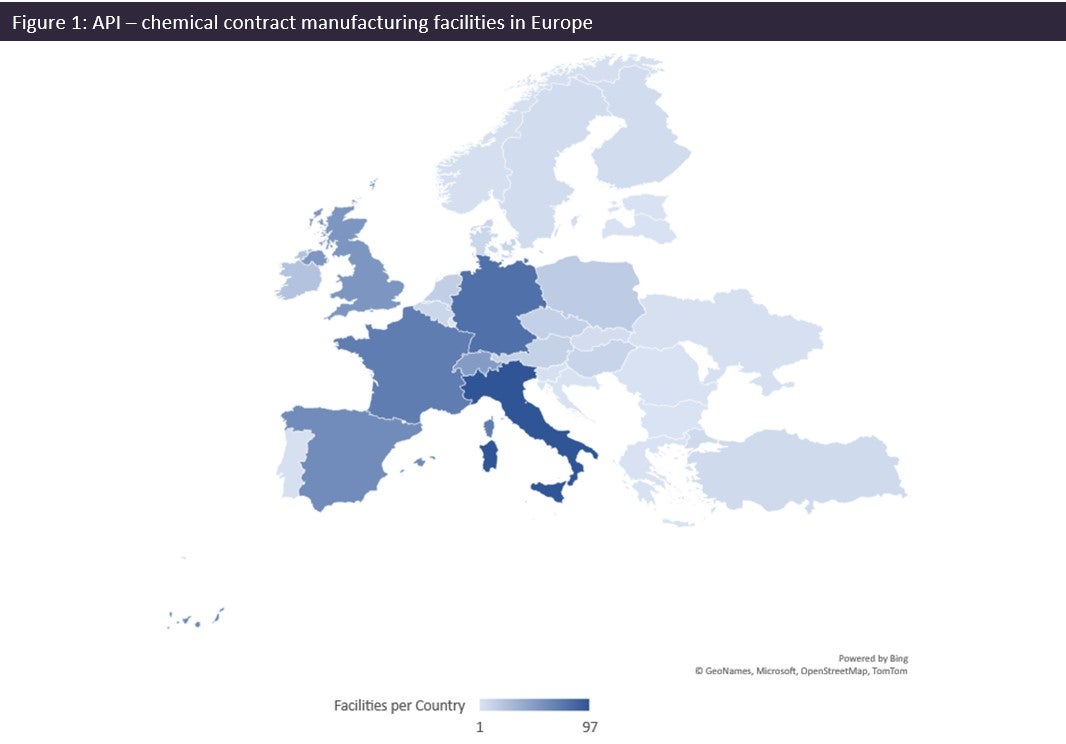 An EU study claims that building more API facilities in Central and Eastern Europe could help solve drug shortages and weaknesses in the supply chain. The literature review suggests the Czech Republic, Poland, and Hungary as sites for new production locations in Europe given that their staff costs are lower than in Western Europe, but notes that higher-income countries, such as Germany, the Netherlands, and Belgium also make attractive production locations. Furthermore, although higher salaries are a deterrent against reshoring API manufacturing to Europe, rather than Asia, future technology will lead to an increase in automation and robotisation, and this might result in a need for fewer production employees.
The question of whether, and how, to move more API supply chains away from Asia and closer to their final markets, is more and more debated in Europe and North America (see 'Pharmaceutical Sourcing and Onshoring Survey', July 2022, GlobalData). Increased drug shortages, the exposure of supply chain vulnerabilities by the Covid-19 pandemic, and economic and political drivers have contributed to calls for more home-grown API.
European stakeholders argue that, although the region may be more expensive than India or China, it brings supply security, quality, transportation speed, and more control for governments to steer production to critical pharmaceuticals. However, the EU study found that pharmaceutical companies reported not reshoring because of the time and money. Europe also lacks suppliers to source key materials for API production.
The 'Potential measures to facilitate the production of active pharmaceutical ingredients (APIs)' report was commissioned by the Committee on the Environment, Public Health and Food Safety (ENVI).
Reshoring API in Europe
Three recent investments are aiming to boost API production in Europe:
• Novartis's (Basel, Switzerland) subsidiary Sandoz (Princeton, New Jersey, US) is investing over €200m ($177m) in European antibiotics manufacturing, plus €50m ($44.25m) from the Austrian Government. This includes €100m ($88.5m) for oral amoxicillin API production in Kundl, Austria, and €50m ($44.25m) for sterile API production in Palafolls, Spain. Sandoz CEO Richard Saynor commented on the difficulties of incentivising and reimbursing antibiotics: "In economic terms, antibiotics in Europe are still treated largely as commodities, but with one big difference—producers have to supply at fixed price levels, regardless of supply and demand changes. We urgently need to change the operating framework, to introduce basic concepts such as inflation-linked pricing and tenders with criteria that go beyond price."
• EuroAPI (Paris, France) spun off from Sanofi in 2021 as a small molecule API company to service the European market. The company reported revenues of €981m ($1bn) for FY2022, an increase of 9.9% over FY2021. This new API business is Sanofi's 'Made in Europe' solution and has eight facilities in the UK, France, Germany, Italy, and Hungary.
• SEQENS (Lyon, France; formerly named Novacap) has been expanding its API production in Europe and the US after its sale to investors, including SK Capital Partners and Bpifrance.