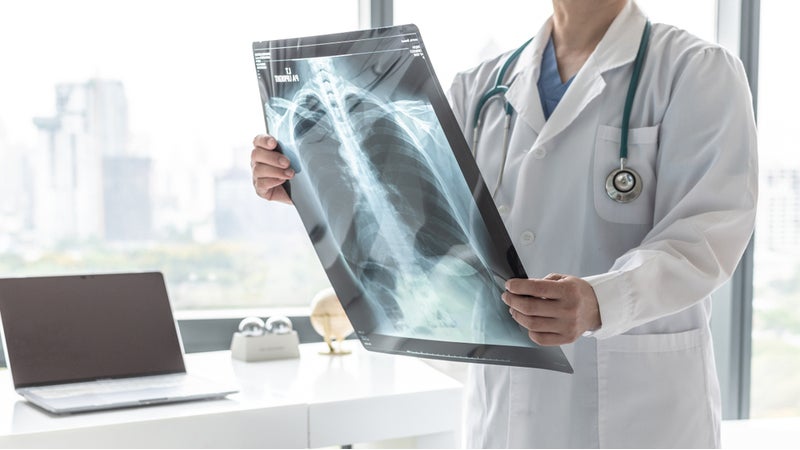 With little low-hanging fruit remaining, therapies with novel mechanisms of actions are highly prized, therefore, when the inhaled phosphodiesterase-4 inhibitor (PDE4) CHF6001, demonstrated its marked effect on inflammatory biomarkers, it attracted much attention at the 2019 European Respiratory Society (ERS) congress in Madrid. 
Chronic obstructive pulmonary disease
When the PIONEER study was conducted earlier this year, it showed efficacy and safety of four doses of CHF6001 over 24 weeks in patients with moderate to severe chronic obstructive pulmonary disease (COPD) with a history of one exacerbation. Although the study did not identify any trends in dosing, it did, however, reduce moderate to severe exacerbations in combination with a long-acting beta2 agonist (LABA). 
Furthermore, the inhaled PDE4 inhibitor showed a larger reduction of moderate to severe exacerbations in a subgroup of patients with chronic bronchitis (CB). The reduction was even more pronounced in those patients who had CB and a blood eosinophil count >0.15 x109/L.
Building on the PIONEER trial, CHF6001 was subsequently studied in a double-blind, placebo-controlled, three-way crossover study, to assess its effects on markers of airway inflammation in sputum and the blood. 
The study also characterised its effect on the whole genome coding for proteins in patients with COPD and CB on triple therapy (LABA/LAMA or ICS/LABA/LAMA). Although there were no dose-related trends, CHF6001 significantly decreased a number of key airway inflammatory markers; leukotriene B4 (LTB4), interleukin 8 (IL-8), macrophage inflammatory protein 1beta (MIP-1beta), matrix metalloproteinases 9 (MMP9) and tumour necrosis factor (TNF) alfa. The study demonstrated a higher concentration of the agent in the sputum, almost 2,000 times than in the systemic circulation, thereby minimizing unwanted systemic class-effects. 
Verona's Esinfentrine (RPL554) is another first-in-class inhaled dual PDE 3 and 4 inhibitor and has completed part A of a two-part study. Where statistically and clinically significant dose-dependent bronchodilation, as well as a linear, dose-dependent pharmacokinetic profile with low systemic exposures were observed. Esinfentrine also supports dry powder inhaler and is a promising treatment for patients with COPD and other obstructive lung diseases.
Approximately 30% of patients with moderate to severe COPD who take dual or triple inhaled therapy remain uncontrolled and continue to experience airway obstruction, exacerbations and daily symptoms such as fatigue and breathlessness. There is a clear unmet need for patients already on maximal therapy who require additional therapeutic options. Although further studies are needed, GlobalData highly anticipates the use of inhaled PDE inhibitors such as CHF6001 and Esinfentrine to enter the market and support this subgroup of patients soon.  
Related report
GlobalData (2017) PharmaPoint: Chronic Obstructive Pulmonary Disease – Global Drug Forecast and Market Analysis to 2025, GDHC145PIDR