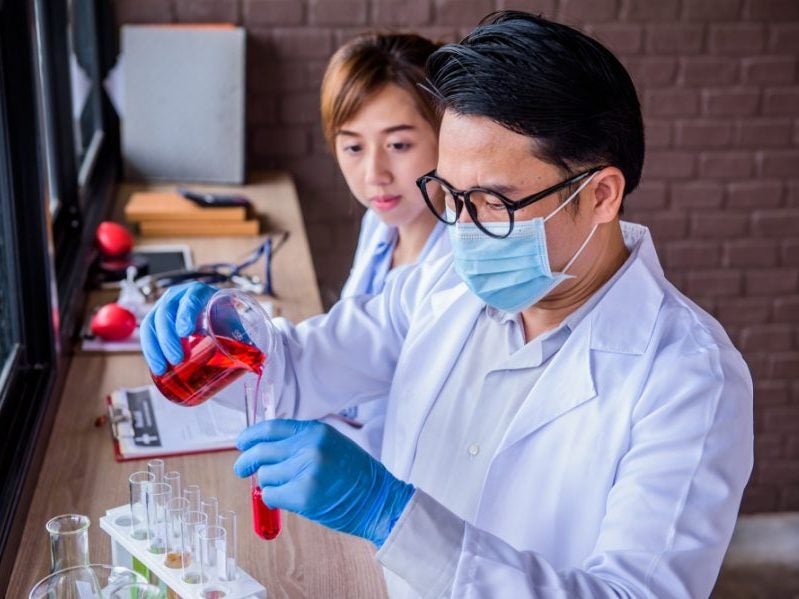 AstraZeneca's neoadjuvant pursuit of Imfinzi (durvalumab) in non-small cell lung cancer (NSCLC) is laced with uncertainty on establishing clinical significance to support a straightforward approval. The company's choice of major pathologic response (mPR) as the primary endpoint in the Phase III AEGEAN is questionable.
Even though mPR and pathologic complete response (pCR) have been the most commonly used efficacy measures in neoadjuvant trials, the ideal endpoint for neoadjuvant drug approval in NSCLC is unclear, given the lack of precedence. Neoadjuvant therapy refers to medicines that are administered before surgery.
While pCR carries the challenge of resulting in fewer patients meeting that benchmark compared to mPR's cutoff, there was even more caution on relying on mPR data or interpreting it for long-term efficacy. This was due to pathologist variability in recording mPR, which is calculated based on the presence of 10% or less tumor tissue in the biopsy taken at surgery, tumor heterogeneity and the lack of clear consensus on cutoffs.
The Phase III AEGEAN trial (NCT03800134) design also involves the use of Imfinzi adjuvant therapy following neoadjuvant therapy. But experts said the results cannot demonstrate whether this strategy is better than just Imfinzi neoadjuvant treatment because of how the study is set up.
First data from the AEGEAN trial is expected in 2H, as per AstraZeneca's 4Q19 earnings. The company's market cap is £91.2bn ($116.4bn), and an analyst report estimated the neoadjuvant lung cancer market to have peak sales ranging from £1bn to £2.5bn.
AstraZeneca did not respond to a request for comment.
Questions on mPR endpoint
There is no consensus on whether pCR or mPR is the better endpoint for neoadjuvant studies, said Dr Maximilian Diehn, associate professor, Radiation Oncology, Stanford University, California. Both are surrogate measures that are yet to prove a direct link to improving disease-free survival (DFS) or overall survival (OS), experts said. But pCR indicates there's no cancer left and at least is easier to define than mPR for a pathologist, noted Dr Paul Bunn, distinguished professor, Medicine-Medical Oncology, School of Medicine, University of Colorado, Aurora.
mPR is relatively more challenging, because it is described by the presence of some cancer—i.e., 10% or less residual viable tumor which can be a variable observation, said Dr Ross Camidge, professor, Medicine-Medical Oncology, School of Medicine, University of Colorado, Aurora. Identifying tumor levels above zero requires some specialized training and the assumption that cancer is uniformly distributed, said Camidge. Tumor heterogeneity is a concern, and observing the remaining tumor tissue in a particular patchy area may not be an accurate indication of the neoadjuvant therapy's impact overall, he added.
Moreover, mPR is a bit controversial because the optimal cutoff for mPR to correlate with OS may be different between adenocarcinoma and squamous cell carcinoma—two NSCLC subtypes—but the response metric is not based on histology, said Diehn. Also while the 10% cutoff is used to calculate mPR for chemotherapy, that percentage may not be the same for checkpoint inhibitors, he added.
mPR is not a validated endpoint in lung cancer from a regulatory perspective, said a lung cancer oncologist. It is, however, an easier metric to use in a trial, because mPR rates are always higher than pCR, which is relatively rare, noted Diehn.
In breast cancer, pCR is a validated surrogate, because its link to increased survival has been proven in thousands of patients in randomized trials, said Dr Christopher Azzoli, director, Thoracic Oncology, Lifespan Cancer Institute, Providence, Rhode Island. In comparison, there is not as much data with mPR in lung cancer, and it is unknown whether the FDA would accept pCR or mPR to be a surrogate, he noted. It took regulatory agencies a long time to consider pCR as an acceptable surrogate of clinical benefit, and it is not clear if they consider mPR with the same degree of acceptability, said Camidge.
Event-free survival (EFS), on the other hand, is accepted by regulatory authorities, said Azzoli. Hence, experts emphasized the need to wait for EFS data. EFS and OS from the date of randomization to 5.5 years after that and DFS from date of randomization to 5.5 years after resection are secondary endpoints in AEGEAN. Checkpoint inhibitors do have promise to trigger a complete response, and to use an intermediate response like mPR would be splitting the efficacy difference, said Azzoli.
Adjuvant addition benefit unclear
AEGEAN is also assessing adjuvant use of Imfinzi, but Dr George Simon, professor of Medicine and Oncology, Department of Thoracic Head and Neck Medical Oncology, The University of Texas MD Anderson Cancer Center, Houston, said whether to give adjuvant checkpoint inhibitor therapy following neoadjuvant lung cancer therapy may need to be addressed on an individual basis, because it may not be required in most instances. If a patient has had, for example, three cycles of neoadjuvant chemotherapy with immunotherapy, then to follow with another round of immunotherapy in the adjuvant setting may not be feasible, since the patient will then be getting too many therapeutic interventions and their tolerance levels will likely decrease, he explained. The number of Imfinzi adjuvant therapy cycles are not specified on AEGEAN's trial page.
Conceptually, with neoadjuvant immunotherapy, there is tumour antigen present to stimulate the immune response, noted Azzoli. But once the cancer is removed and there is no disease or minimal residual disease, adjuvant therapy may not engender the same immune response, he said on the potential impact of Imfinzi adjuvant therapy in AEGEAN.
Either way, the adjuvant therapy-related information from this study will not be informative enough to guide an approval in that setting, said Diehn. The data will not make clear if patients are doing better because of the addition of adjuvant Imfinzi specifically, since patients who get Imfinzi in both settings will be compared to those who received neoadjuvant chemotherapy and then adjuvant placebo, he noted. Outcome measures centered on disease-related symptoms and quality of life along with adverse events are being monitored through the neoadjuvant and adjuvant phases.
by Manasi Vaidya in New York
Manasi Vaidya is a Senior Reporter for Clinical Trials Arena parent company GlobalData's investigative journalism team. A version of this article originally appeared on the Insights module of GlobalData's Pharmaceutical Intelligence Center. To access more articles like this, visit GlobalData.