Over recent years, bispecific T-cell engagers (BiTEs) have attracted significant attention for their potential in treating a plethora of haematological and solid tumours by enhancing the anti-tumour responses of endogenous T-cells. BiTEs are a relatively nascent modality and have yet to benefit from the identification of robust biomarkers and novel combination approaches, such as in combination with anti-CD20 therapies, with the view to attenuate malignant B-cell survival and enhance clinical response in B-cell tumours. Moreover, a deeper understanding of immune evasion by cancer cells may provide novel sensitization strategies to further enhance the clinical response of BiTEs. 
In December 2014, Amgen's landmark FDA approval saw Blincyto (blinatumomab) approved for relapsed/refractory (R/R) B-cell progenitor acute lymphoblastic leukaemia (B-ALL), at the time being the only marketed BiTE. Blincyto has provided a strong positive signal to demonstrate the clinical and commercial viability of BiTEs, with 2021 company-reported global sales of $542 million and GlobalData's analyst consensus forecast projecting peak annual sales of $771 million by 2029, thereby sparking further industry interest in this field. Currently, there are 110 BiTEs in oncology clinical trials, with seven in Phase III and three in pre-registration. Recently, the industry has pivoted to evaluating BiTEs in solid tumours to broaden the available indications for regulatory approval.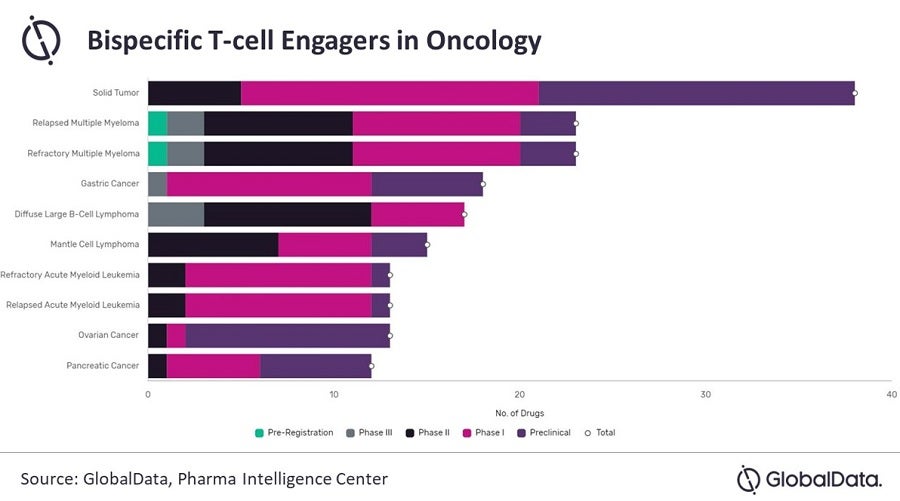 AstraZeneca is now looking to break into the BiTE space after announcing on July 5 the acquisition of TeneoTwo, including obtaining the rights to TNB-486, a BiTE currently in Phase I for R/R B-cell non-Hodgkin lymphoma. The agreement involves a $100 million upfront payment from AstraZeneca, followed by payments of up to $805 million in R&D investment and up to $360 million in commercial funding. AstraZeneca is looking to diversify its haematology portfolio to maintain a leadership position in the haematology space following the success of its blockbuster Bruton tyrosine kinase inhibitor Calquence (acalabrutinib), used widely in chronic lymphocytic leukaemia.
Meanwhile, Amgen is looking to capitalize on Blincyto's first-to-market advantage and secure its clinical and commercial position by seeking regulatory approval in an expanded range of indications; Blincyto is currently being evaluated in five ongoing Phase III trials in multiple haematological cancers, with impressive efficacy data reported. The confirmatory Phase III TOWER trial demonstrated superior overall survival in R/R B-ALL patients with Blincyto versus conventional chemotherapy (7.7 months vs. 4.0 months). However, safety concerns remain an important factor limiting Blincyto's clinical utility, with the Phase II BLAST trial reporting 12% of patients experiencing potentially fatal cytokine release syndrome. Novel BiTEs entering the market need to demonstrate meaningful clinical efficacy with an improved safety profile to capture significant patient share from Blincyto. AstraZeneca and Amgen will go head-to-head as both Blincyto and TNB-486 target several of the same indications, such as diffuse large B-cell lymphoma, follicular lymphoma, and mantle cell lymphoma.