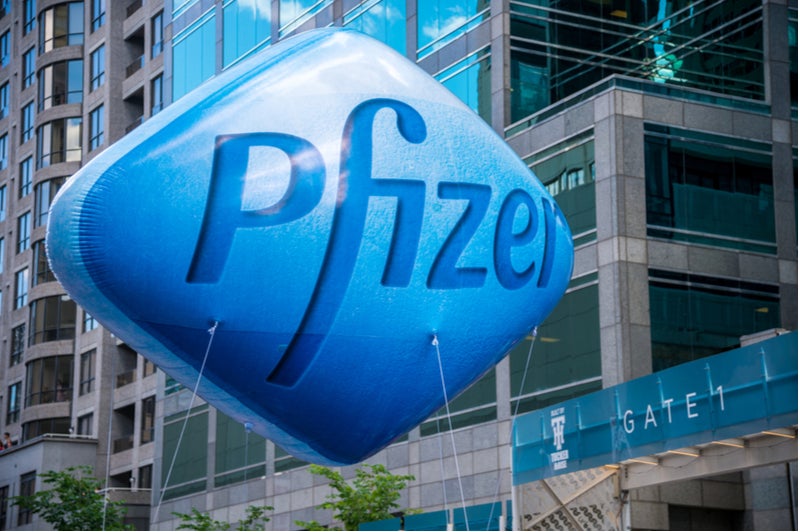 US pharmaceutical company Pfizer announced the results of subjects treated with abrocitinib monotherapy in the Janus kinase 1 (JAK1) atopic dermatitis efficacy and safety (JADE ) mono-1 study for the treatment of moderate-to-severe atopic dermatitis. The results were unveiled on 15 May.
Atopic dermatitis treatment 2020
Patients treated with the drug experienced statistically significant improvements compared to subjects on placebo in both dosage groups in all co-primary and secondary endpoints of the randomized, double-blind, placebo-controlled, parallel-group study over 12 weeks. With results of the JADE mono-2 trial expected later this year, GlobalData anticipates abrocitinib to launch in 2020 and generate $1.5 billion in revenue by 2027 to become the leading JAK inhibitor treatment for atopic dermatitis.
Abrocitinib, also known as PF-04965842, is expected to be the first JAK1-specific inhibitor treatment for atopic dermatitis. Expectations were raised when the drug received the Breakthrough Therapy designation from the US Food and Drug Administration (FDA) in February 2018, which means that preliminary clinical evidence indicates that the drug may demonstrate substantial improvement over existing therapies on one or more clinically significant endpoints. One benefit of this designation is the expedited development and review of the drug. This substantial improvement is reflected in the top-line results of the JADE mono-1 study, where both abrocitinib dosages met both co-primary and secondary endpoints. The co-primary endpoints consisted of a proportion of subjects achieving an Investigator's Global Assessment (IGA ) score of 0 or 1 (clear or mostly clear) with an improvement of two or more points, and a proportion of subjects achieving a 75% improvement in the Eczema Area and Severity Index (EASI-75). The secondary endpoints were a proportion of subjects achieving a four-point or greater reduction in the Pruritus Numerical Rating Scale (NRS) and the magnitude of decrease in the Pruritus and Symptoms Assessment for Atopic Dermatitis (PSAAD). In terms of safety, the 100mg and 200mg abrocitinib dosage groups both experienced a discontinuation rate of 5.8%, compared to 9.1% in the placebo group.
Key opinion leaders (KOLs) interviewed for GlobalData's Atopic Dermatitis – Market Analysis and Forecasts to 2027 report had positive opinions on the drug, with most looking forward to an effective, orally administered treatment for the moderate-to-severe atopic dermatitis patient demographic. Moreover, while a few KOLs previously expressed concern over the systemic effects of JAK inhibitors impeding inflammatory signalling far upstream, these newly announced top-line results will help abate fears regarding the safety profile of abrocitinib.