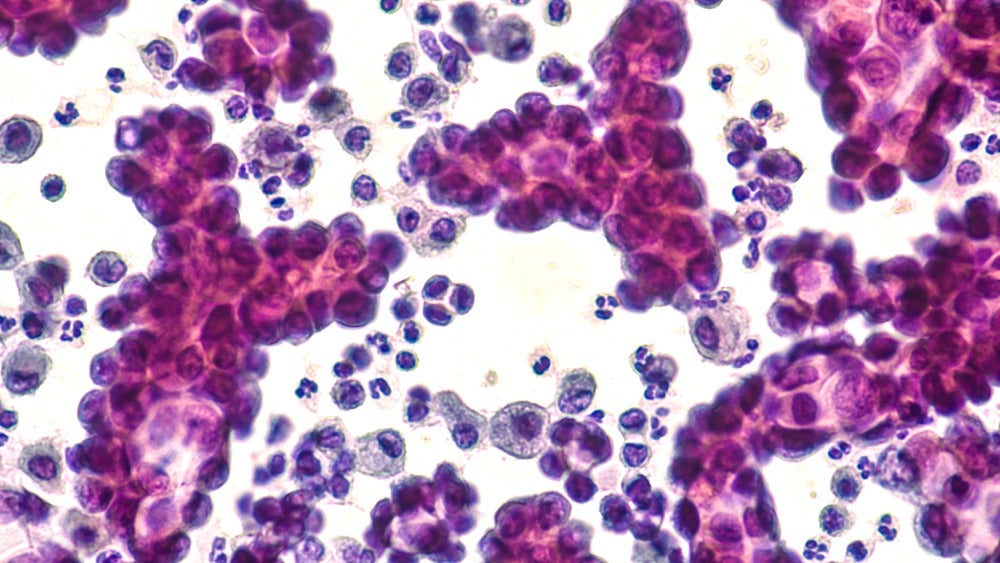 Biomarkers play a vital role within the field of oncology as they allow for the identification of abnormal pathways that may be targeted with relevant immunologic or molecular therapies before significant disease progression occurs.
Also, biomarkers used in clinical studies may verify the mechanism of action of a drug, guide subject and dose selection and minimise patient safety risks.
With this in mind, analysis by GlobalData has looked at the use of biomarkers in oncology clinical trials with start dates ranging from 1 January 2018 to 31 December 2018.
Biomarkers in oncology
During this period, CD274 was the most commonly used biomarker in oncology clinical trials, and the top indication using this biomarker was non-small cell lung cancer.
Erb-b2 receptor tyrosine kinase 2 followed in second place, with the top indication of breast cancer. Also listed in the top five are kallikrein-related peptidase 3, T-lymphocytes, and epidermal growth factor receptor, which are used in 4.23%, 3.39%, and 3.03% of the trials, respectively.
A large majority of oncology investigational medicinal products (IMPs) are unable to attain market approval because of a failure to demonstrate a therapeutic effect, resulting in financial loss.
In 2018, biomarkers in newly initiated oncology trials were most frequently employed to monitor treatment response (63.48%), specifically by offering insight into therapeutic efficacy in order to minimise the risk of clinical failure.
As shown below, this was followed by the use of biomarkers in the trial inclusion process to determine the appropriate trial participants (22.88%). The third largest indication was biomarkers monitoring treatment safety (4.25%).
By observing changes in the concentration of a biomarker, it is possible to predict toxicities, thereby allowing for dose modification treatment or intermission in order to prevent toxicity from becoming severe.
The fourth largest indication was biomarkers with dual functionality (3.89%), which were used in trial inclusion criteria and the monitoring of treatment response.
The prediction of treatment response was the fifth largest indication (2.18%). The use of biomarkers allows researchers to invest time and resources into agents that display favourable efficacy and safety profiles, once again minimising the risk of financial loss.
Top five biomarker roles in newly initiated oncology trials in 2018
Source: GlobalData