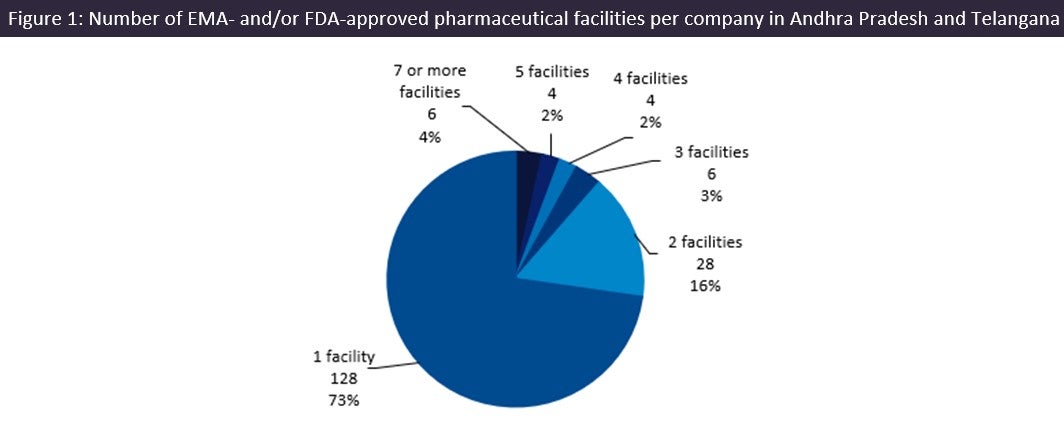 The Indian states Andhra Pradesh and Telangana are long-established pharma hubs for domestic companies but are now also becoming popular investment targets for international pharma, biotech, and medtech companies Bristol Myers Squibb (New York, NY, US), Eurofins Scientific (Val Fleuri, Luxembourg), and Medtronic (Dublin, Ireland). Pharma manufacturing facilities in Andhra Pradesh and Telangana accounted for 23% of all sites in India, which has 28 states and eight union territories, confirming the south as a major Indian manufacturing hub. In January 2023, BMS announced a new facility in both states' joint capital, Hyderabad. In the same month, Eurofins Scientific acquired a facility to house a laboratory campus in Genome Valley, Hyderabad. In May 2023, Medtronic announced a major investment to expand its Engineering and Innovation Center in Hyderabad.
A March 2023 GlobalData article called "Indian pharma contract manufacturing: Rising investment in Andhra Pradesh but Telangana is still the giant of the south" covered the states' facilities and regulatory approvals; this analysis focuses on companies operating in the region.
Manufacturing growth
Since 2019, Telangana's contract manufacturing pharma facilities have grown from 173 to 204, whereas Andhra Pradesh's sites have increased from 75 to 98. Telangana's pharma manufacturing industry is well established and continues to have more than double the pharma sites of Andhra Pradesh. However, Andhra Pradesh has shown a faster level of facility growth spurred on by continuing investments. On 4 March 2023, Hetero Drugs (Telangana, India) announced an investment of $121m in Andhra Pradesh. Andhra Pradesh's pharma sector attracted investments of over $2.3bn in 2022, according to data from the state industries department.
Although the region specialises in generics production, it also produces innovator and biosimilar drugs for the US and EU; according to GlobalData's Drugs by Manufacturer database, 33 drugs for these foreign markets have their API manufactured in Telangana and 26 drugs have their API produced in Andhra Pradesh.
As Figure 2 (below) shows, US CMOs had the largest number of company or facility acquisitions during 2023 to date (January–May), with India a close second. For US acquisitions, there is an emphasis on biologic capabilities, with a strong proportion of these related to cell and gene therapy capabilities. By contrast, most of India's company and facility acquisitions had standard capabilities related to API small molecule manufacture and/or commercial dose production.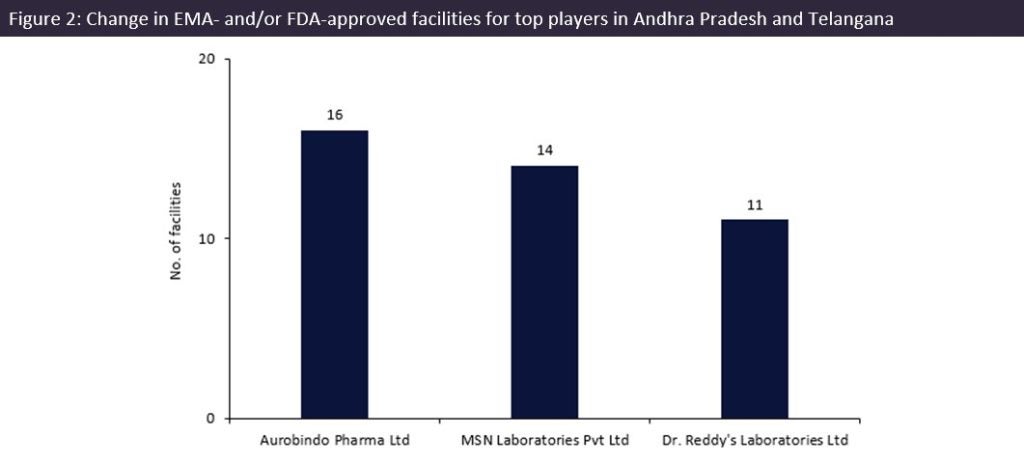 Top players in the region
It is unusual for there to be such a high number of facilities per company in an emerging pharma region, but this is another indicator that these states are pharma leaders. Exactly 73% of companies own a single site in the region; these tend to be smaller companies that are more prone to being targeted for acquisition, with the region substantially supplying drugs to the US, the biggest pharma market globally.
Aurobindo Pharma (Telangana, India) has 16 facilities in Andhra Pradesh and Telangana, the most of any manufacturer: five facilities in Andhra Pradesh and 11 in Telangana. The company markets more than 800 drugs and is an excess capacity contract service provider. Aurobindo is majorly invested in the two states, as it has only two EMA and FDA-approved facilities located outside the region, in the US and Rajasthan, India.
MSN Laboratories (Telangana, India) had the second largest number of facilities, with 14 sites in Telangana, India, and its only other facility located in New Jersey, US. On 22 December 2021, MSN cleared an FDA audit for a 200,000ft² manufacturing facility in Piscataway, New Jersey, US, which offers generic manufacture for oral solids and liquids. It is also an excess capacity contract service provider, with its company and subsidiaries marketing 128 drugs.
Dr. Reddy's Laboratories (Telangana, India) had the third largest number of sites: 11 facilities in India, with six based in Andhra Pradesh and five in Telangana. Dr Reddy's also has three facilities based in Himachal Pradesh, in northern India, along with one UK and one US facility. On 23 March 2023, Dr Reddy's recalled over 4,000 bottles of generic tacrolimus (a drug to prevent transplant rejection) in the US due to a packaging error. The affected lot was produced at the company's Bachupally plant.
Most manufacturing sites in Andhra Pradesh and Telangana are owned by domestic companies. However, there are some international players that operate facilities in the region, such as the US CDMO Curia Global (Albany, NY, US) and German PharmaZell (Bavaria, Germany).
Most sites in Andhra Pradesh and Telangana offer API chemical production, in line with India's key strengths when it comes to generics API manufacturing. However, there are 13 sites in the region that offer API biologic services and 12 of these are based in Telangana. Only five biologic API facilities have EMA and/or FDA approval. All these sites offer protein and peptide manufacturing while Loka Biosciences (Telangana, India) also offers gene therapy manufacturing at its site in Hyderabad.