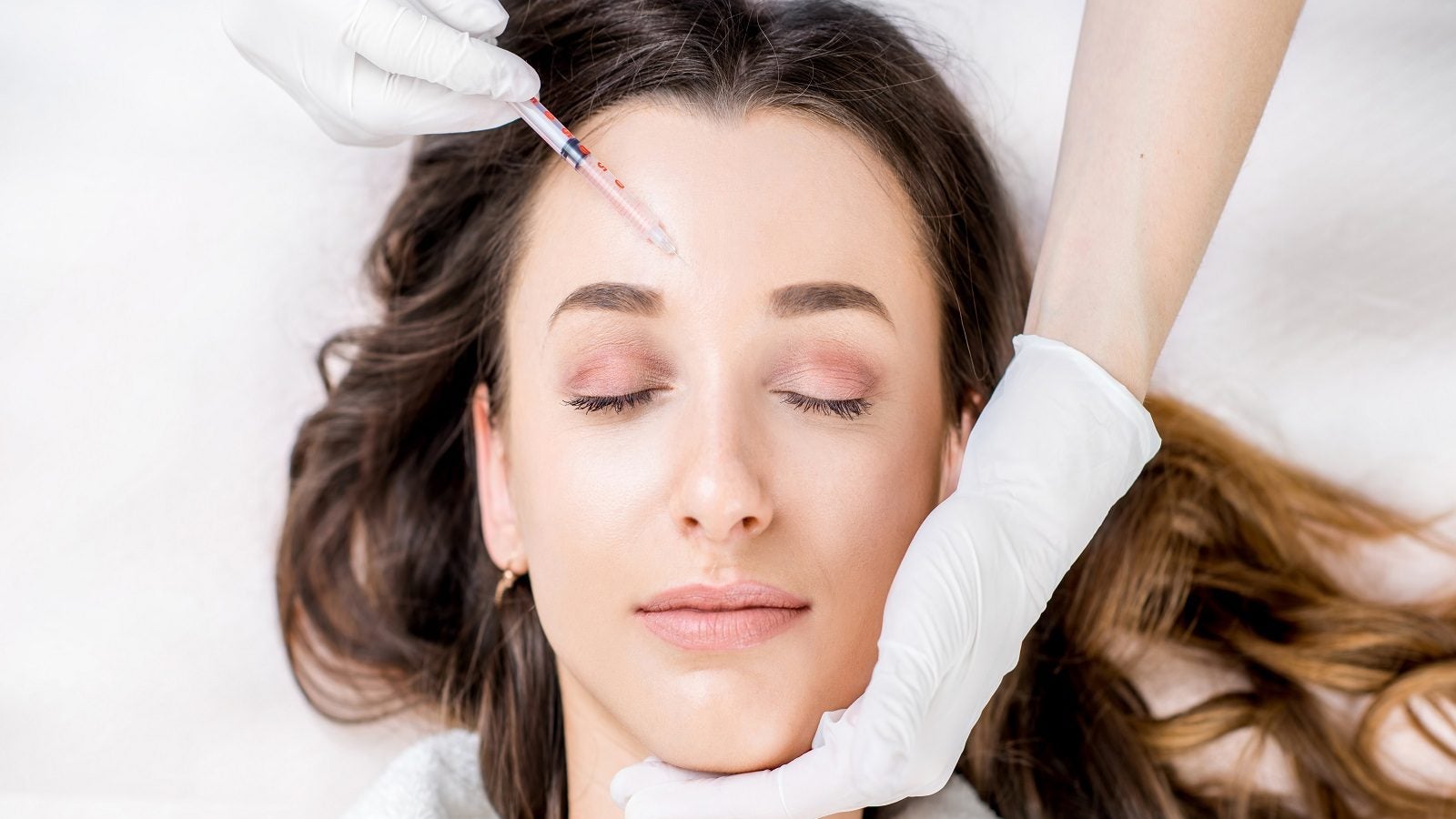 Evolus' Jeuveau (DWP-450) (prabotulinumtoxinA) will likely prove to be a strong competitor to Allergan's Botox (botulinum toxin type A) for severe glabellar (frown) lines, with an analyst-predicted 20%–30% price reduction.
However, the predicted price reduction is not huge and patients may not switch to Jeuveau. That said, there will be some room for off-label Jeuveau use for noncosmetic therapy areas such as migraines and spasms.
In terms of other marketed toxin products, experts expressed uncertainty on how Jeuveau will do market-wise compared to Ipsen Biopharm's Dysport (abobotulinumtoxinA) and Frankfurt, Germany-based Merz Pharma's Xeomin (incobotulinumtoxinA), considering they all have the same toxin.
However, the proposed length of duration for Jeuveau and Botox is around three months, experts said, whereas Revance Therapeutics' RT002 (daxibotulinumtoxin A), which has a treatment potential of six months, would be preferred more amongst patients, said experts. RT002 had positive results for its long-term Phase III safety trial for glabellar lines and the company aims to file a BLA in 1H19, according to a December press release.
Both experts and analysts widely expect FDA approval for Jeuveau, citing previous positive Phase III trials that confirm a similar efficacy and safety profile to Botox. Interchangeability can be easily done between both products due to their similar efficacy and safety profiles, said experts.
Jeuveau has a 2 February 2019 PDUFA date and is awaiting a European Committee for Medicinal Products for Human Use decision in 1H19, according to the third quarter 2018 (3Q18) financial report.
An analyst report forecast peak Jeuveau sales to be $300m in 2022 in the US. The market cap for Evolus is $308.2m.
Price reduction desirable for Botox competitor
The analyst-proposed Jeuveau price reduction to Botox at 20%–30% is substantial, three experts said, and will make Jeuveau a strong competitor to Botox. Botox was FDA approved in 1991, and made $649.2m in facial aesthetics in the US alone from January to September 2018, according to the company's 3Q18 financials.
The attractive price reduction will prove significant when comparing a sum of the units needed for Jeuveau in comparison to Botox, said Dr Brenda LaTowsky, dermatologist, Clear Dermatology & Aesthetics Center, Phoenix, Arizona. The number of units vary by injector and site of injection, said Dr Jonathan Weiss, dermatologist, Gwinnett Dermatology, Snellville, Georgia. Glabellar lines usually require 15–25 units, whereas the forehead usually requires 10–25 units, Weiss said. Crow's feet or the periorbital area can require 20–24 units, said Weiss.
The Botox price for 100 units is around  £190 ($240) and therefore 20%–30% is a decent price reduction to increase patient access to Jeuveau, said Dr Adam Friedmann, consultant dermatologist, The Harley Street, London.
The cost of a Botox vial is around $500, therefore a 20–30% reduction for Jeuveau would come at about $350–400 a vial and this would give Evolus a foothold in the cosmetics market, said Weiss. Botox usually comes in 100 units per vial and about three-quarters of a vial is used for one patient, said Weiss.
However, Dr Alastair Carruthers, clinical professor, Vancouver Coastal Health Research Institute, Canada, said the per-unit costs are not significant in Canada, so the price reduction may not lead to a better market uptake. Jeuveau was approved by Health Canada in August.
An Evolus spokesperson said company management has said it will remain flexible on pricing although the market is anticipating a 20%–25% reduction compared to Botox.
According to SEC filings, Evolus will primarily focus on self-pay healthcare. This may be the reason for a price reduction to Jeuveau as patients will have to pay out of pocket versus going through insurance, said LaTowsky.
Targeting only the self-pay market will mean that there will still be off-label (not FDA-approved) use for Jeuveau for therapeutic indications such as migraines, LaTowsky said. Jeuveau will be most likely used 50% for cosmetic purposes and 50% for off-label therapeutic indications such as cervical dystonia, spasms and eye conditions, said Carruthers.
Market versus Xeomin, Dysport tougher to gauge
Although the potential price reduction for Jeuveau may place it in strong competition to Botox, uncertainty lies about the Jeuveau market place compared to Xeomin and Dysport, said experts. Xeomin was FDA approved in July 2010 and Dysport in April 2009.
Xeomin, Dysport and Botox consist of the same toxin, as will Jeuveau, so there is no large distinguishing factor in their similar aesthetic applications, said Weiss and Friedmann.
The price for Xeomin is around $578 for 100 units whereas the price for Dysport is $589 for 300 units.
The spokesperson said Jeuveau will be the first known 900kDa molecule in the US since Botox. Unlike Dysport and Xeomin, dosing, storage and injection techniques will be the same as Botox, he added. However, in practice, unit measurements are done to equalise Dysport's weight compared to Botox per unit, said LaTowsky. Therefore, this makes it easier to compare the use of Dysport and Botox, and this can be applied with Jeuveau as well, LaTowsky said.
In terms of another potential competitor, Revance's RT002 for glabellar lines has a potential six-month duration. The longer timeframe is more attractive compared to the approximate three months of Jeuveau and Botox as patients prefer coming to the clinic less, said Carruthers, LaTowsky and Weiss. This news service reported in October 2017 that a drug pricing strategy as proposed by an analyst report would lead to patient pushback. An analyst report noted that RT002 could start at $564.30 per dose and climb to $646 by YE22.
Similar efficacy and safety to Botox sustains approval
Data from two randomised, double-blind, placebo-controlled studies—the 324-patient EV-001 and the 330-patient EV-002 —confirm FDA approval, experts said.
In EV-001, at day 90, the percentage of responders was 1.3% in the placebo group and 26.5% in the Jeuveau group with an absolute difference of 25.2%, p<0.001, according to posthoc analysis. In EV-002, at day 30 there were 1.3% placebo and 70.4% Jeuveau response rates, with an absolute difference between the groups of 69.1%, 95% CI (61.5, 75.1). Both studies had similar adverse event (side effect) rates between the placebo and drug groups.
Although all cosmetic drugs use the same toxin, the efficacy and safety profile of Jeuveau is most similar to that of Botox and therefore interchangeability between Botox and Jeuveau can be easily done with new patients wanting to have the treatment or a patient already on the toxin, said Carruthers.
Although LaTowsky agreed with Carruthers on interchangeability with Botox and Jeuveau, she said this reasoning was based on efficacy data rather than safety results. Although the Phase III trials for Jeuveau identified no concerning side effects, Botox has many more years of a safety base compared to Jeuveau, said LaTowsky.
By Arafa Salam, PhD, in London. Image courtesy of torange.biz.
Arafa Salam, PhD, is a reporter for Pharmaceutical Technology parent company GlobalData's investigative journalism team. A version of this article originally appeared on the Insights module of GlobalData's Pharmaceutical Intelligence Center. To access more articles like this, visit GlobalData.