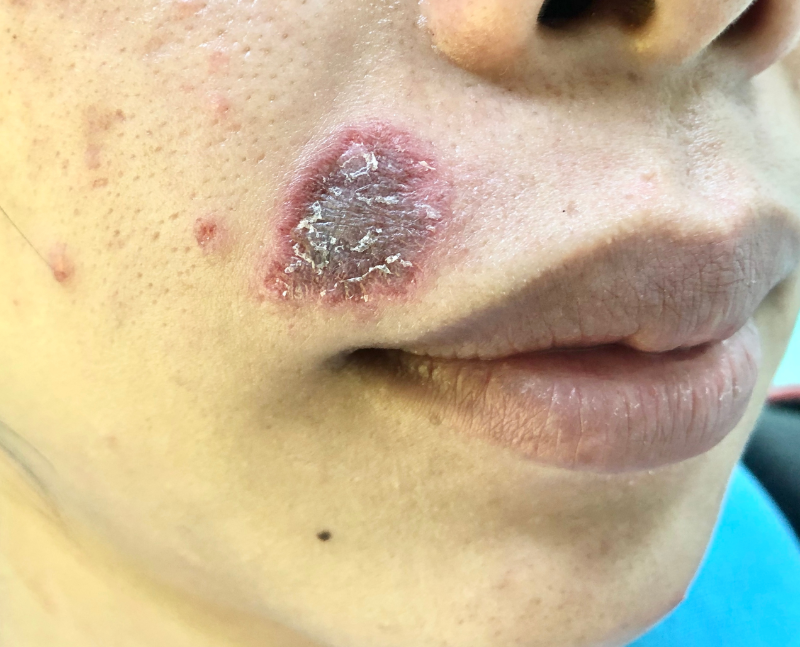 Bullous pemphigoid is an autoimmune skin condition that is characterised by boils, rashes, and blisters. Prolonged inflammation and pruritus are also associated with the disease. Bullous pemphigoid is painful and commonly occurs in patients with conditions including hypertension, diabetes, heart disease, and other autoimmune diseases such as rheumatoid arthritis and lupus.
The pathophysiology of bullous pemphigoid involves the formation of autoantibodies that target dystonin, a protein that is part of the plakin family, which is associated with the cytoskeleton and multiprotein complexes at cell junctions. Treatment frequently involves the administration of topical steroids such as clobetasol and halobetasol, and immunosuppressants such as methotrexate, azathioprine, and mycophenolate mofetil. However, the use of these medicines is limited by severe side effects such as hepatic cirrhosis, hypersensitivity reactions, and nephropathy. As such, drug developers have made efforts to manufacture products that are safe and effective for refractory patients.
Bertilimumab, which is being developed by iCo Therapeutics, is a monoclonal antibody and anti-neoplastic agent. The drug candidate controls inflammatory responses by inhibiting eotaxin-1, a cytokine involved in modulating eosinophil chemotaxis. Peripheral blood eosinophilia has been detected in patients with bullous pemphigoid. Comorbid eosinophilia is particularly prevalent in patients older than 70 years. These patients typically have the poorest prognosis and are in urgent need of therapies with a fast onset of therapeutic action. Bertilimumab, which was given fast track and orphan drug designation by the FDA, is expected to be used to treat severe disease and is administered intravenously. In a Phase II trial, bertilimumab met efficacy, quality of life, and safety endpoints.
Alkahest is sponsoring an ongoing clinical trial in Germany that seeks to explore the efficacy and safety of the drug candidate lazucirnon hydrochloride in the treatment of bullous pemphigoid in patients ages 60–95 years. Lazucirnon hydrochloride inhibits eosinophil recruitment to sites of inflammation and has shown a favorable efficacy and safety profile in the treatment of other immunologically-driven diseases, such as advanced age-related macular degeneration (AMD). This is a reassuring prospect because of the prevalence of bullous pemphigoid and AMD in older populations.
Bertilimumab and lazucirnon hydrochloride are first-in-class products targeting a chemokine that is not acted upon by any commercially available marketed drug. The presence of first-in-class products in the bullous pemphigoid pipeline is evidence of sustained innovation and increased allocation of R&D resources to treat orphan diseases that have significant impacts on patients' quality of life.
Although more evidence will be needed to convince regulatory bodies to approve bertilimumab and lazucirnon hydrochloride for the treatment of bullous pemphigoid, the trend of developing first-in-class products for bullous pemphigoid is set to continue as viDA Therapeutics' VTI-1002, a drug candidate at the Preclinical stage, also operates via a mechanism of action that is not represented in any currently marketed therapeutic product.