A significant increase in venture financing in the biotech private sector was seen last year, entering a bull market where stock prices were on a continuous rise. This caused a biotech bubble that has since burst where stock declined, resulting in this year entering a bear market.
A 46% drop in venture financing deal value for US-based biotech companies was seen, from $7.8bn in Q1 2021 to $4.2bn in Q1 2022, as shown in Figure 1, according to GlobalData's Pharma Intelligence Centre Deals Database. On 21 April this year, a panel discussion by US investors took place at the Biotechnology International Convention to discuss the outlook for biotech in the current market, titled 'The Venture Investor Outlook & Mindset: Pitching the Science of Tomorrow'.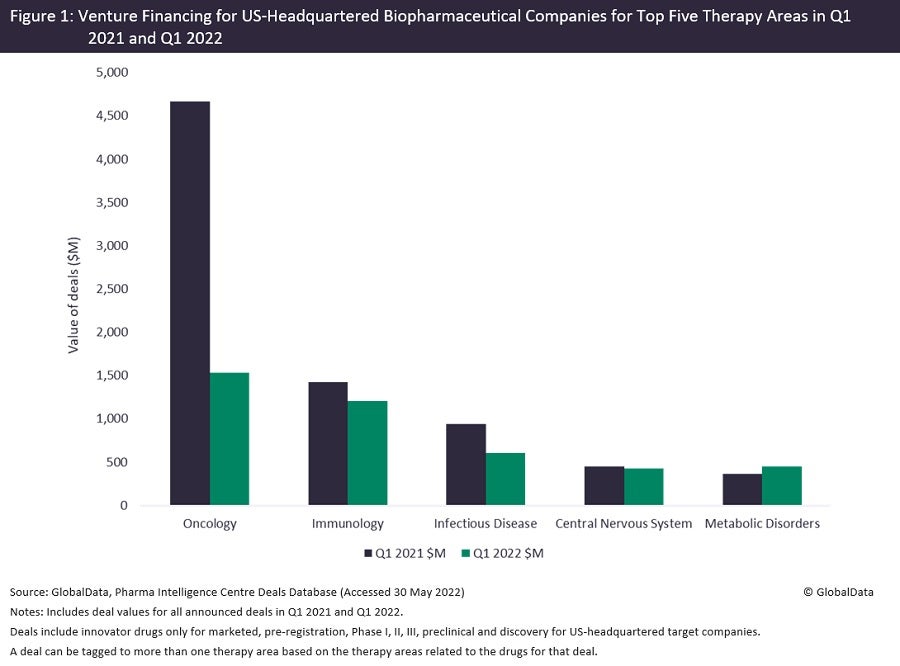 Oncology received the largest total venture financing out of the top five therapy areas with $4.7bn in Q1 2021, but this decreased by 67% to only $1.5bn in Q1 2022. Infectious diseases had the second largest decrease in venture financing by 36% from Q1 2021 to Q1 2022, with $0.9bn and $0.6bn, respectively.
Panelist Mike Powell, executive partner at Omega Funds, highlighted that in the current bear market, investors become increasingly selective; where people "look at reserves for their companies a lot tighter, they allocate cash a lot tighter." Investors are being cautious, however, with Omega Funds now "looking at more undervalued public companies… [with] quality." These challenges in public markets could, therefore, continue to see an impact on investments in private companies as this year progresses.
Powell expressed that new offerings may resume if companies widen their selection of investors to pitch their business to. Instead of having two venture capitals, he advised for private companies to have "three or four… around the table, [to] pick venture capitals with deep pockets… with knowledge or background of the sector that this company is in… [and with a] great ability to fund the company longer-term even if no new investors show up a year from now, we know that we have got four great investors around the table."
Early-stage biotechs looking to approach investors need to be developing a therapy that fills an unmet need, according to panellist Shobha Parthasarathi, vice-president at Xontogeny. Parthasarathi commented: "If you are a very early-stage company…there has been so much money raised in the last couple of years," where investors are now becoming more cautious in agreeing to invest.
The Covid-19 pandemic contributed to the increased venture financing last year, with many very early-stage biotech companies going public with high stock prices that have since plummeted. As a result, venture capital firms seem to be more selective in their biotech investments for this year. It remains to be seen if this trend will continue for the foreseeable future, with both investors and pharma companies thinking more cautiously about allocating capital.