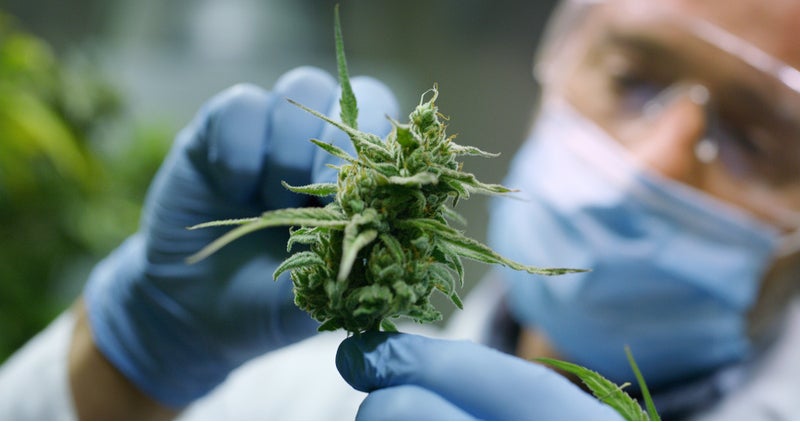 Research by investigators from the University of Queensland in Australia has found that cannabidiol (CBD) can be effective against Gram-positive bacteria such as Staphylococcus aureus and Streptococcus pneumoniae, bacteria that are frequently found to be resistant against multiple antibiotics, suggesting that CBD could be used as an antimicrobial agent.
Cannabidiol uses
CBD was bactericidal and was active against MRSA (methicillin-resistant S. aureus) biofilms. It was as effective as established antibiotics such as vancomycin or daptomycin and importantly did not lose its effectiveness after extended treatment, as is common with many antibiotics. The study was co-founded by Botanix Pharmaceuticals and an Australian government grant. In times of rising drug resistance and a thin pipeline of antibiotics in development, there is an urgent need for new therapeutics.
Given the research is early-stage and has yet to be published, caution is advised, especially since the mechanism by how CBD fights the bacteria is unknown. The antibiotics market has seen many recent setbacks with Achaogen's bankruptcy and Nabriva Therapeutics' FDA rejection of Contepo (fosfomycin). Given the lack of pipeline development and increasing rates of antibiotic resistance, incentives have to be created to bring public and private stakeholders to the table to develop novel antibiotics or alternative therapies, and more data are needed to determine if CBD can address these unmet needs.
CBD is the main non-psychoactive compound from the cannabis plant, is known for its anti-inflammatory effects, and has been shown to be effective for the treatment of a wide range of indications. GW Pharmaceuticals' Epidiolex (CBD) for the treatment of severe seizures associated with Lennox-Gastaut syndrome (LGS) and Dravet syndrome was the first FDA-approved drug to contain purified components from cannabis. It is furthermore in Phase III trials for the treatment of seizures associated with tuberous sclerosis complex (TSC), as well as Rett syndrome. Sativex, a peppermint-flavoured mouth spray also manufactured by GW Pharmaceuticals, contains a 1:1 ratio of delta-9-tetrahydrocannabinol (THC) and CBD, has been approved in the UK for the treatment of muscle tightness and stiffness, and is now in clinical trials to evaluate its effectiveness against symptoms of Alzheimer's disease, such as aggression and agitation.
These examples highlight strong potential utility for the use of CBD, but its increasing use as an active ingredient in pills, oils, lotions, or even bottled water with questionable efficacy for a variety of ailments must be better regulated to weed out proved from unproved effects to protect consumers and patients. According to GlobalData, there are currently more than 80 ongoing clinical trials with CBD-related products, mostly for the treatment of pain or psychosis.
Related Reports
GlobalData (2019). Expert Insight: Engineered Bacteriophages Could Help Fight Drug-Resistant Bacterial Infections, May 2019, GDHC2422EI
GlobalData (2019). Expert Insight: GW Pharmaceuticals Lands further Success with Cannabis-Derived Drug Epidiolex, May 2019, GDHC2419EI
GlobalData (2018). Expert Insight: Medical Cannabis Research Is Set to Escalate, July 2018, GDHC1886EI