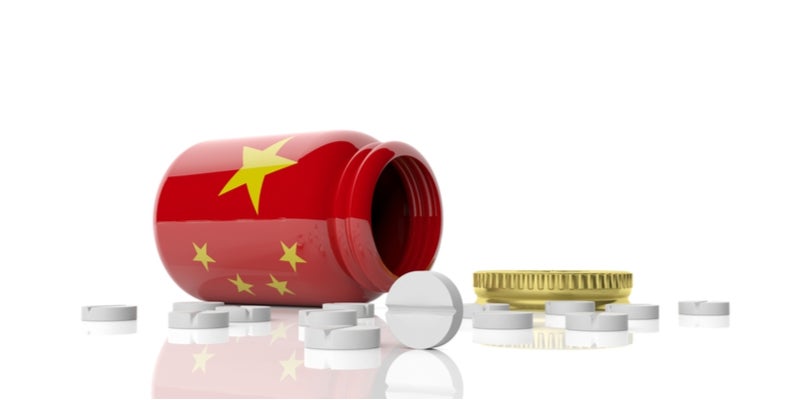 Drug in-licensing opportunities are expected to increase steeply in the next few years as more Chinese pharmaceutical companies are transitioning into novel drug discovery and development.
China in-licensing deals
Chinese companies are avoiding using traditional generics manufacturing and 'me-too' drugs. Instead, companies are developing their own products, capitalising on unmet needs that the Chinese government is attempting to fill by approving Western drugs.
In addition to ramped-up licensing/partnering opportunities, new healthcare regulatory changes also drive the possibility of drugs being approved in China before the rest of the world. Expedited approval and reimbursement processes, an improved talent pool and governmental assistance are some of the factors that could push for a "China-first" strategy in drug development and approvals.
Cognizant of the shift to novel drug discovery and development, venture capital firms have overwhelmingly been backing new biotech and pharmaceutical companies, leading to large amounts of starting capital. However, given the pressure to generate revenue as soon as possible, there is a huge impetus for these biotech/pharma firms to in-license mid-stage clinical assets while simultaneously working on discovery and preclinical assets. Out-licensing is also expected to pick up as local assets become more noticed by the global industry.
Focus on R&D spells licensing opportunities
Greg Scott, founder and CEO, Chinese life sciences consultancy ChinaBio said he is seeing Chinese companies increasingly embrace novel drug discovery, generally either by bringing in new technologies from overseas or developing their own. The Chinese government is currently focusing on approving Western drugs for high unmet needs, such as programmed cell death protein 1 inhibitors for cancer, including Bristol-Myers Squibb's Opdivo (nivolumab) or Merck's Keytruda (pembrolizumab), which were approved in China in June and July 2018, respectively. However, Chinese companies realise they can gain market share by developing drugs in these indications themselves, said Scott and Yuanjia Hu, PhD, associate professor at the Institute of Chinese Medical Sciences at Macau University.
Chinese companies are not only seeking to develop 'me-too' drugs and as in-house discovery of novel drugs takes a long time, in-licensing is the fastest route to commercial viability, said Hu.
Chinese drug companies can be broadly categorised into three categories: traditional generic companies without resources to focus on R&D; large generic companies such as Jiangsu Hengrui, which are focusing more on R&D following acquisition growth; and small to medium-sized companies led by Western-educated returnee executives such as CStone Pharmaceuticals , which are primarily focused on drug discovery and development, Scott said.
The latter two categories will likely massively in-license assets from around the world, especially in areas with high unmet need in China, he added.
Giant generics producer Hengrui has been investing about 10% of revenue into R&D over the past few years, which is one of the highest percentages of R&D investment by a Chinese company, Hu noted. This is still not as high as the approximately 15% of revenue that Pfizer spent in 2018, but it signals a strong commitment to shift developmental priorities, he added. A recent example includes BeiGene's $1.2 billion licensing deal of human epidermal growth factor receptor 2 bispecific antibodies and two other proprietary platforms from Zymeworks in November 2018, Scott said.
Indications with high unmet needs typically include oncology, infectious diseases, central nervous system disorders and metabolic diseases, experts noted. Increased activity is also expected as the Chinese government put out a list in 2018 of rare diseases that need to be prioritised, said Hu and David Deere, principal at Paiza Consulting in Albuquerque, New Mexico, US.
Out-licensing activity is still slow but will increasingly ramp up as the impression of Chinese drug discovery improves, said Hu. A recent example includes Hengrui's Bruton's tyrosine kinase inhibitors, which were licensed to US-based TG Therapeutics in January 2018 for total payments of $350m, Scott said. Cross-border deals comprised 75% of all partnering deals in China in 2018 — amounting to $13.8 billion, according to ChinaBio's report— and the bulk of partnering deals were in-licensing, he said. However, out-licensing opportunities are expected to pick up over the next few years as the pipeline in small to mid-sized Chinese companies matures for out-licensing, he said.
"China-first" viability
An improved regulatory landscape and improved impressions of the Chinese pharma industry has set some anticipation for a "China-first" strategy, not just in drug development, but also in approvals, said Scott. A recent phenomenon spurring this expectation is AstraZeneca/FibroGen's roxadustat securing approval in December 2018 for anaemia in chronic kidney disease in China before the rest of the world, said Helen Chen, principal, LEK Consulting, Shanghai and Scott. This was thought impossible a couple of years ago, but has now set a precedent for future possibilities, they added.
The Chinese government is granting priority reviews at a faster rate than US breakthrough designations for high unmet needs, said Deere. While this may not mean there will be a floodgate of drugs being approved in China first, there is potential for companies active in these areas to increasingly choose this route, said Scott.
However, such a reality will require companies to invest in starting trials early in China, instead of after US and Europe approvals, said Chen, noting FibroGen's global pivotal trial.
Impressions of quality are still in favour of Western companies over local ones, but that is rapidly changing, said all experts. The new class of innovative biotech and pharma companies like Innovent Biologics and Shanghai Junshi Biosciences are associated with high-quality research competing with Merck and BMS, as reported by this news service on 26 April, thus paving the way for increased collaboration for expedited approval, said Chen and Hu. However, there are past incidents of Chinese firms impacting the reputation of the local industry, including the 2018 reports of Changchun Changsheng not meeting safety standards for its pediatric diphtheria, tetanus and whooping cough vaccines, leading to a $1.3 billion fine and Shenzhen stock exchange suspension in March 2019, Deere noted.
Financial options expanded
Chinese drug companies are also enjoying increased access to capital through VCs, said Christina Zhang, Shanghai partner-in-charge of law firm Cooley. CStone, considered a small-to-mid-sized biotech, raised over $400 million in its first two years of founding and was able fill its pipeline with about 19 assets, Scott said.
While the capital is available, VCs will be careful about choosing which companies to invest in, preferring differentiated pipelines, Zhang said. Unlike US companies, Chinese drug companies focusing on novel developments are usually successful in raising huge seed funding amounts, said Andy Tsun, co-founder of Biotheus, a private Guangdong-based biotech firm focusing on immuno-oncology. However, pressure by investors to rapidly become revenue-generating within approximately five years means there will be pressure to in-license clinical-stage assets, Hu and Tsun said. Biotheus had raised $50 million in dilutive and nondilutive funding within a year of inception, and is looking to in-license IND-ready assets, with some proprietary preclinical assets awaiting development partnerships, Tsun noted.
by Shuan Sim and Manasi Vaidya in New York
Shuan Sim is a Reporter and Manasi Vaidya is a Senior Reporter for Pharmaceutical Technology parent company GlobalData's investigative journalism team. A version of this article originally appeared on the Insights module of GlobalData's Pharmaceutical Intelligence Center. To access more articles like this, visit GlobalData.